Matthew McConaughey and his wife, Camila, have built a beautiful family for themselves. They have ensured that their children are loved and cared for no matter what may be going on in their lives.They also take care of McConaughey's mother, Kay. She lives with them and gets along well with her grandchildren and her son's wife.
Recently, she celebrated a milestone birthday with the crew.Turning 90 is certainly something to celebrate, and McConaughey and Camila ensured that Kay knew just how loved she was on her birthday this week. They each took to Instagram to express their love.McConaughey posted a photo of his mother wearing a golden sash and a tiara.
He said she turned 90 and said his mother had told the family she couldn't imagine not being around to experience them.
Camila also took to Instagram and shared a photo of her mother-in-law staring at a cake with a bottle in the middle. She joked that her Kay didn't know whether she should eat or drink the cake and said: "What a blessing it is to celebrate 90 together."
McConaughey's wife said she was grateful that she and her mother-in-law's relationship had improved during 2020. She said although they have moments of disagreement, they never stay angry at each other.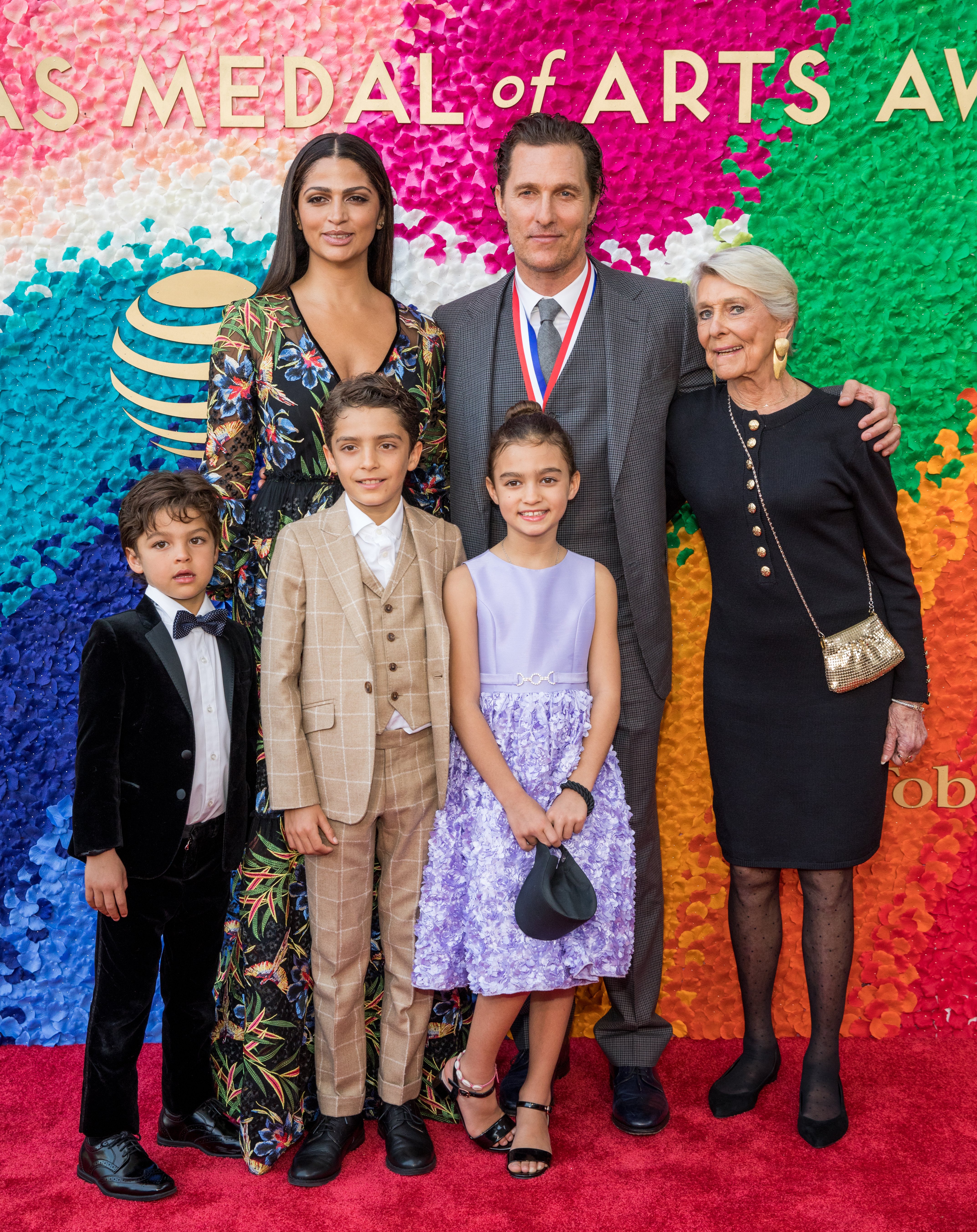 Livingston Alves McConaughey, Camila Alves, Levi Alves McConaughey, honoree Matthew McConaughey, Vida Alves McConaughey, and Kay McConaughey attend the 2019 Texas Medal Of Arts Awards at the Long Center for the Performing Arts on February 27, 2019 in Austin, Texas | Source: Getty Images
Camila then said her mother-in-law had helped her build patience and resilience. She also confessed that she loved how her mother-in-law expressed what she did and didn't want. She ended the caption by gushing:
"I LOVE YOU, AND I HOPE TO KEEP LEARNING FROM YOU FOR MANY MORE YEARS TO COME!"
Matthew Doesn't Take Offense from His Mother Despite His Childhood
McConaughey might be a massive star now, but he started off in a simple enough family and once confessed that some people might find the way his parents raised him to be abusive. Yet he confirmed he didn't feel that way.
He said that his parents chose to discipline him and his siblings in a way that others might find violent, yet he doesn't remember it being that way and thinks it's all in how someone takes what is done to them. Talking about this outlook, McConaughey said:
"I don't raise my children the same way my parents raised me … but I don't dare judge how my parents did it."
The actor said that he and his wife have chosen to raise their children with more dialogue in discipline, which allows them to debate with their children on issues, but his mother still thinks they talk too much.
McConaughey said that he and his wife respect his mother, and his wife has built a close bond with his mother since she moved in with them. He said they spend time together and enjoy each other's company.
Since Kay moved in with her son, daughter-in-law, and grandchildren, she has given interviews about how she enjoys it. Here is what she said:
"I'm enjoying so much being around my grandchildren. I'm very comfortable with them. Matthew is a very good son. I tell him all the time. He's good to me."
Daughter-In-Law and Mother-In-Law Are Like Girlfriends
Camila and Kay have become incredibly good friends since Kay moved in with the couple. Camila admits that her mother-in-law has taught her so much over the years, and she is grateful for the wisdom.

McConaughey's wife said she loved that her mother-in-law made her laugh and that she was still feisty even in old age. She then said her mother-in-law was proof that if you had a strong mind, your physical body would follow suit.
Camila and Kay began making videos together a while ago, which Camila shares on Instagram. She affectionately calls her mother-in-law "MaMac" and shows off their daily lives in the short clips.
One video showed them talking about Kay's shirt, which said, "I'm available." Kay spoke for a little while before Camila called her away to watch a soccer game. Another video was of the pair talking about lettuce.
Camila asked her mother-in-law if she knew what hydroponic lettuce was and when she replied that she did not, Camila asked fans to leave their answers in the comments and said she would reveal the answer later.
Another video showed the pair poking fun at one another on the beach as Kay complained that the wind was ruining her hair. In the caption, Camila said:
"She loves to be messed with in a funny, loving way! Matter of fact, if she's not getting it, she starts to instigate trouble."

In one video, Kay talked about the importance of keeping your brain active, so your body doesn't become lethargic. Camila said her mother-in-law inspired her to keep moving, even when she didn't feel like it. A lovely family indeed!