Maureen McCormick, a former teenage star, battled addiction, but today, she is living an awesome life with the love of her life, whom she met at a church. They have been married for thirty-seven years, and she remains an open book to him.
Young, bubbly, and perfect Marcia Brady was one of the most admired cast members of the iconic series "The Brady Bunch."Maureen McCormick became famous for Marcia's role and stayed on the sitcom for five years. On-screen, her life cushioned on perfection, but in reality, she was nowhere close to being perfect.
McCormick dated a few notable individuals who were in awe of Marcia Brady. One of her first loves was her on-screen brother, played by Brady Williams, with whom she shared her first kiss in Hawaii.
McCormick revealed that she had a few dates with Michael Jackson, the King of Pop. The pair had met at an attorney's office, and instantly they became friends.
The Jacksons loved "The Brady Bunch," and the actress visited them frequently. She went on several dates with the singer at age 15/16 and drove him, which made her consider herself as "the older woman."
The first time "The Brady Bunch" alum talked about their relationship was in her 2008 autobiography. She confessed that they kissed on the cheeks but never on the lips.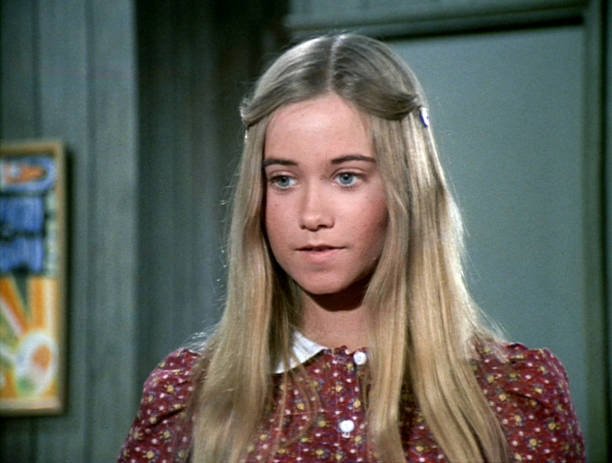 Maureen McCormick as Marcia Brady in the BRADY BUNCH episode, "The Subject Was Noses," which aired on February 9, 1973 | Source: Getty Images
The author also shared her romance experience with another celebrity, Steve Martin. McCormick mentioned going on a date with the Hollywood icon at a young age.
Life for McCormick after "The Brady Bunch" was not a tale of extraordinary romance, as she became addicted to cocaine and battled depression and anxiety.
Thankfully, her knight in shining armor rescued her in due time, and they have remained together for nearly three decades – read on to find out about McCormick's happily ever after and everything before it.
MCCORMICK'S ADDICTION NEARLY RUINED HER LIFE
McCormick has been refreshingly honest about her past, even though it revolved around some dark secrets. She has openly confessed some details in interviews and her book "Here's the Story: Surviving Marcia Brady and Finding My True Voice."
In the 2008 publication, the author, who became a drug addict at 18, talked about getting addicted to escape her troubled mind.
This began immediately after "The Brady Bunch" ended. She found difficulty coping with fame and needed something to make her fill the emptiness she was plagued with.
Depression and anxiety also set in as McCormick dealt with a family secret: her grandmother died of syphilis in an asylum. She had passed the disease to her mother, who got treatment to prevent it from flowing into her genes.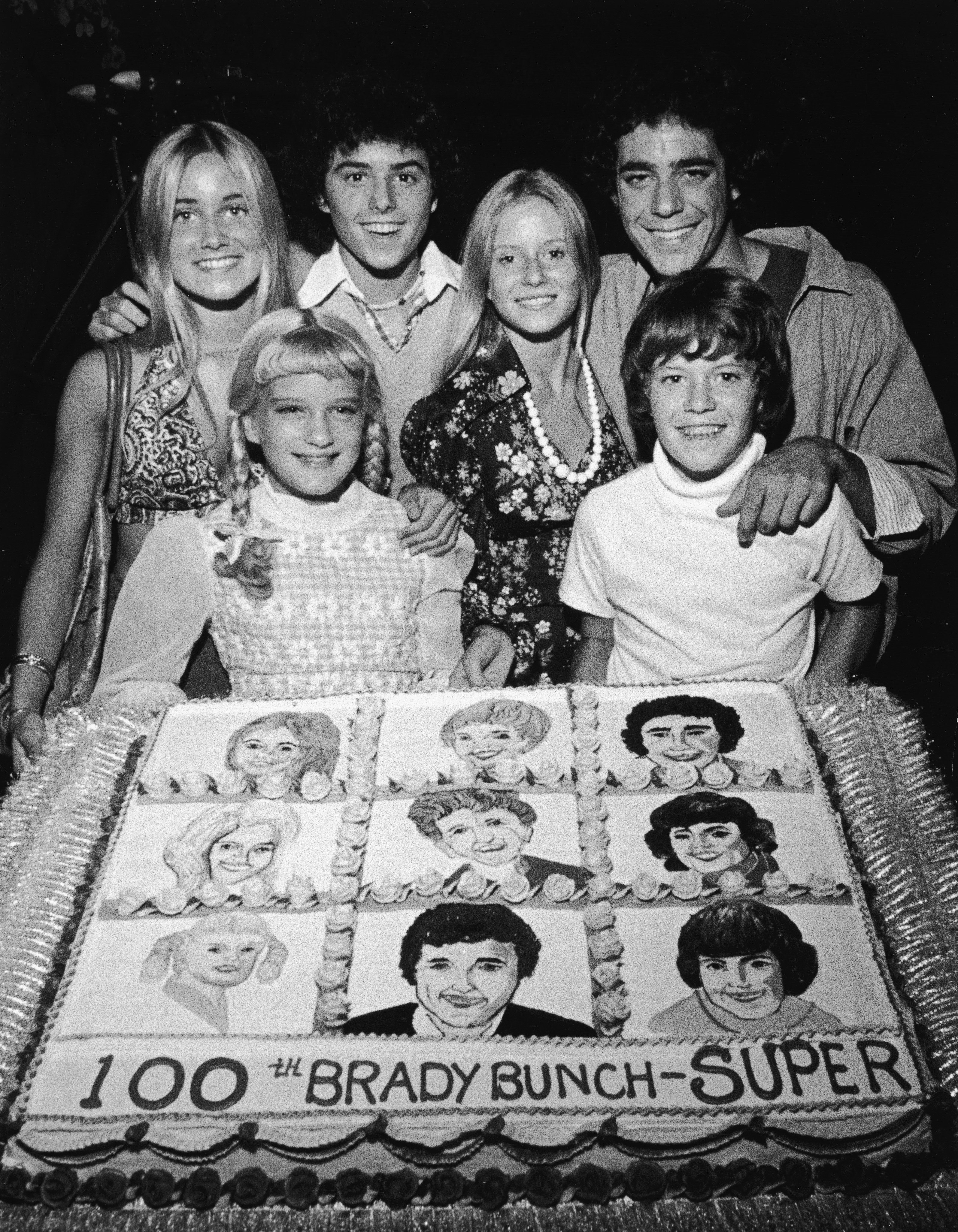 Young cast members of the television series, 'The Brady Bunch' pose with a cake celebrating the show's 100th episode, circa 1973. (L-R): Maureen McCormick, Susan Olsen, Christopher Knight, Eve Plumb, Barry Williams and Mike Lookinland. | Source: Getty Images
It was challenging to settle with these details, and as a young promising on-screen star, she sought refuge in these destructive patterns.
Eventually, it affected her chances with producers. McCormick appeared unserious in meetings with top producers like Steven Spielberg.
Apart from costing her a prosperous acting career, the actress's addiction influenced her relationship with her parents, even though she tried to hide it from them. According to her:
"My mom and dad, they almost turned me into the cops. They were at their last…cause they had been trying for years…I was pretty sneaky and I could hide very, very well."
Burning bridges was not the only way the drugs affected McCormick, sadly, she went through three abortions because of her negligence. She recalled, "I was 18, 19, and 20 when I had each abortion. It shows how careless I was. It shows what drugs did to me and how far I went."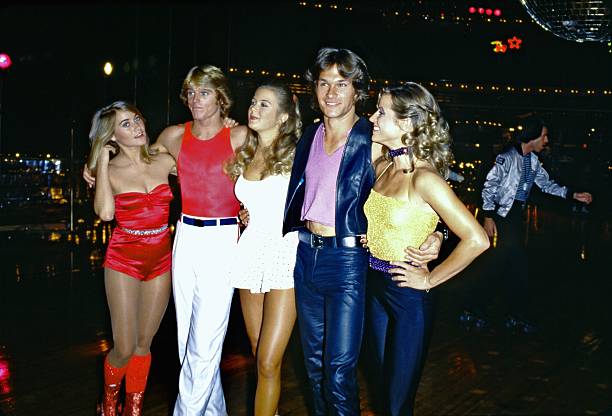 Maureen McCormick, Greg Bradford, Katherine Kelly Lang, Patrick Swayze and April Allen at the premiere party for the movie 'Skatetown USA' at Flippers roller rink, in October 1979 in Los Angeles, California | Source: Getty Images
MEETING HER SAVIOR – MICHAEL CUMMINGS
Cummings and his wife met at a church in 1982, and by 1985, they were married. During their courtship, McCormick never hid her demons. She was honest, and it helped the pair deal with her problems.
To combat depression and anxiety, McCormick relied on medications, and that once she stopped, it brought painful memories, which she learned to handle.
Cummings maintained that his wife's transparency has been constant from day one. He also added that after combating the addictions, he became confident of the actress and was not scared of a possible relapse. According to Cummings:
"She was very honest with me from day one. She has always been honest with me, an open book. And I was never worried about her reverting to her old behavior as I figured, whatever comes up, we will just deal with it."
Despite the years it took the couple to emerge victorious, Cummings remained loyal and supportive to his wife. Interestingly, he credits her for handling her addiction problems.
He explained that the actress is courageous because she has fought "some very big monsters and overcome them."
Actress Maureen McCormick and husband Michael Cummings attend the "A Television Diar: 45 Years of TV Guide Covers" Museum Exhibition on September 15, 1998 at the Museum of Television and Radio in Beverly Hills, California | Source: Getty Images
Actress Maureen McCormick and husband Michael Cummings attend the "A Television Diar: 45 Years of TV Guide Covers" Museum Exhibition on September 15, 1998 at the Museum of Television and Radio in Beverly Hills, California | Source: Getty Images
THE REALITY OF CUMMINGS AND MCCORMICK'S MARRIAGE
Despite McCormick's transparency, her relationship with Cummings was far from perfect. At one point in their relationship, she considered taking her own life—she almost jumped down a balcony but was saved by Cummings.
While it was seemingly hard to keep a clear mind, the actress was convinced and surprisingly puzzled that Cummings loved her and stuck through her excesses.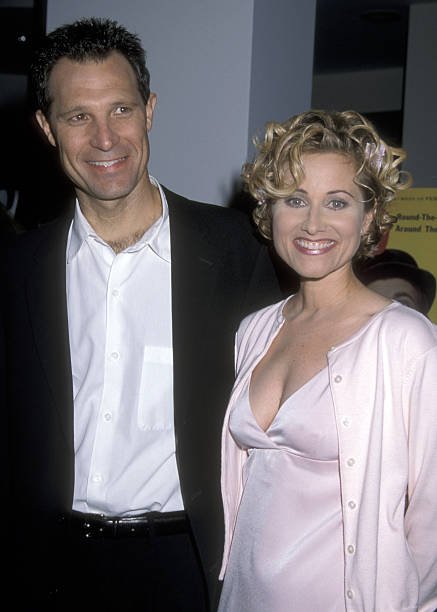 Actress Maureen McCormick, husband Michael Cummings, and daughter Natalie Cummings attend the 39th Annual "Hollywood Stars Night' Celebrity Baseball Game on August 16, 1997 at Dodger Stadium in Los Angeles, California | Source: Getty Images
She explained that he was committed to the relationship and had figured that she needed help. After the birth of their child in 1989, McCormick struggled with postpartum depression, and things worsened.
It was not until 1997, after landing a role in "Get to the Heart," that she felt confident about herself. She worked on her marriage, and Cummings was proud of his patience. She claimed:
"My marriage changed for the better. Micheal said he was glad that he had waited. I wish I had confronted my problems earlier."
Despite not having done it right at first, the actress feels good about her life. Decades after sobriety and a successful marriage of nearly four decades, McCormick gives herself a nod for a successful marriage.
The actress admitted that her marriage is her greatest achievement, adding that her husband is the best man to trust with her life.
The couple, who shares an adult daughter, continues to be an inspiration to many, including Hollywood couples and victims of drug abuse.