Mel Brooks is a veteran actor with seventy years in showbiz. His first acting stint was in 1951 when he played a window washer in "The Milton Berle Show."
After his acting debut, Brooks became an esteemed producer, director, and writer. Besides his illustrious career, the New York native is also a family man.
Brooks has been married twice. His first marriage was to dancer Florence Baum, whom he wed in 1953 and divorced nine years later in 1962. The pair welcomed three kids, daughter Stephanie and sons Nicky and Eddie. Brooks later married award-winning actress Anne Bancroft in 1964, and the couple had only one child, a son named Max.
In May 2013, the father of four reflected on his union with Bancroft. He said it was successful in the years they were together because they worked on themselves:
"You know, it took because Anne and I both grew up during the marriage, we both grew up, we both knew what was important, and what love meant, and…what doing for each other meant."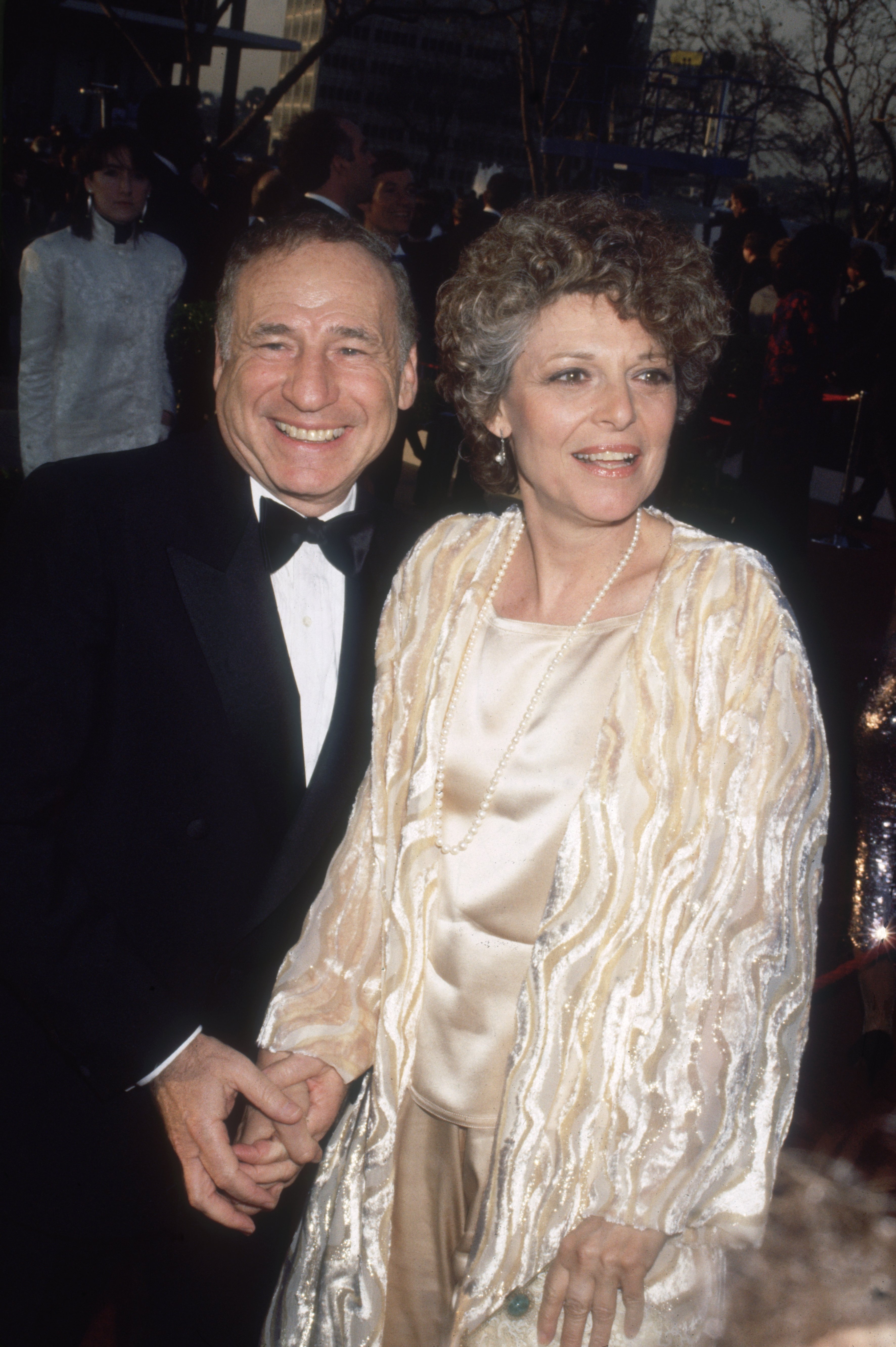 Mel Brooks and Anne Bancroft attend the Academy Awards on March 24, 1986 in Los Angeles, California ┃Source: Getty Images
For Bancroft, it was love at first sight as she immediately fell for Brooks upon their first meeting. She explained why she was so taken with him once:
"I was in love with him instantly, because, you see, he looked like my father and acted like my mother."
The Academy Award winner and the comedian were married for 41 years before she passed away in 2005 from uterine cancer at age 73.
In November 2021, Brooks spoke fondly of his late beloved wife and shared the words she used to encourage him. "She always said, 'Follow your heart. It will be a good adventure.' What an adventure life turned out to be!" he proudly stated.
The three-time Grammy Award winner also fell head over heels in love with Bancroft the first time he saw her rehearsing at the Ziegfield Theatre in 1961. The lovebirds tied the knot at City Hall in Lower Manhattan three years later.
Brooks described his spouse as a supportive partner who "always believed in me." When they were newlyweds, he was still trying to break into show business and only tasted success in the mid-1960s thanks to "Get Smart." He and Bancroft later welcomed their son Max in 1972.
The four-time Emmy Award winner admitted life without the mother of his child is challenging as he shared some of their memories:
"Living this life without her is not easy. There were a lot of great kisses and great spaghetti."
Brooks Is a Doting Grandpa Who Still Works at 96
Today, Brooks is 96 years old and is still a working member of society following the passing of his wife, Bancroft. In January 2023, the Hollywood star announced the sequel of his 1981 film, "History of the World, Part I," in a video on Twitter.
"The names you know—the history you don't. 'History of the World, Part II,' a four-night event, streaming March 6 on @hulu!" he tweeted.
Beloved fans commented on the post and expressed excitement for the upcoming movie. One Twitter user lauded Brooks for his impressive work: "You're still the king."
"CBS Sunday" contributor, Nancy Giles, thanked Brooks for continuing to break barriers in the entertainment industry. "Oh, man! Can't wait for this. Thank you @MelBrooks! You are an 'Abby-normal' treasure, and we are all so grateful," she wrote.
Meanwhile, one person marveled at the fact that Brooks is old yet can still make waves in show business. "96 years old!! Mel are you sure you aren't Artificial intelligence?!" While a fourth individual penned: "Can't wait! Love you!"
Besides working on projects, Brooks is a loving grandparent of two grandchildren, Henry and Samantha, through his sons, Max and Eddie. He gushed about his real-life role of being a grandfather in September 2015 and revealed he wanted his grandkids to call him precisely that other than anything else:
"I insisted right away that I be called that…People don't like to admit becoming grandparents. They want to be called Pappy, Pap, or Nick. Nothing with 'grand' in it. But I'm old-fashioned. I like it, I earned it and it's my title."
Brooks' grandson and granddaughter were the reason why he happily accepted the job of voicing Vlad in the animated film franchise, "Hotel Transylvania 2." He divulged, "They get a kick out of it."
In real life, Brooks is the opposite of his hardcore on-screen character and jokes that his grandchildren are the only ones who like him apart from relatives.
He recalled when Henry told him he "loved" him, only to reassure him again right after saying that. Brooks also shared he does not advise his grandkids and instead comforts them by saying, "This, too, shall pass," when they go through hard times.
The Actor's Kids Followed in His Footsteps
As an Oscar Award-winning star, Brooks' children followed in his acting footsteps. His eldest child Stephanie, whom he welcomed with his first wife, Baum, is an actress.
Born on February 21, 1956, Brooks' only daughter is best known for her stint in 1999's Indie film, "Human Traffic."
Brooks and Baum's second child, Nicky, was born on November 12, 1957. Although best known as a painter, he also tried acting and starred in "Who Says I Can't Ride a Rainbow!" and "Doctors."
Like his brother and sister, Eddie, born on May 24, 1959, has appeared in some hit Hollywood movies including, "The Green Room," and "Armchair Theatre."
Meanwhile, Brooks' youngest child, Max, whom he welcomed with Bancroft on May 22, 1972, has starred in "The Great Wall," and "World War Z," among others. Besides being on screen, Max is also a published author and a lecturer at the Modern War Institute in New York.