Melissa McCarthy had to wait for almost two decades for her husband, Ben Falcone, to propose. However, on the day he did, she thought he was ending things and was overcome with emotion when she realized what was happening.
During her August 2021 "Late Night with Seth Meyers" appearance, Melissa McCarthy shared how she initially encountered her future husband, Ben Falcone, in Southern Illinois, where the latter grew up.
Being three years older than Ben, Melissa was already in college and a freshman, and he was in high school. However, the pair only officially became friends a week after meeting again in Los Angeles.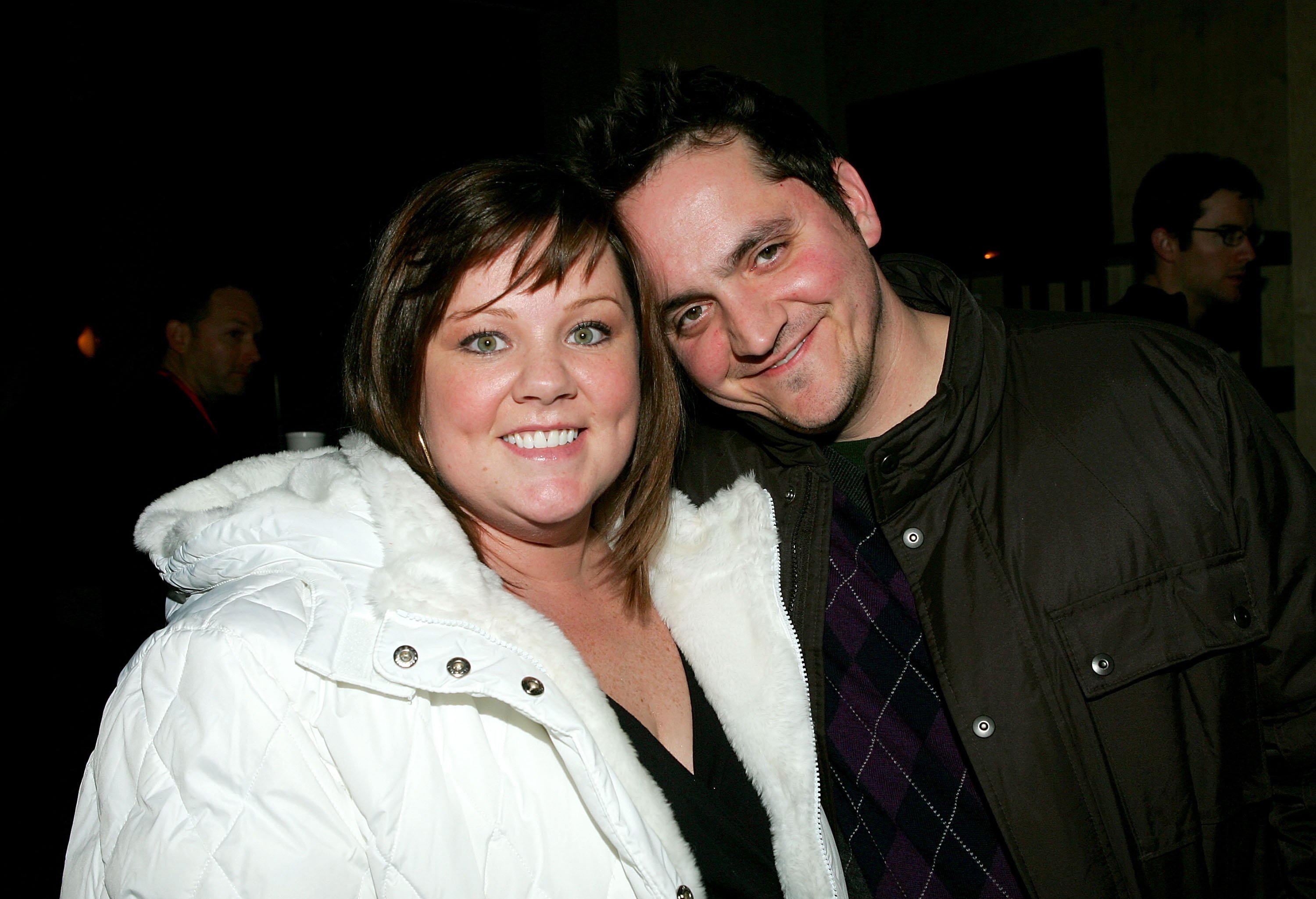 Melissa McCarthy and Ben Falcone at "The Nines" premiere during the Sundance Film Festival on January 21, 2007, in Park City, Utah. | Source: Getty Images
Ben confessed to the actress that he'd known her before they became close but was initially afraid of her. After disagreeing with him thinking he'd never recognized her before, Melissa realized that he was telling the truth.
When he confessed to having feared her, it dawned on the actress that he was talking about her! At the time, Melissa had been into the Goth lifestyle and scared people, but Ben's friends wished their parents would allow them to dress like the actress.
Ben joked that his future wife was dressed in a heavy black cape and blue-dyed hair when he first fell in love with her. In October 2018, Melissa was interviewed on "The Ellen DeGeneres Show," where she elaborated further on how they met.
She revealed that when she was in college, and he was in high school, they both attended a party. The pair met at the Groundlings Theater ten years after their initial encounter, where they were attending a comedy class.
Melissa recalled how quiet and peculiar Ben was when he got on stage to play an inmate who was in love with his cellmate. The other classmates had to lean in to hear Ben, and the actress thought at that moment:
"Oh, he's strange. I like him."
The duo bonded during the class and became friends from that very moment. Little did they know that they were meant to be together and would get married and welcome children.
Melissa's Feelings for Ben and His Proposal
During the "Bridesmaids" actress' 2013 More magazine cover story, she said this about Ben, "I got hit with the lucky stick with Ben." The actor agreed with her, stating, "We got hit with the same lucky stick," before adding:
"From the very first time we spoke, we were on the same page. We love each other, respect each other, and try not to sweat the small stuff. And we really make each other laugh."
Speaking to People magazine in 2020, she said having a long-lasting relationship was about finding someone you were "better with." She described the actor-director as supportive and intelligent.
The actress shared how Ben made her laugh with her gut four or five times a day and felt like she'd "hit the jackpot!" Melissa believed the actor led everything in his life with kindness.
In 2004, Ben decided to surprise Melissa, his then-girlfriend, with a proposal. He knew her favorite place was their Los Angeles home because she was a homebody and chose to keep the proposal simple.
The "Tammy" star chose to propose on their porch but called his girlfriend's parents beforehand. He got them iced coffee and bagels, dressed up nicely, and called out to her using her name as he nervously readied himself for the big moment.
Melissa found it strange that he was calling her by her name instead of the pet name, "Mooch." She started thinking she was in trouble and that he wanted to break up with her!
Ben led his girlfriend out onto the back porch, and they heard a knock on the door. The actor didn't know that Melissa had called the contractor to redo the bathroom tiles that day!
Ben started weighing his options, thinking about taking her to the dog park they liked, but he didn't think it was an appropriate place to propose. When the contractor finally left, Melissa was playing Tetris and watching an autopsy show on TV.
Her boyfriend came quickly and asked her if she'd marry him! The actress recalled how he'd screamed the proposal at her "like he hates me," she dropped the Tetris and began crying!
Eventually, Ben wanted to know the answer because his girlfriend was crying and hadn't responded because she was overwhelmed. However, after being together for years, the star got the answer he'd wished for!
Journeying into Father and Motherhood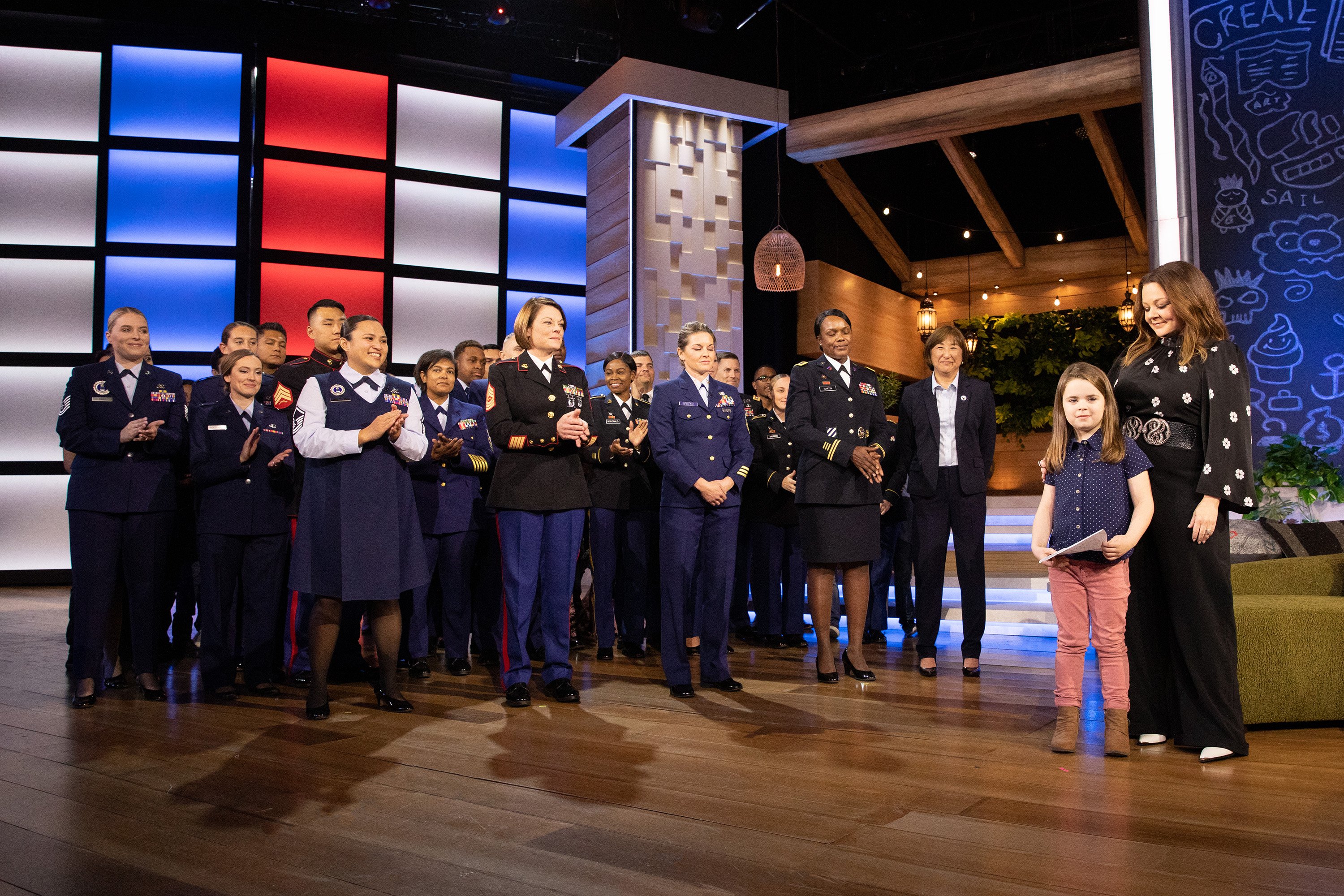 Representatives of the US Military, Vivian Falcone, and Melissa McCarthy on "Little Big Shots with Melissa McCarthy" on April 23, 2020. | Source: Getty Images
After tying the knot, on May 5, 2007, Ben and Melissa welcomed their first child, a daughter named Vivian. The little girl was already showing an interest in following her parent's career choices in 2020.
In 2016, she was featured in a small role in her mother's movie, "The Boss." Vivian kept asking her parents for months if she could star in the film, and while Ben and Melissa kept saying no, the little girl eventually asked if she wasn't going to be allowed to try.
The "Spy" star commended her daughter for her willpower and making an intelligent request. They spent the next month seeing what she was capable of, and Vivian nailed it!
Besides acting, Vivian took after her mother because she had the same love for interior design. Her younger sister, Georgette or Georgie, joined the family on February 11, 2010, with her mother describing her as a "daredevil."
When the little girl turned ten, the "Identity Thief" actress bought her a Hong Kong stunt harness for her birthday! Georgette loved performing her flips and stunts and imitating her mother.
Besides her daredevil side, the little girl also learned to play the violin. After Vivian got to star in their mother's movie, Georgette also begged to be in it and managed to get a small role too!
In a 2019 interview with Us Weekly, Melissa confessed that she experienced fewer challenges and more joys while raising her children. Still, the challenges were about her wondering if she was doing enough for them.
The Golden Globe Award winner was amazed by her daughters and credited them for making parenting easy. Ben's wife described her brood as funny, intelligent, and weird while admitting she thought they were better than her, adding:
"They're further along in their young lives than I was. I feel like I had to push almost 30 to get their kind of confidence, so I love seeing that."
Her's and Ben's parenting style included them talking to their children about being good and kind as their way of giving back goodness to the world. The couple prioritized laughter and positivity in their home.
Melissa and her husband ensured to enjoy every moment they had with their daughters because they were growing up fast. Sometimes they turned down work opportunities to be with them, as they put their family first!
A Long-Lasting Love, 17 Years in Going for 18
In a world where it's rare for people to find a love that lasts forever, Melissa and Ben appear to have found the right ingredients. On October 8, 2020, the actress shared an image of her and her husband kissing on their wedding day.
Melissa's [McCarthy] husband [Ben Falcone] wished them 400 more years of marriage and assumed some of them would be spent with the couple being partially robotic!
She revealed that they'd been married for 15 years at that point. Melissa was grateful daily for having married someone funny, kind, and weird, and in August 2021, he shared a throwback image from 14 years ago.
Ben explained that the photo was taken at his friend's wedding, where he and Melissa had a great time. He confessed that the wedding was fun but that his wife made everything enjoyable "just by being herself."
The actor described himself as lucky for having married someone who was crazy funny, smart, beautiful, and kind. He concluded the message by wishing his wife, "Mooch," a happy birthday before declaring his love.
In October 2021, Ben shared an image from 16 years before of him and his wife dancing. He said he was lucky to have married "the most wonderful person in the world" before wishing her a happy anniversary.
Melissa's husband wished them 400 more years of marriage and assumed some of them would be spent with the couple being partially robotic! Judging from his post, the couple had a loving and warm relationship filled with laughter!