Music lovers know Michael Bublé as a dedicated singer with four Grammy Awards under his belt, but to his family, he is a caring father who steps in for his wife whenever she is away. The singer enjoys time with his four kids after overcoming the health crisis of his oldest child—insights into his perfect family life.
Canadian-born singer Michael Bublé, with hit tracks like "Haven't Met You Yet," "Sway," and "It's Beginning to Look a Lot Like Christmas," has a love life from a rom-com.
After failed romances with notable women in the past, he found love with Argentine model Luisana Lopilato in 2008. Soon, they became engaged and finally tied the knot in April 2011.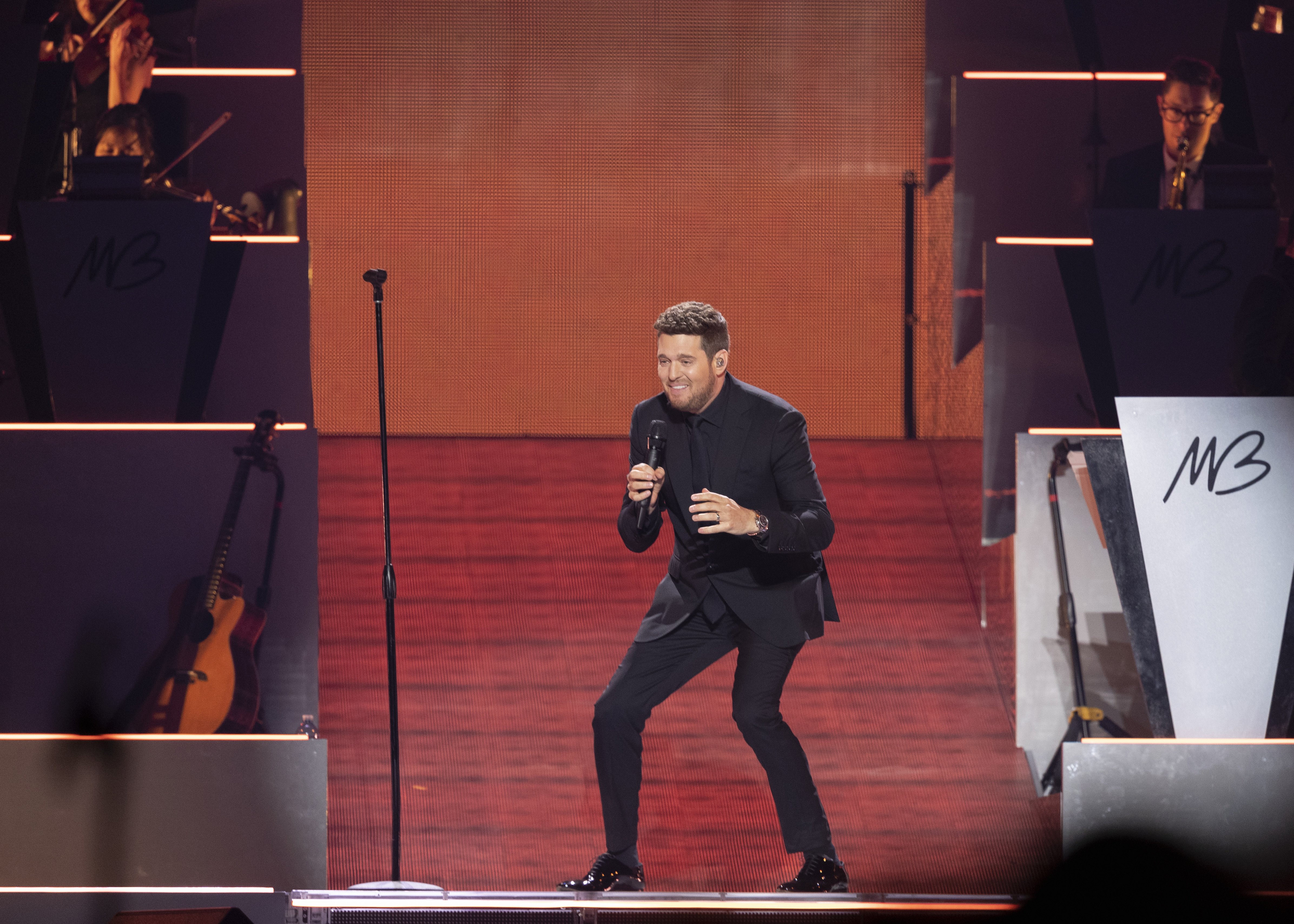 Michael Bublé on October 1, 2022 in Vancouver, British Columbia, Canada | Source: Getty Images
Following their dual wedding ceremonies, one in Argentina's capital and the other in his hometown in Vancouver, the couple sped off to Africa, marking their honeymoon by providing for needy children.
Today, they are profoundly committed to being there for their four kids. Michael has always been ready for fatherhood responsibilities. While expecting his first child in 2013, he admitted to slowing down the brakes to be present for his firstborn. The then-37-year-old shared:
"I used to go for a month and a half or a month, and then I would take a week off. And now the schedule is three weeks on, two weeks off."
Despite handling a pregnant wife for the first time, Michael did not mind. He joked about her cravings, but the singer remained supportive even though they were shocking and mentioned being more in love with his wife.
Expectedly, once the couple welcomed their first child, Noah Bublé, their routines changed, but the new dad was honest about how he felt about meeting the little man.
Michael revealed that throughout the delivery, he was nervous for his Lopilato and happy that their son was healthy; however, he was not consumed with overwhelming affection at first glance. It only felt as though he was meeting a stranger. Interestingly, the father-son magic happened later. The singer quipped:
"That next night, it really clicked. I was looking at him and all of a sudden, I got it."
Two years after becoming first-time parents, the couple welcomed their second son, Elias, and later, daughter, Vida. In February 2022, the "Haven't Met You Yet" crooner shared that they were gearing up for another addition.
Their fourth baby and second daughter, Cielo Yoli Rose, arrived in August 2022. For the duo, the more, the merrier; while revealing the happy news, the couple called Cielo their infinite blessing, adding that they love her.
Michael's love and appreciation for family is not restricted to his wife and kids. The singer, who is close with his parents and has consulted them for love advice in the past, is forever grateful for the sacrifices they made for him.

In a Facebook post aimed at celebrating the older Bublé on Father's Day, the "Sway singer" shared an admirable throwback image of his father carrying him as a toddler and captioned it:
"When I was a kid, I thought my dad was superman. Now that I'm grown up, I realize I was right. Happy Father's Day to all you Heroes out there."
Michael Bublé Was Inspired by His Son's Illness
Michael might not have felt a sudden gush of emotions when he first set eyes on his firstborn, Noah, but the actor loves nothing more than being a dad who bonds exceptionally well with his kids.
Like his father, the Canadian native has been a significant part of his kids' lives since becoming a dad. In 2016, Noah was diagnosed with liver cancer three years after he joined the family.
Michael is never afraid to be left alone with his kids. He creates ways to enjoy their bonding moment whenever Lopilato is absent. Sometimes, he thrills fans on Instagram with a sneak peek of a fun time with the gang.
The first-time parents quit working to support their son, who underwent treatment for two years. Thankfully, they had help from extended family members, who joined them in living together. Michael has been open about the experience and how it affected him more than once. The singer maintained that Noah's health issues hit him hard.
However, according to the Grammy winner, Noah was a superhero, as his mini-me showed strength throughout the treatment. However, for Michael, the diagnosis made him doubt fueling his passion for music. Instead, it felt like being in hell.
What pulled him through was family, faith, and love for his children, which have remained his priorities. Noah's illness also influenced his zeal for singing and his view toward life. In his words:
"I live with a perspective that I just didn't have before and it allows me to have no fear. Perspective has allowed me to rekindle my love of music. When I went through Noah's cancer from the first moment there was a snap."
Michael Bublé Parenting His Large Family
Despite rekindling his love for music and going on tours, the "Higher" singer adores family time the most, and after four kids, he still holds an unquenchable enthusiasm for fatherhood.

Michael is never afraid to be left alone with his kids. He creates ways to enjoy their bonding moment whenever Lopilato is absent. Sometimes, he thrills fans on Instagram with a sneak peek of a fun time with the gang.
The singer showed fans how his kids trapped him to play in an entertaining clip. His son, Elias, pulled his hair, and Vida pretended to draw on his face while toys were thrown at him.
The doting father was seen singing Bruno Mars' "Leave the Door Open" and his words on the video read, "Any other dads feel like this when your wife leaves for 5 minutes." He later added, "Should be mothers day."
Michael playfully complained to his online fans about his kids' disturbance, but he is smitten by them and craves their company. The singer explained that his life felt perfect, mentioning that his family makes him the happiest. He added:
"I came from a really loving, tactile family, we're really emotional, so sometimes even my kids are like, 'Too many kisses! Dad, get off!' But that's just what I'm like. It's partly why I'm good at what I do on stage, because I really love the emotion."
Michael's affection for his kids is beyond the kisses. Throughout the years, the singer and his wife have teamed up to be excellent parents to their kids. At the same time, they have managed successful careers.
Whenever Lopilato is busy with work, the singer acts as a babysitter for their kids. He describes himself as a "Mr. Mom," who works closely with his beloved partner to balance their family life. In return, his family inspires him to write brilliant and captivating lyrics!