Although Michael J. Fox has retired from his acting career, he has recently released a new movie. The film has become immediately popular, and critics have spoken of how successful they expect the film to be.
The documentary, called "STILL: A Michael J. Fox Movie," was released on January 20, 2023. Fox and his family attended the premiere with him, where he spoke about his movie and the support he has received over the years.
Fox and his wife of 35 years attended the premiere together and posed for paparazzi and the press before they went inside to watch the film for the first time. Three of the couple's four children also joined them at the premiere.
The Sundance Institute took to Instagram to share a video of Fox, who was diagnosed with Parkinson's disease in 1991, talking about the movie and what it meant to him to have the opportunity to share his life story with his fans.

The Institute shared the same video on Twitter, and it garnered charmed reactions from his fans. In the video, Fox says that if people practice gratitude, they will know optimism, and fans love the quote.
The video elicited many sweet comments from fans worldwide. Fox was an inspiration to many during his career in Hollywood and had once again become an inspiration after his moving words.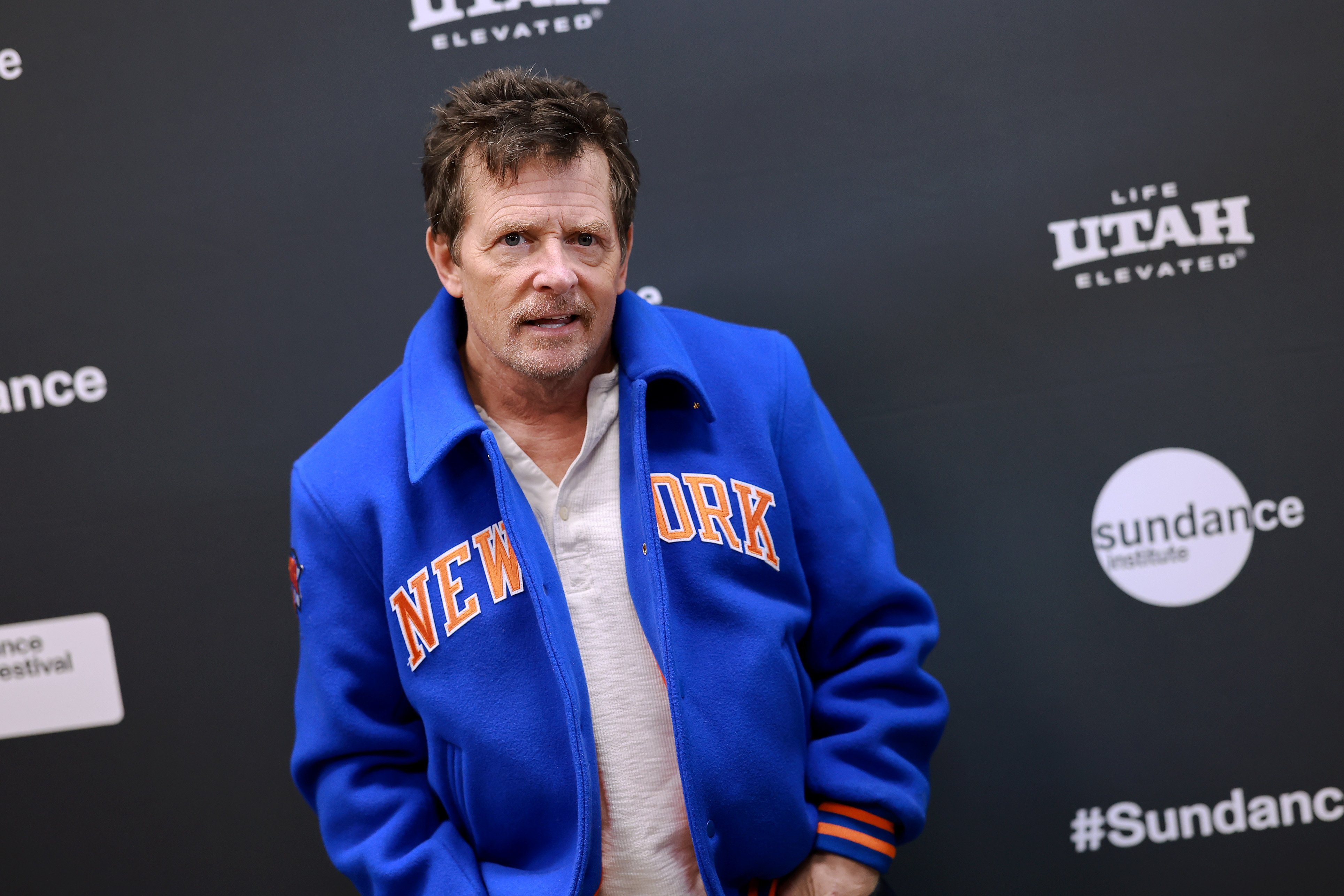 Michael J. Fox attends the 2023 Sundance Film Festival "STILL: A Michael J. Fox Movie" Premiere at Eccles Center Theatre on January 20, 2023 in Park City, Utah | Source: Getty Images
One fan commented on how powerful the message Fox gave in the video was, while another called Fox an "absolute inspiration" and a "total legend." Other fans simply talked about what a wonderful man Fox is.
Fox Got A Standing Ovation for His Speech
The crowd gathered at the film's premiere stood and applauded as Fox took the stage to make his speech about the documentary. They stood again as he left the stage after sharing a powerful message with fans.
The former actor gave a speech explaining what the film meant to him and what fans could expect to see. He also talked about his favorite aspects of the film and how proud he was to share this work with the world.
Fox talked to the crowd about the film, which tackles his life, career, and Parkinson's diagnosis. One thing that has charmed audiences about Fox time and time again is his ability to stay positive in the face of adversity.
In the film, he speaks frankly about his disease, saying it caused him to question his quality of life when the falls he took became more frequent and painful. However, he mentioned that he also had much to express gratitude for.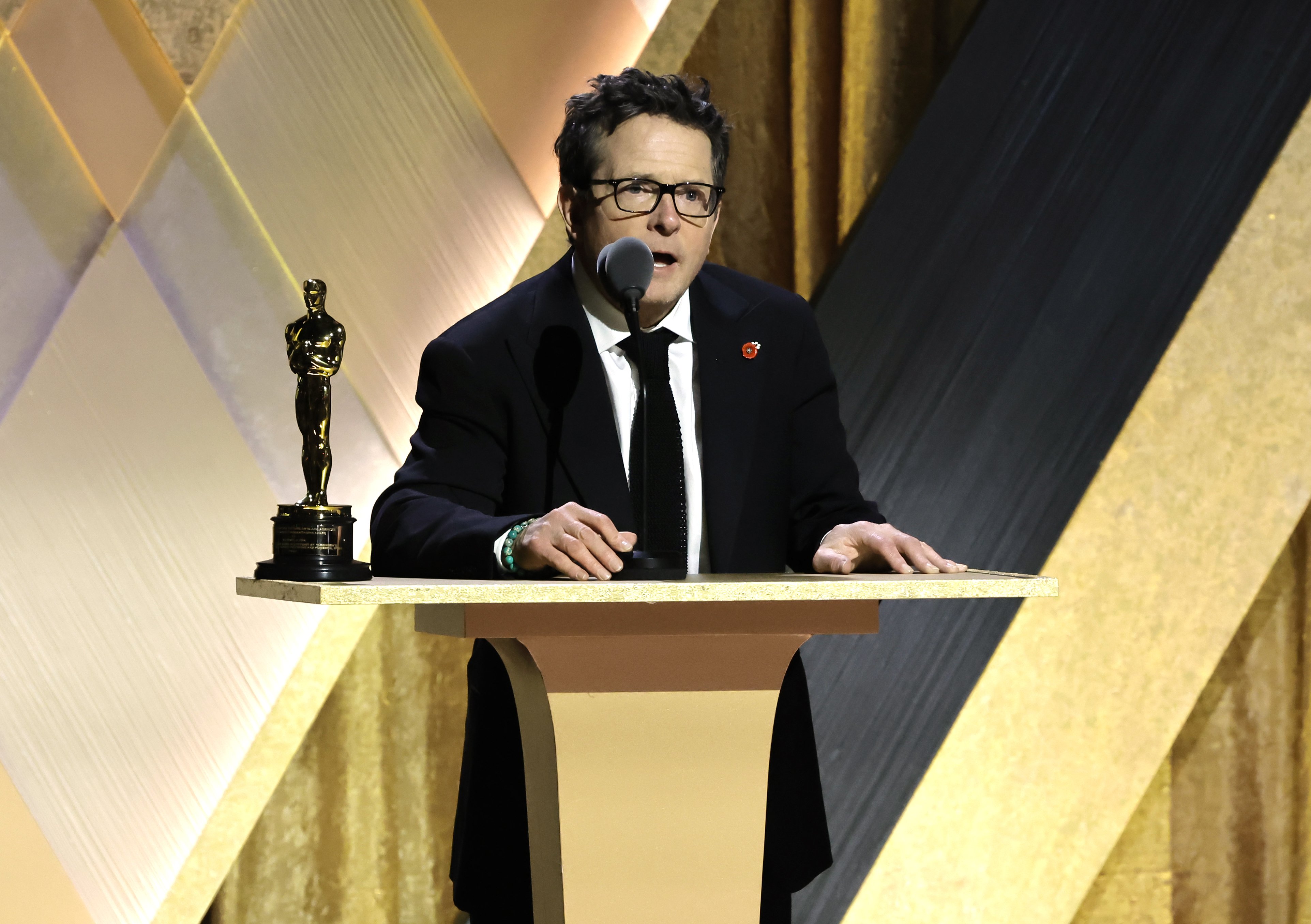 Michael J. Fox accepts the Jean Hersholt Humanitarian Award during the Academy of Motion Picture Arts and Sciences 13th Governors Awards at Fairmont Century Plaza on November 19, 2022 in Los Angeles, California | Source: Getty Images
He admitted that while he had dark thoughts after hurting himself often, he knew he had a wonderful family, and he loved being an example to those suffering in the same way he was.
The former actor confessed that a large portion of what keeps him going daily is his wife, Tracy Pollan, and their four children, Sam, Esmé, Aquinna, and Schuyler. Talking about the documentary, he said:
"When I look at the film, the thing that screams at me with how lucky I've been and how successful my life has been is the stuff with my family,"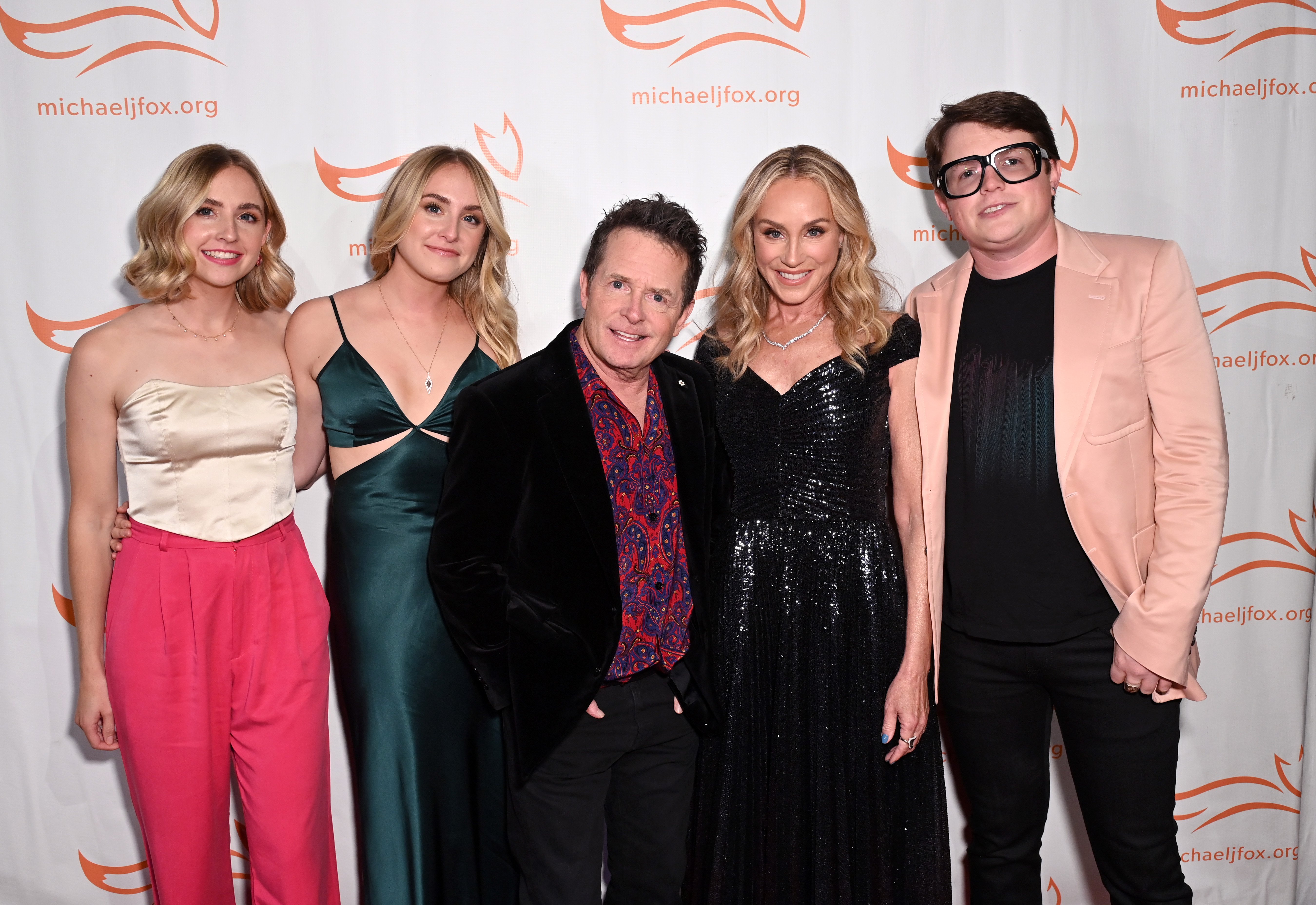 Schuyler Fox, Aquinnah Fox, Michael J. Fox, Tracy Pollan and Sam Michael Fox attend the 2022 A Funny Thing Happened On The Way To Cure Parkinson's at Cipriani South Street on October 29, 2022 in New York City | Source: Getty Images
He went on to describe these successes as a "joy." Fox had a thriving career in Hollywood before his diagnosis, which included acting credits in films like "Back to the Future," and "Family Ties."
While he is proud of his work as an actor, he admitted that before his diagnosis, he was living a life that was not serving him. Fox said he was drinking far too much and acting far too spoiled at the height of his career.
However, he has now turned his life around and focuses on his work with Parkinson's organizations and his family. Doing this has allowed him to form closer bonds with ex-costars, too.
His costar in "Back to the Future," Christopher Lloyd, has become very much closer to the former actor since they began attending fan events together. These events took place after he was diagnosed with Parkinson's many years ago.
Fox paid tribute to Lloyd in his speech, joking that while he felt he was getting older, he thought Lloyd was getting younger. He reflected on "Back to the Future" as one of the roles that made his career feel memorable.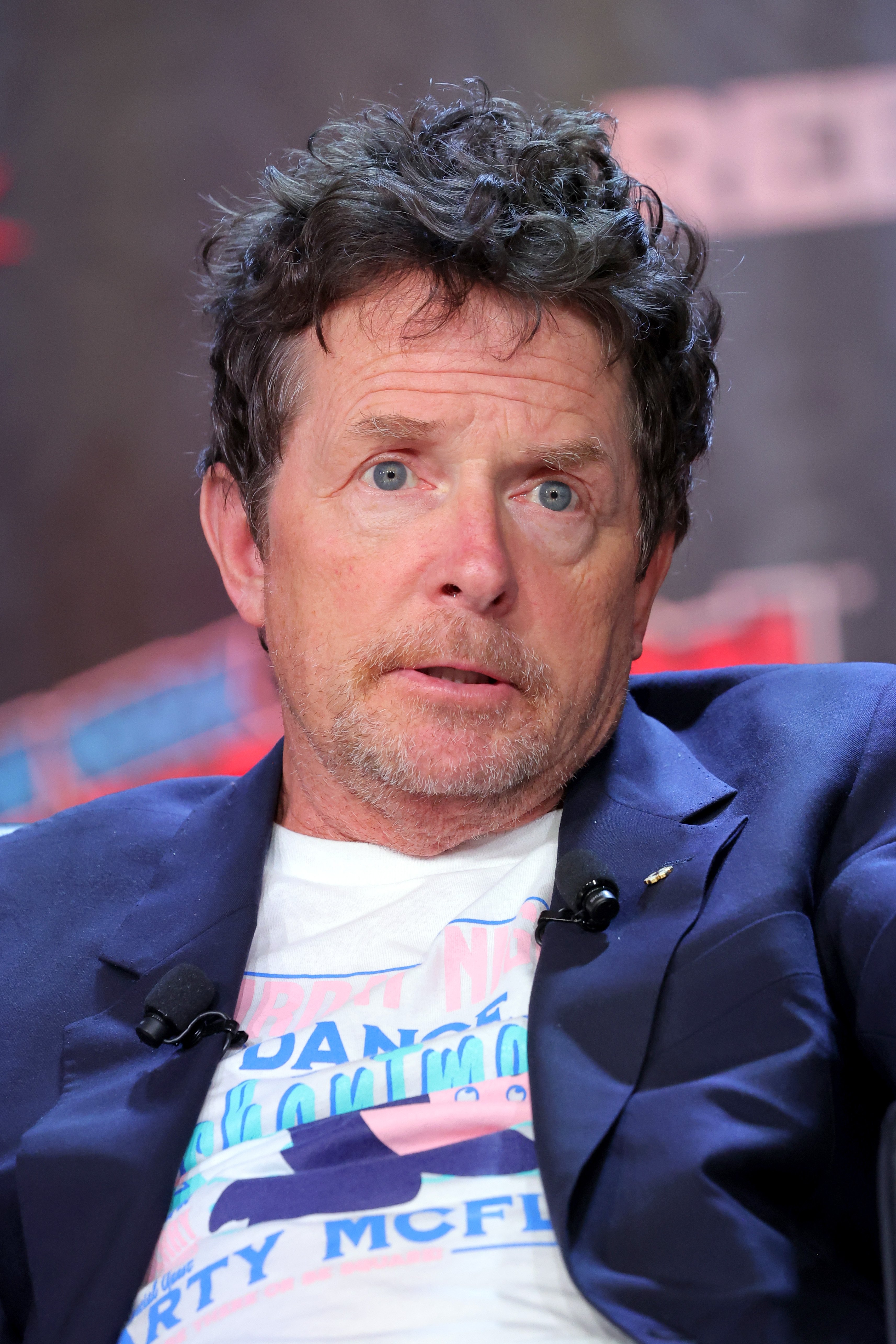 Michael J. Fox speaks during a "Back To The Future Reunion" panel at New York Comic Con on October 08, 2022 in New York City | Source: Getty Images
Fox said the thing that touched him most was seeing his family on-screen, watching their lives play out, and realizing how much time had passed in his life and the lives of his wife and children.
His Four Children and Wife Support Him Amid His Diagnosis
Fox was diagnosed with Parkinson's at the tender age of 29 and was nervous about breaking the news to his wife. However, she took it well and supported him. Talking about the moment he told her about his diagnosis, he said:
"One of the things I'll always love Tracy for is at that moment; she didn't blink."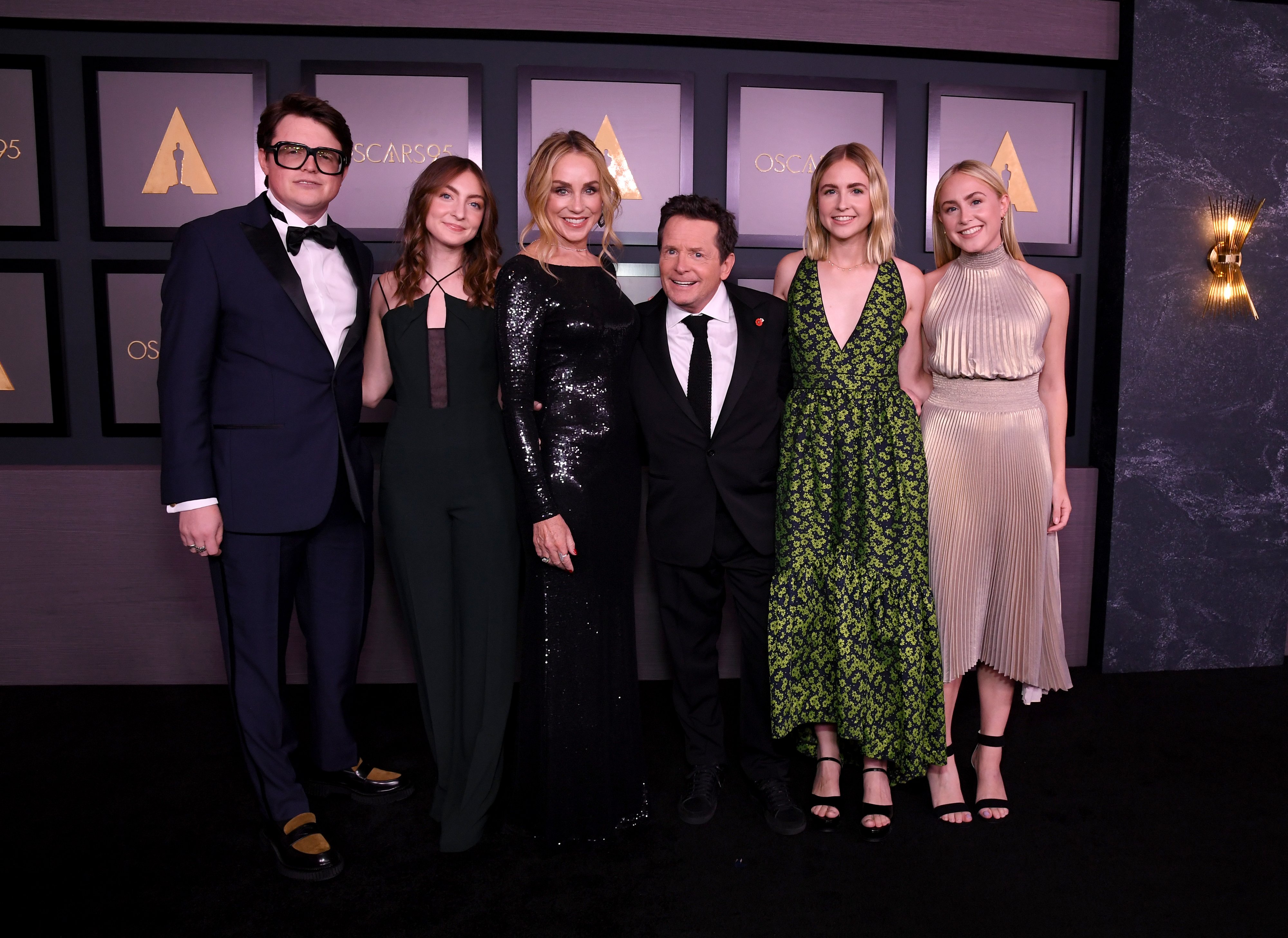 Sam Fox, Esme Fox, Tracy Pollan, Michael J. Fox, Aquinnah Fox, and Schuyler Fox attend the Academy of Motion Picture Arts and Sciences 13th Governors Awards at Fairmont Century Plaza on November 19, 2022 in Los Angeles, California | Source: Getty Images
He said battling Parkinson's is not something he could have done without her and their children by his side through it all. However, he acknowledged how it could be negatively affecting his family.
In recent years, his condition has worsened, and he has suffered a series of falls that resulted in serious injuries. He mentioned that if he broke an arm, it was not just him who had to deal with the broken arm.
He said he now appreciates his family more than ever for being there for him and caring for him. He considered his life a fairytale and said he and his wife had figured everything out together over the last three decades.