A woman from Minnesota didn't find the fountain of youth, but she might as well have! Celebrating her 100th birthday with a bundle of joy sitting in her lap, she couldn't be happier. The centenarian's birthday coincided perfectly with her great-great granddaughter's special day!
Vivian Thomas is one lucky woman. While many people don't live to see their great-grandchildren, the Lake Crystal resident surpassed that milestone, meeting her great-great-granddaughter.
Over the weekend of May 21, 2022, Vivian turned 100. Reaching the significant age was impressive, but that wasn't the best part of the grandmother's day.
The Duo's Special Bond
Vivian's heart truly sang because she got to share the special day with her precious great-great-granddaughter, Eloise. The toddler and granny share the same birthday, and little Eloise couldn't contain her joy throughout their joint party.
She turned one and looked adorable in a peach romper covered in rainbows. Her smile lit up the room, and one thing was evident—she loved being held by grandma Vivian, and the two share a special bond.
Many people also wanted to know Vivian's secret for living such a long life. Her wise words were more straightforward than expected.
The elderly woman looked stunning in a blue floral printed top and silver earrings. Her hair was also styled perfectly for the unforgettable day, and the duo looked like two peas in a pod.
Making Memories for Life
In a heartwarming photo, the grandmother pulled a funny face while looking at little Eloise, causing the child to beam. While it is hard to believe Vivian was born 99 years before the infant on her lap, it was true.
Eloise might be too young to understand the privilege of having her great-great-grandmother around, but one day she can look back on the priceless photos. They will always be a keepsake that she can cherish.
Many people also wanted to know Vivian's secret for living such a long life. Her wise words were more straightforward than expected. She simply encouraged people to live a healthy lifestyle and said:
"No smoking, no drinking, and no candy."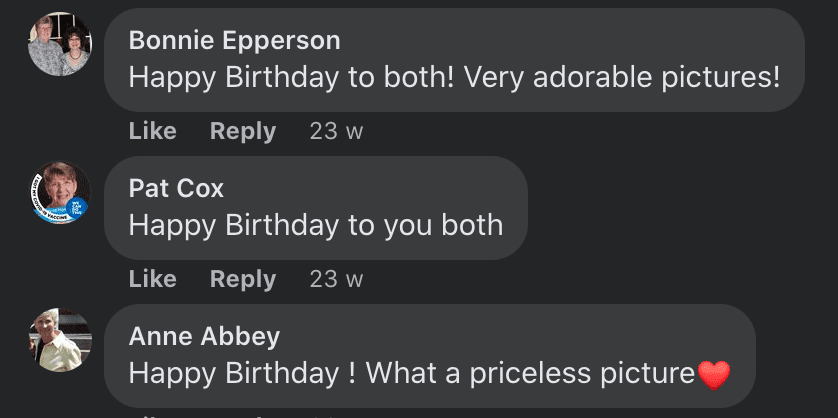 Birthday wishes for Vivian Thomas and baby Eloise. | Source: Facebook.com/newsner.com
The Online Response
Thousands of netizens wished Vivian a happy birthday, and many applauded her for reaching the milestone. Users also sent their love to little Eloise and highlighted how beautiful their connection was:
Another Centenarian's Advice for a Long Life
Vivian isn't the only woman to reach 100 and beyond. Iva Vest of New Mexico also celebrated a significant milestone in July. The great-great-great-grandmother turned 105 just one day after her precious family gained a new addition.
Wearing pink from head to toe, the elderly woman looked fabulous. She loved seeing her friends and celebrating her many years on earth. The previous day, she received a priceless gift.
Her great-great-great-granddaughter was born and named Iva in her honor. It was a moment she would never forget! The 105-year-old also had advice for people wanting to live a long life. It was a similar message to that of Vivian. Iva noted:
"Try to live a happy life and eat healthily."
Life is precious and having elders around for guidance and love is something money can never buy. What a gift these grandchildren and grandparents have been granted!
May there be many more happy years for Vivian, Iva, and their loved ones. They are legends, and their families are lucky to have had them for many blessed years.