An adorable video surfaced on TikTok where a young woman surprised a World War II veteran on his birthday. The man had no idea his neighbor's kind gesture would go viral in no time and people worldwide would shower him with love.Willy Bontinck, a resident of Belgium, is one of the last World War II veterans.
He joined the armed forces as a volunteer when he was 17 and became a hero for his country. Years later, he is still a hero who receives lots of love and appreciation from the people around him.Before serving his country as a soldier in 1944, Bontinck volunteered at the Red Cross since he was too young to fight. He still feels proud of everything he did back in the day, and so do his admirers.
Bontinck's neighbor, Elien Van den Brande, had made it a ritual to surprise the elderly man with a cake on his birthday every year. She worked as a photographer and knew him because her studio was next to his place.
Brande adored Bontinck and respected him even more after learning he was a veteran. She was a 27-year-old girl who loved making people smile and had no idea that one of her little gestures would go viral in no time.
The young woman loved posting videos on TikTok. On Bontinck's 95th birthday, she bought a customized birthday cake with his picture on it.

She Planned A Surprise
After buying the cake, Brande headed to Bontinck's house and recorded a video on her phone to post on TikTok. She wanted to preserve her neighbor's reaction to watch it later.
Two days later, Brande's TikTok video took the internet by storm.
In the video, Brande hands a white-colored cake box to Bontinck, who places it on the dining table. Upon opening it, he raises his hands in surprise while Brande chuckles.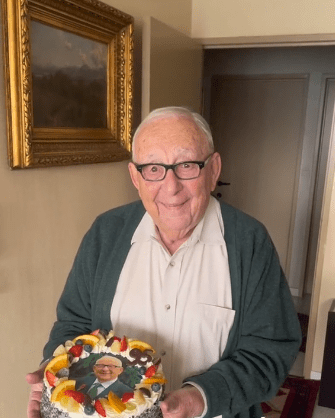 Willy Bontinck | Source: tiktok.com/elienvandenbrande_
Bontinck poses for the camera with the cake. The video shows how happy he feels after receiving his 95th birthday cake with his picture on it.
Brande celebrated her neighbor's birthday and uploaded the TikTok video on December 13, 2022. Little did she know that her post would go viral in no time.
Two days later, Brande's TikTok video took the internet by storm. People couldn't stop adoring her kind gesture and how Bontinck's face lit up after seeing his birthday cake. They flooded the comments section with messages of support and shared the video with their friends.
After the video went viral, Brande's TikTok followers increased to 12,000. She was surprised and said she had no intention of going viral. She only made the video for herself and uploaded it on TikTok, expecting it to gain as much attention as her other videos.
Meanwhile, netizens also wanted to send presents to Bontinck, and Brande said she would deliver them to the elderly man's house. She was delighted to see how people showed so much love and affection to Bontinck.
"I get messages from the BBC and agencies," Brande said. She confessed that reading those messages was surprising because she never aimed to gain popularity.

He Was Happy
A few days later, she uploaded another video for Bontinck's admirers, telling the elderly man that his video had gone viral on the internet. She showed him a few comments that made him smile. He said:
"Oh, that's beautiful!"
Brande said her elderly friend has a Facebook account, but she thinks he might also join TikTok. We hope the pair keeps on doing beautiful things together.