In an astonishing turn of events, a young man saw an older woman working in a Walmart store and couldn't help but wonder about her circumstances. After learning that what kept her from retiring was her mortgage, he decided to remedy the situation.
Devan Bonagura from New Jersey was oblivious to how drastically his life would change—all because he extended a helping hand to someone who needed it the most. It was an event that taught him eye-opening lessons and inspired several others to do the same.
It all began when he posted a 15-second clip on TikTok—his fifth video on the popular video-sharing platform. While Bonagura had his reasons for sharing the short video, even he couldn't have anticipated the response it would receive.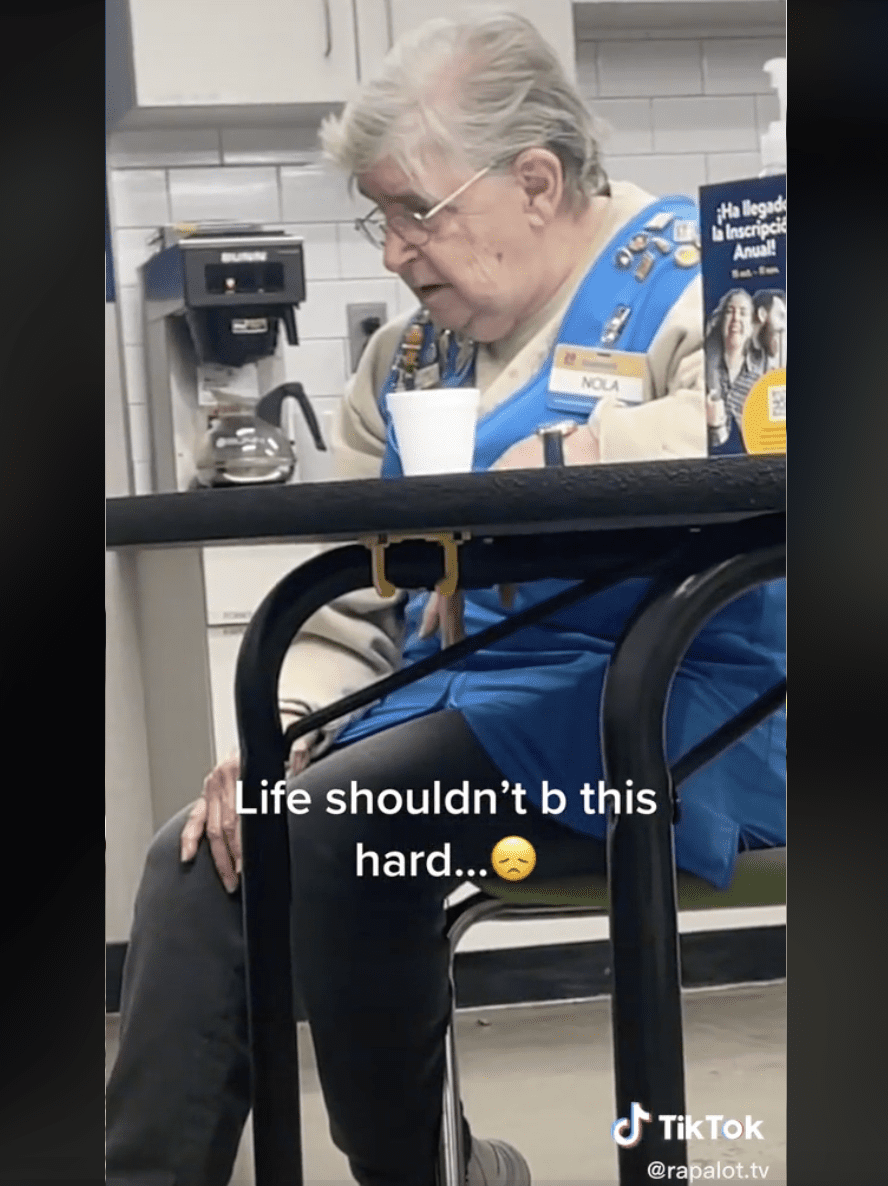 Nola Carpenter inside a New Jersey Walmart store | Source: Tiktok.com/@dbon973_
Going Viral
The young man's video showed an elderly lady sitting at the break room table at the Walmart in Hackettstown, New Jersey, during her shift. As of November 28, the clip has become a viral sensation, garnering 30.8 million views and 4.6 million reactions.
While the elderly woman was grateful for his help, she expressed the amount wasn't enough to pay her mortgage fully.
Jumping into Action
The senior citizen in the video turned out to be Nola Carpenter, 81, a New Jersey resident who had been working for the giant retailer for over two decades. Within a short time, the viral clip amassed thousands of comments from netizens far and wide. Its in-lay text read:
"Life shouldn't [be] this hard."
While some hinted that Carpenter seemed tired and on the verge of giving up, others expressed a strong desire to hug her and help make her feel better. Given people's overwhelming response, something tugged at his heartstrings, and Bonagura knew he couldn't stand aside and watch.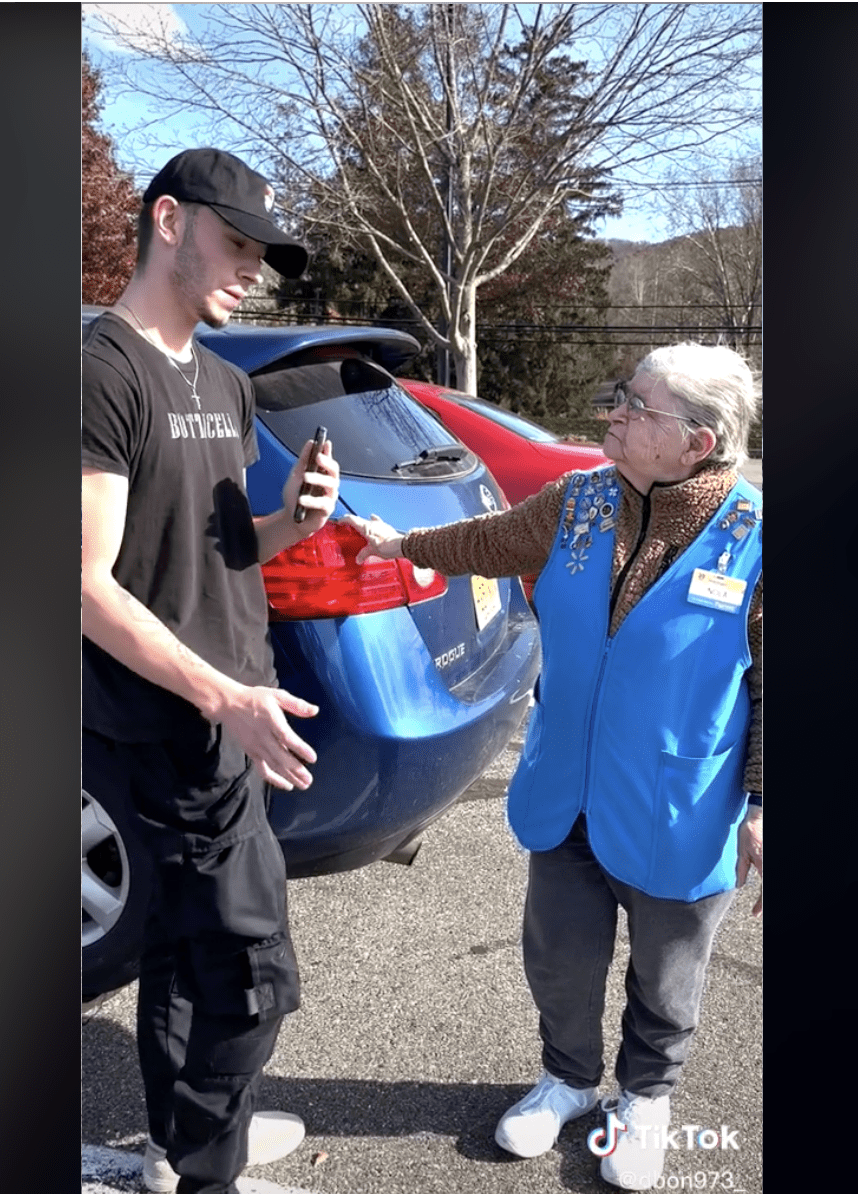 Devan Bonagura and Nola Carpenter | Source: Tiktok.com/@dbon973_
Creating the GoFundMe Page
Eventually, Bonagura learned that the reason Carpenter had been working instead of enjoying her retirement was to earn enough money to pay off her mortgage. However, with Walmart paying $17-$19 to its workers on average per hour, it would have likely taken the older lady a long time to gather enough money.
So, to help ease her woes and in response to a commenter's suggestion, Bonagura created a crowdfunding page for Carpenter with the title, "Let's help Nola retire." The caption read:
"Nola works at Walmart and that says enough. Let's all come together and help."
Facing Backlash
Bonagura later revealed that he wasn't employed by Walmart but by a third-party company that sold products there. In a follow-up video on November 4, the young man updated his followers on Carpenter's story and made shocking revelations.
He revealed that a store manager told him to remove the viral video and delete the fundraising page because the popular retailer was allegedly being threatened and receiving severe backlash, adding they would involve the cops if necessary. But Bonagura said he was crystal clear about his stance on the matter:
"I told them to do what you have to do because I'm getting this money to this woman one way or another."
The New Jersey resident claimed he was even suspended from his job, with pay, but none of that mattered because he was glad he had been able to help Carpenter.

Supporting the Elderly Lady
In another video posted on November 5, Bonagura gave Carpenter a surprise visit, and after a brief chat, he transferred $110,000 raised through the fundraiser into her account. While the elderly woman was grateful for his help, she expressed the amount wasn't enough to pay her mortgage fully.
Carpenter said she would have to continue her work until she could make an additional $60,000, and given her hourly wage at the store, it would have taken her too long to save up such a considerable sum. Thus, Bonagura kept the GoFundMe page going until it reached $186,323 from 13,500 donations.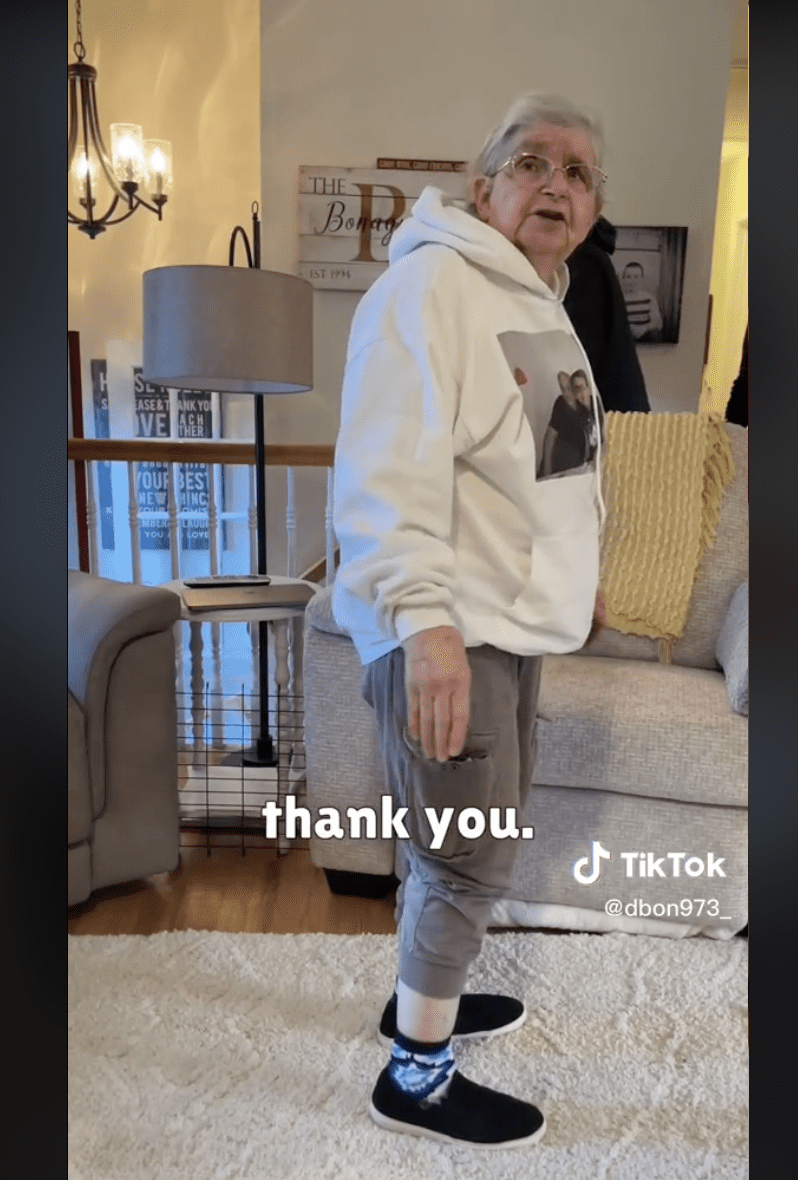 Nola Carpenter | Source: Tiktok.com/@dbon973_
Nothing but Gratitude
On November 14, 19-year-old Bonagura shared an update video with Carpenter, where he did a small Q&A round with her after turning over the entire proceeds from the GoFundMe page.
"I feel good, and I'm thankful for Devan for what he's done, or none of this would have been possible," said Carpenter, who could finally afford to retire.
Having worked for the retailer for over 20 years, Carpenter became nostalgic and expressed that she would miss meeting her regular customers. She also confirmed that she would continue working during the holidays and retire at the beginning of 2023.