When an older woman boarded a plane in 2020, she was unaware of the surprise waiting for her. As she sat down in her seat, an announcement from the pilot startled her. What happened next was heartwarming.
Who doesn't like feeling special? Every once in a while, a family or friend can brighten our day when we least expect it. Cherishing such a priceless moment is a memorable experience that we wouldn't trade for the world.
Pilot announcements during flights are standard, but they are sometimes meant not merely for instructions but for someone genuinely special. Something similar unfolded for a lucky lady in January 2020.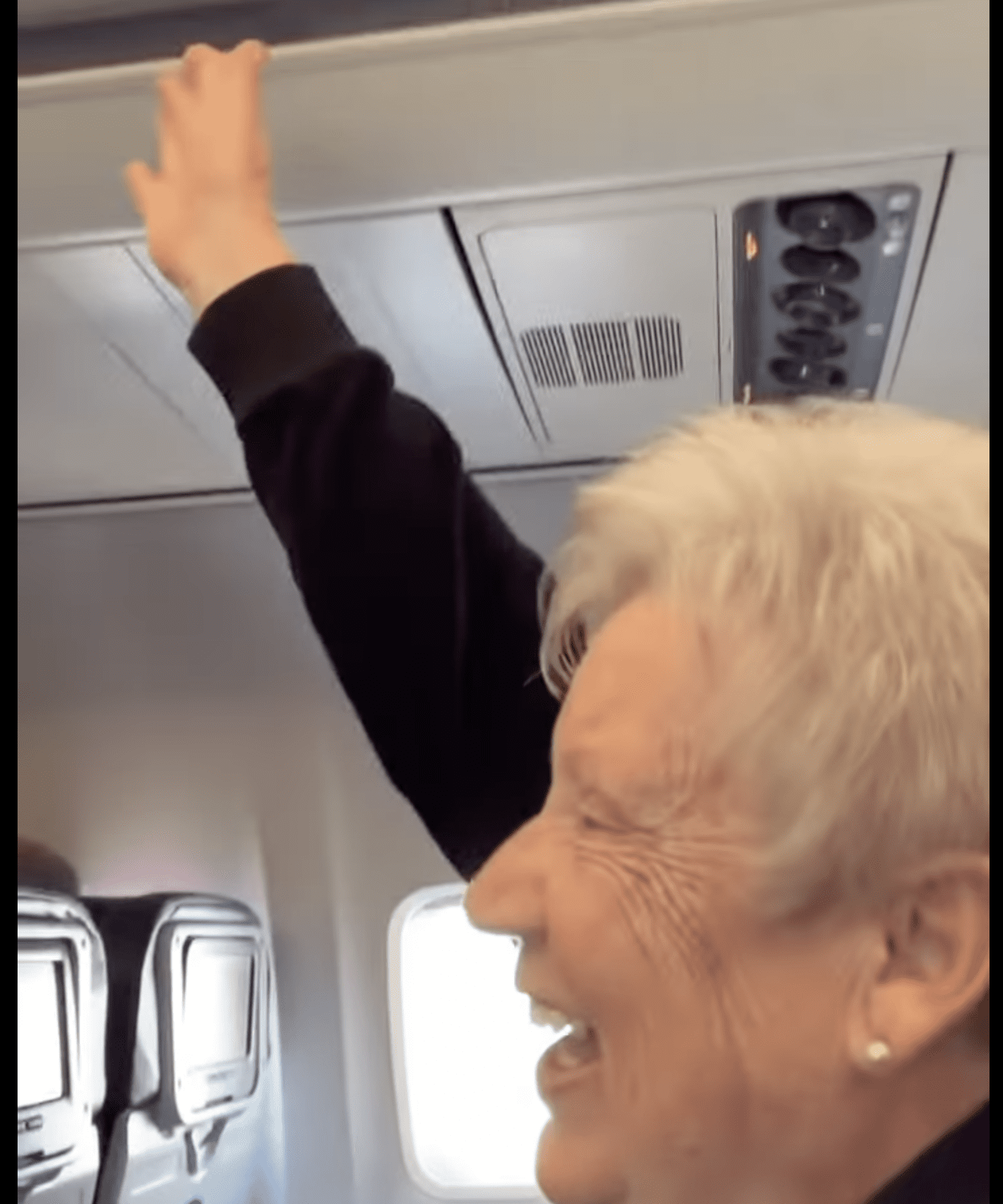 Michelle's mother raised her hand in response to the pilot's announcement. | Source: Youtube.com/Michelle A
The Flight That Took a Turn
Michelle A's mother was a Capital Airlines flight attendant nearly 60 years ago. Before the airline's merger with United Airlines, she left her job, giving her undivided love and attention to raising her three kids.
Michelle thought of the perfect way to make her mother feel special and loved on their flight together. Surprisingly, she wasn't the only one planning the memorable surprise.
As her mom sat down in her seat, the pilot made an unusual statement that said, "If you were a Capital Airlines stewardess, would you mind raising your hand?"
What a Surprise
Michelle captured the moment her mother was startled by the announcement. The short video showed Michelle's mom looking over at her in utter shock. The surprised elderly lady then uttered, "Oh my God," and raised her hand.
The viral video has amassed over 26 million views and several comments from netizens.
All the passengers started clapping as the pilot continued to hail praises for Michelle's mother, calling her "the greatest mom ever." The delighted older woman tossed her hands at the sweet compliment.
A Sweet Exchange
But that wasn't all. Michelle's camera gradually shifted its focus down the aisle and showed the captain leaving the cockpit and walking toward her mother. The elderly lady was a whirlpool of emotions and covered her face with her hands, afraid she might cry.
Soon came the grand moment of revelation when the pilot turned out to be Michelle's older brother, who had followed in his father's footsteps to become a United Airlines pilot.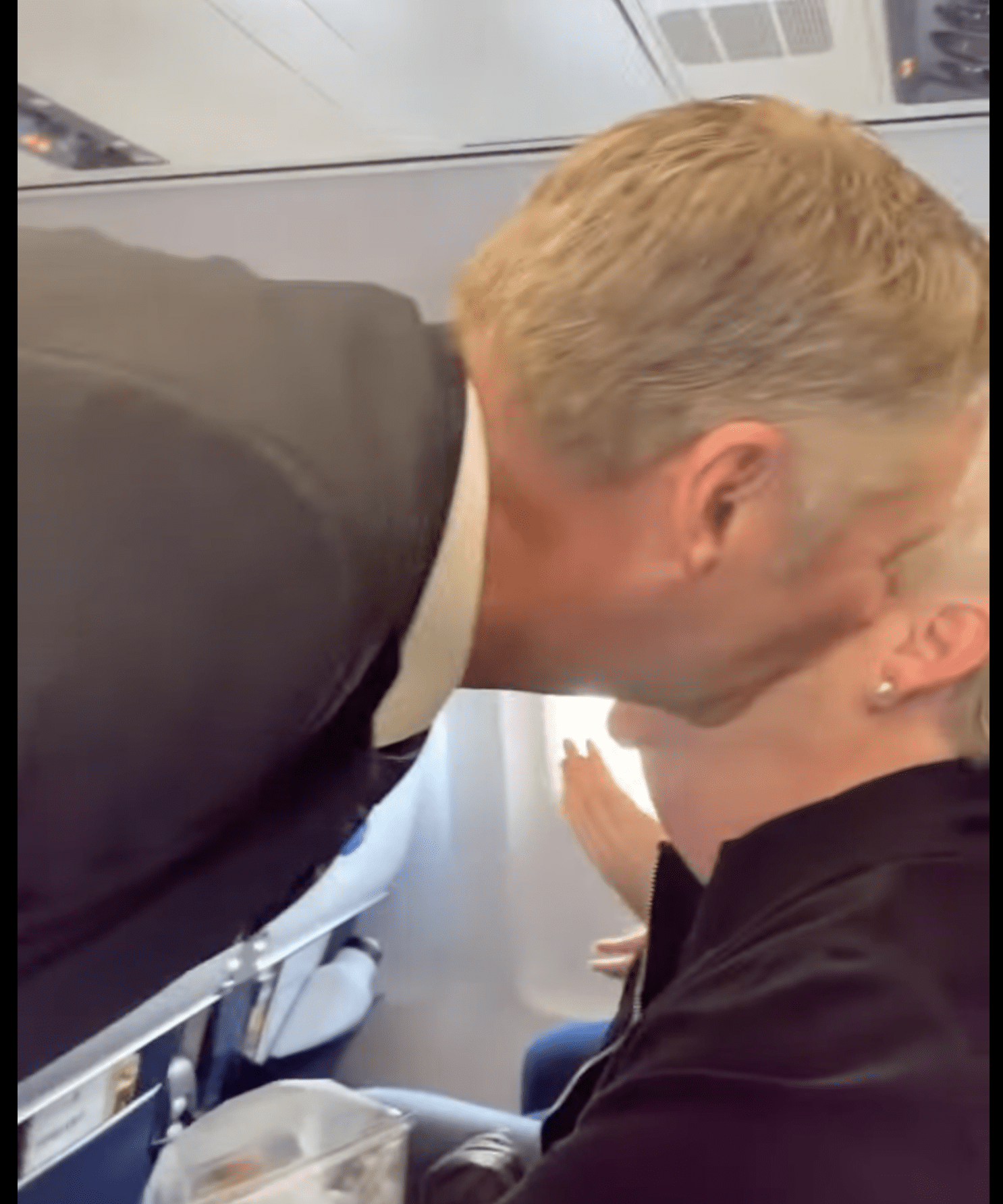 Michelle's mom gets a tender kiss from her pilot son. | Source: Youtube.com/Michelle A
The gentleman walked straight to his mother, leaned down, gave her a warm hug, and whispered, "Love you." The teary-eyed mom replied, "You had the greatest dad ever." She then turned to the other flight passengers and added, "His father was a pilot."
The Viral Video
Indeed, flying ran in the family, but what truly touched our hearts was the elderly lady's epic reaction. Her daughter and son orchestrated the perfect surprise for their mother, and it worked wonders.
Michelle shared the touching clip on YouTube on January 15, 2020. The viral video has amassed over 27 million views and several comments from netizens. One user wrote: "When your child does this for you, then you know you have reached true success."
A second YouTuber commented: "I'm a pilot. I've done this for my mom too. Awesome feeling to see the joy in your mom's eyes." Another one added: "That's how you know a flight is gonna be safe, when the pilot's mom is onboard (sic)."
Have you ever been on a plane where someone decided to surprise you all of a sudden? Here's another story that mirrors something similar: a young mom handed out special bags to flight passengers in 2019 while going from Korea to the U.S.