Parents and grandparents are known for their selfless and loving nature. Come rain or shine, they would do anything to fulfill their children's wishes. But an opposite scenario unfolded for one granddaughter who came through with a promise she had made to her grandma years ago.
There was a time when Janita Badon was a little girl, and like many kids her age, she loved believing in a world full of possibilities and opportunities. During that phase, the eight-year-old from outer Northeast Portland made a promise to someone close to her heart.
Janita shared a beautiful connection with her grandmother, Irma Badon, and lovingly referred to her as "Momo." Despite her tender age, she wanted to give everything to her beloved grandma, and her vow was only a small reflection of her unwavering love.
The Promise
You might be wondering what Janita promised Irma. It turned out that the then-young-Janita vowed to buy Irma a home of her own one day. We all know and understand as adults that purchasing a new house is no child's play, but the Oregon girl knew what she was doing.
She said she wished to give everything to her grandma because she deserved nothing less.
Her Love for Her Grandma
Many years passed, and Janita grew into a strong, beautiful, and compassionate woman. She transitioned from childhood to adulthood, but the one thing that remained constant in her life was her love and respect for her family and friends.
While growing up, Janita's affection for her dear Momo became more profound. She was grateful for how her grandmother had kept their large family together. Perhaps it was finally time to come through with a vow she had made years ago.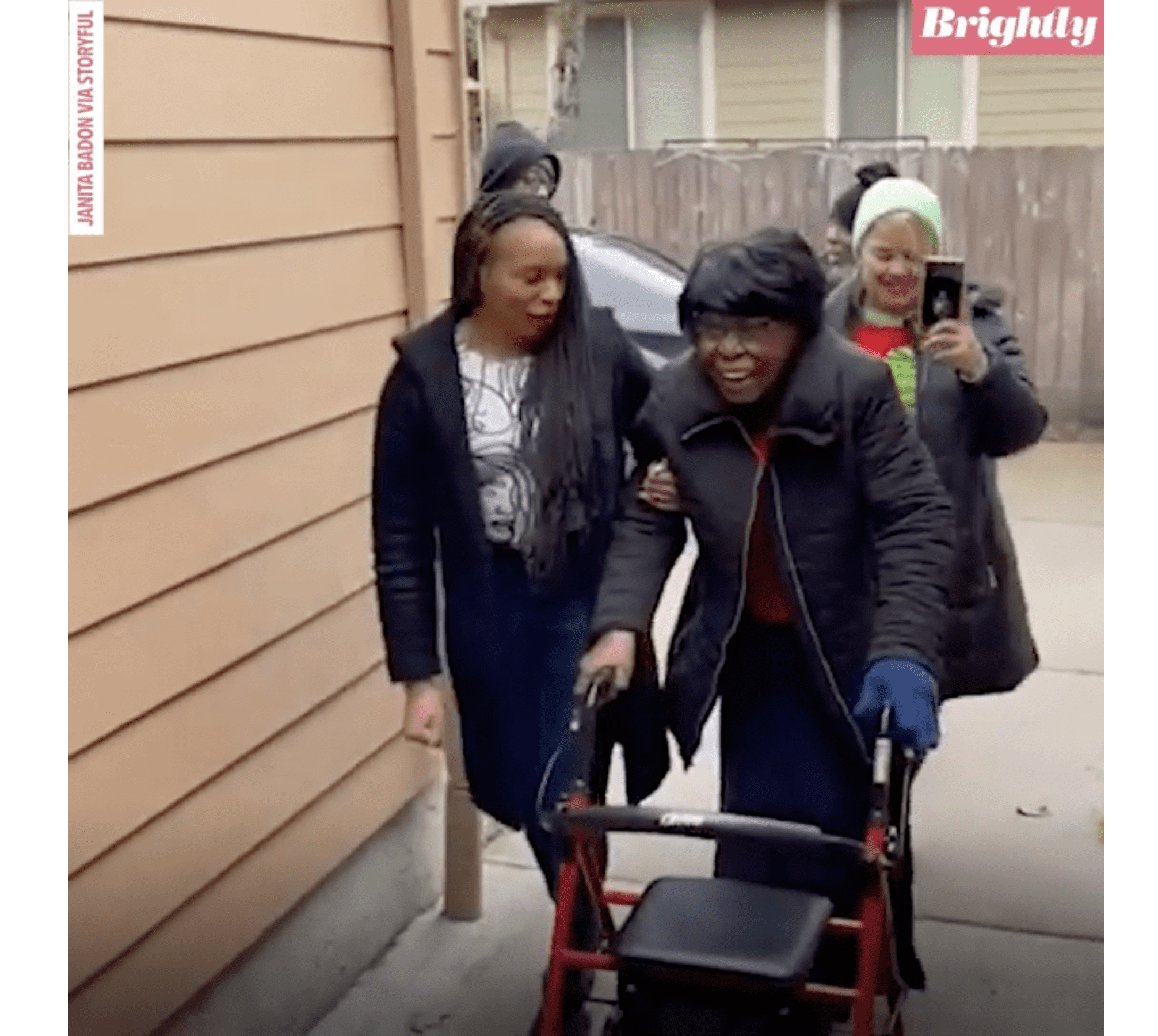 Janita Badon takes her grandmother, Irma Badon, to see her new house. | Source: Facebook.com/GoodMorningAmerica
A Long Time Coming
After much thought, Janita chose December 2021, close to the magical occasion of Christmas, to surprise Irma with a place she had purchased for her. The Portland resident had her family onboard and told them to meet her and Irma at the house, but with a slight twist.
A short video showed the grandma-granddaughter duo slowly walking toward the house, surrounded by their loved ones. Janita helped Momo with her walker and tried to stay calm and composed so as not to give away her surprise. But her silence seemed to make Irma even more curious.
Taking Her Grandma to the Surprise
In the clip that has since gone viral, Janita asked her grandmother to repeat what she had said, and in response, one of their relatives spoke on Irma's behalf, "She said, 'Why couldn't she bring the gift to the house?'" If only Irma knew that there was no way the gift could come to her.
Soon afterward, Janita told her grandma that it was difficult to bring the gift to her and then hinted why it wasn't possible. Before Irma could react, her sweet granddaughter screamed, "Cause this is your house!" Irma was taken aback when she heard those words, and her facial expressions were a mix of shock and delight.
After walking a little more with her grandchild's support, the senior citizen arrived at the main door adorned with a red bow. Janita helped Irma put her walker through the door, and on a count of one, two, three, their loved ones shouted "Surprise!" after coming out of their hiding spots.

Fulfilling Her Grandma's Dream
It was a special moment that the 83-old-grandma would never forget—a golden memory that would forever stay etched in her mind. Janita had not only followed through on her promise, but she had fulfilled her caring grandmother's lifelong dream.
On December 27, 2021, Janita posted glimpses of the ecstatic occasion in an emotional post. She said she wished to give everything to her grandma because she deserved nothing less. The caption read in part:
"Christmas was a dream come true…. My momo got her house! the most selfless person in this world (sic)."
Messages of Appreciation
Several netizens were touched by Janita's heartwarming gesture for her loving grandmother and showered her with appreciation, praise, and pure love. Here are a few comments that people wrote:
"Absolutely beautiful!!! I'm in tears. Janita Badon you are an angel on earth."
— (@dianne.causey.56) December 28, 2021