"Dallas" actor Patrick Duffy, 73, and "Happy Days" actress Linda Purl, 67, both had successful careers in Hollywood but never crossed paths for decades despite working in the same business.
Duffy had a long-lasting and loving marriage with his wife, Carolyn Rosser while Purl had been married to four different men before they found each other.
Purl's first husband was Desi Arnaz Jr. from 1980 to 1981; her second husband was William Broyles Jr. from 1988 until 1992. She married her third husband, Alexander Cary, in 1993, and they divorced in 1999.
She then went on to have a fourth and final husband, James Vinson Adams, from 2006 to 2011. Of the four ex-husbands, Purl shared only one child with Cary and she never considered dating again after being married multiple times.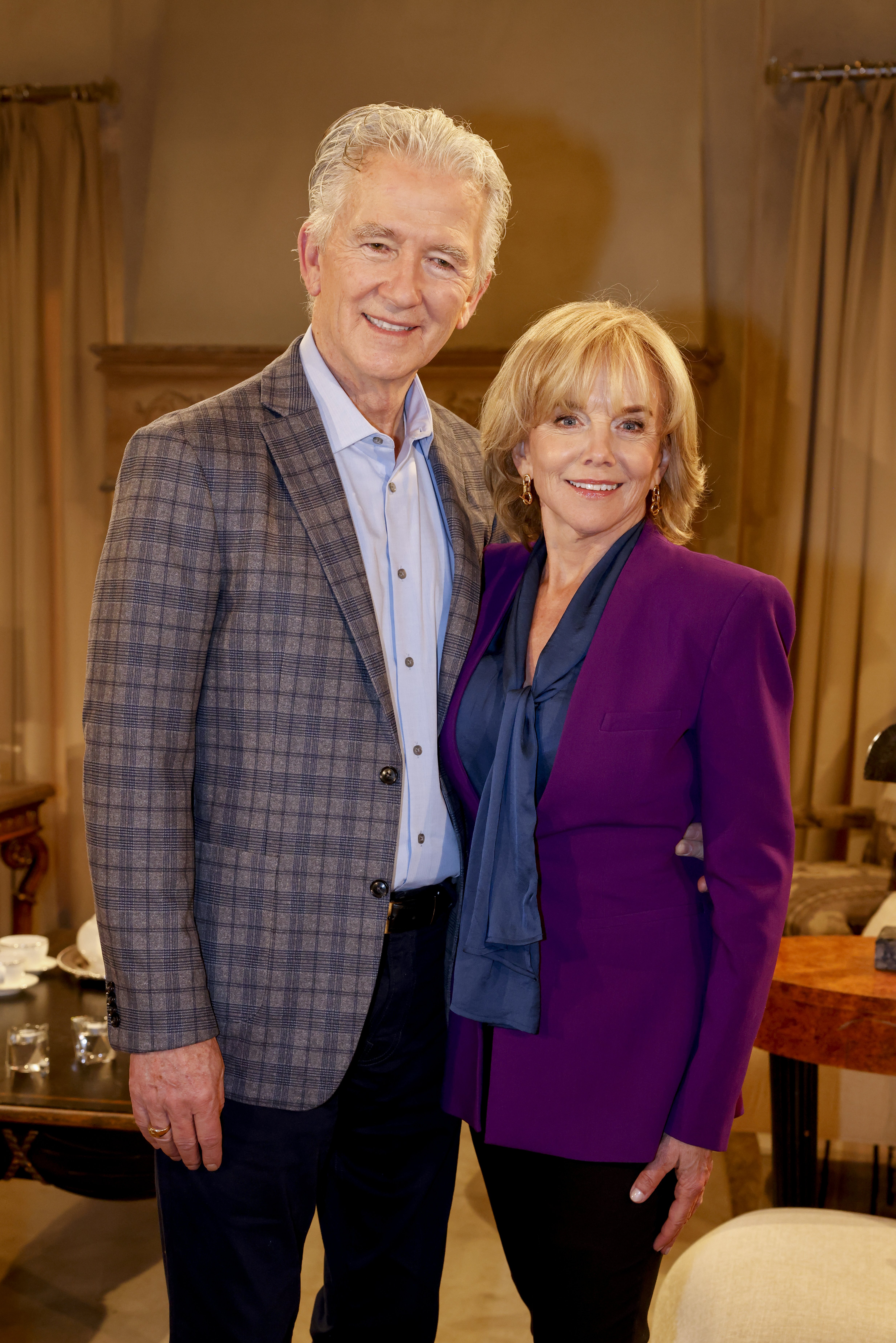 Patrick Duffy and Linda Purl pictured on the set of the CBS Daytime series "The Bold and The Beautiful" on October 24, 2022, in Los Angeles, California. | Source: Getty Images
In 2017, Duffy's world was turned upside down when his wife of 43 years, Rosser, passed away. She was 77. The couple shared two sons, and despite her passing, Duffy still considered himself a "married man."
For a while, Duffy was not ready to move on from his wife's death. Emotional, he said he missed Rosser's touch the most and felt closer to her then.
However, in 2019, Duffy found love again at 71. Purl came into his life and ultimately transformed it. Interestingly, Duffy won Purl's heart through the video call platform Zoom. They felt like teenagers when they met a few years ago.
Patrick Duffy and Linda Purl's Virtual Love Story on Zoom
Despite working in the same industry, Duffy and Purl never met each other. But their surprising relationship began in the fall of 2019. They both attended an event in Los Angeles, where a mutual friend introduced them.
The three started chatting through text, but the friend soon dropped out of the group, leaving Duffy and Purl to continue texting each other, and it became their opportunity to bond.
Their newfound bond eventually led to regular FaceTime sessions every Wednesday, where they would check in on each other despite the distance—Duffy was filming in Canada, and Purl was performing in a play in New York.
They would share details about their film locations and what their houses looked like. At the time, Duffy showed Purl his Oregon ranch, and Purl gave him a glimpse of her apartment.
Their FaceTime conversations continued for three weeks, with Duffy eagerly looking forward to Wednesdays. Their long-distance communication continued even when the COVID-19 pandemic hit.

After meeting on FaceTime, Duffy and Purl eventually chatted over Zoom calls for several months while isolating themselves in their respective homes—Duffy on his ranch and Purl in Colorado.
Their conversations became more profound, and they discovered more similarities beyond just their careers in the entertainment industry. They found solace in family and children, and Purl said Duffy would read her poetry he had written.
Duffy never expected to find love again after Rosser's death, however, after connecting with Purl, their friendship quickly blossomed into something more.
Purl recalled that they had agreed to get together once the pandemic and isolation were over. But for the widowed actor, it felt like the waiting game was taking far too long.
Despite the difficulties caused by the pandemic and his grief for his deceased wife, Duffy was determined to be with Purl, so He drove for 23 hours non-stop just to be with her. Purl recalled:
"Patrick heroically got in his car and drove from Oregon to Colorado. We were both nervous as teenagers, but we've been together since."

Purl described their courtship as a "Victorian process," suggesting it was slow. They spent weeks talking and getting to know each other before their unusual first date and first kiss.
Duffy revealed they would talk for hours seven days a week over Zoom. He said, "We listened to music together and covered all that ground you normally cover over months of dating."
Over three years in their relationship, Duffy reflected on how he and Purl's relationship seemed to have fallen into place seamlessly despite his initial thought of never dating again after his wife's passing.
After being married for a long time, Duffy never figured out any "plan of action" for finding love again. He said the universe "stepped in" for him and eventually directed him to Purl.
Patrick Duffy and Linda Purl's Life Now
After being confined in Colorado and officially starting a relationship, Duffy and Purl began working together and even starred together in a play. It was strange for Purl to walk to and from the set while holding hands with her boyfriend.
She remembered when Duffy gave her a pat on the bottom and said "good job" at the end of a scene. Purl often found herself instinctively placing her hand on Duffy's knee and then holding hands again.
Duffy said that his life is "fantastic," while Purl noted that many goals had been met. She also mentioned that they are content with either working or not working at all, with Duffy adding:
"I'm as happy now as I was in the first year of being with my wife."

Duffy explained there had been both "good and bad" developments in their industry, and he and Purl are fortunate to have experienced them all. They are always ready to take on new projects when asked.
He said they consider themselves lucky to be employed and are thankful for every opportunity that comes their way. They approach every day with gratitude for what they have.
Besides enjoying acting, the couple enjoys doing exercises and cooking dinner together. They also made sourdough starter kits named Duffy's Dough, inspired by Duffy's mother, who used to bake in his childhood.
Duffy also made sourdough pancakes in the early days of his relationship with Purl, and the idea to make it a business was born. He never thought about making it into a business, but Purl took it and instantly ran the business.
Duffy also described Purl as a master cook. He said he learned new skills every day by watching her prepare meals. He also described their lifestyles are "very compatible," in many aspects including:
"In the kitchen, the way we cook, the way we clean, the way we function together as individuals."
Besides cooking good food and baking sourdoughs, the duo enjoys sharing fun content on social media. Purl said they made "little videos" of Elmer, their "adopted" seagull, who often visits their balcony, waiting for a snack.
Duffy and Purl are head over heels in love these days. The charming couple has finally found a meaningful connection with one another and, as a result, has begun a new life together full of love and happiness.
They've both moved on from past relationships and discovered a fresh start with one another, and neither of them has any regrets. They have demonstrated that love can blossom at any age and that anything is possible.