Paul McCartney, the former bassist of the iconic band The Beatles, is now spending quality time with his family after many years of fame. He has enjoyed massive success as a musician, but what he cares most about is the happiness and well-being of his family.Paul has successfully balanced his responsibilities as a father and a rock star.
As he soared to stardom in the past, he made sure to keep his children out of the limelight and give them a chance to experience a normal childhood.Paul shot to immense stardom as the bass guitarist of the famous English band The Beatles, but for his five children — Heather, Mary, Stella, James, and Beatrice McCartney, he is a loving father.
Paul has said that being a parent is the most rewarding thing he has ever done, even though he's had many number-one hits and toured the world with his music, playing classic songs like "Hey Jude" and "Come Together."
In an interview with The Telegraph in 2009, Paul expressed his joy in being a father. He described how he routinely rises early in the morning to get his daughter Beatrice ready for school and prepare breakfast for the family.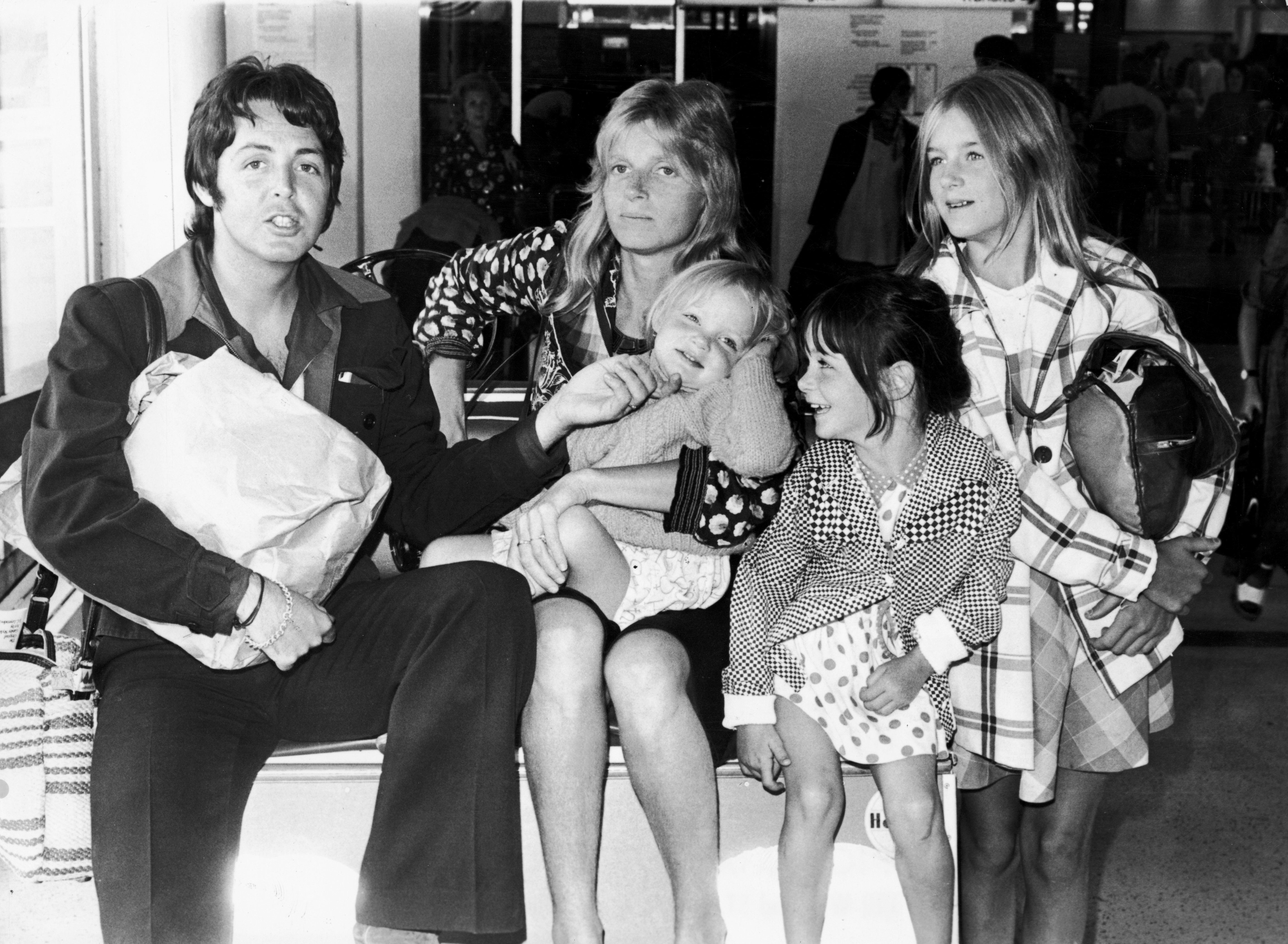 Paul became a father for the first time with his first wife, Linda McCartney. Together, they share three children: Mary, Stella, and James. Paul adopted Linda's daughter Heather after he and Linda married in 1969.
Linda, a talented musician, photographer, and animal rights activist, unfortunately passed away in April 1998 due to breast cancer. This tragic event left the great musician a single father.
In 2002, Paul married his second wife, Heather Mills. The couple had been together for six years before splitting up in 2008. They have a daughter named Beatrice.
In 2011, Paul married his third wife, Nancy Shevell. Paul has had the delight and responsibility of raising and being a parent to his children his entire life.
Four of Paul's adult children have become successful artists and musicians. As for his youngest daughter, Beatrice, she is still in her teenage years and has yet to carve out a notable career.
Heather is a highly talented potter and designer, and James is an established singer and songwriter. Mary and Stella's accomplishments stand out more than those of their siblings.
Mary, born on August 28, 1969, is a successful photographer and vegetarian cookbook writer. She was featured in the documentaries "Wingspan" in 2001 and "Who Shot Rock & Roll: The Film" in 2012.
The cookbook writer has been married to her husband, film director Simon Aboud, for more than ten years. She is the mother of four children: Arthur, Elliot, Sam, and Sid.

Mary looks up to her father so much. She said that her father had given her excellent advice about pursuing her desires and being confident in her choice, which she had taken to heart.
Meanwhile, Stella, born on September 13, 1971, is a talented designer. After earning a degree from the illustrious Central St. Martins in 1995, she founded her self-titled fashion label in 2001.
Mary and Stella's Wonderful Childhood on a Scottish Farm
Because of Paul and Linda, Stella and Mary enjoyed a classic and memorable childhood. Their parents placed a high value on giving their children the freedom to be themselves and have their personal space.
The couple raised their daughters when Paul was highly popular and influential. However, they made a concerted effort to ensure that their children did not feel the weight of his fame or let it negatively impact their upbringing.
Linda was also deeply involved in the upbringing of Stella and Mary, and the couple worked together to create a loving and supportive home environment for their children.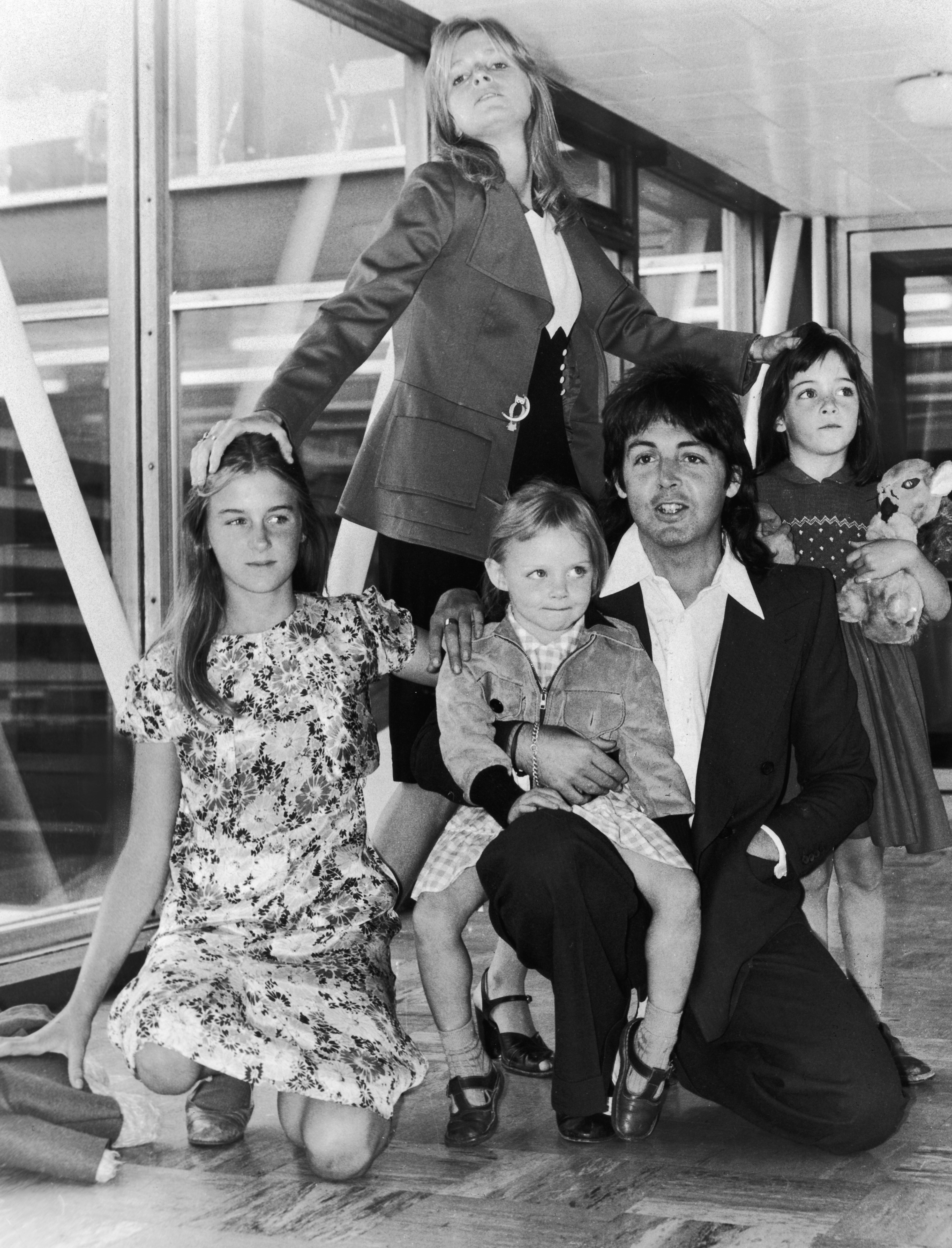 Paul McCartney, Linda McCartney, and their daughters Heather, Stella, and Mary pose at an airport on June 30, 1975. | Source: Getty Images
When his wife became pregnant with their daughter Mary, life became overwhelming for the English musician. The Beatles were going through a chaotic and stressful time with the involvement of their business manager, Allen Klein.
However, the birth of Mary served as a turning point for McCartney, as he became focused on being a father and less concerned with the issues surrounding the band.
His first daughter's birth also brought a newfound perspective, causing him to question the importance of the conflicts within the iconic band. Paul said:
"It wasn't planned, but Mary came at exactly the right time. She changed my perspective to a degree where I could look at what was happening with the Beatles and think, 'Does it really matter?'"
Paul decided to relocate Mary and Linda to a farm in Scotland to escape all the negativity and give them a sense of normalcy. It was the couple's ultimate goal at the time.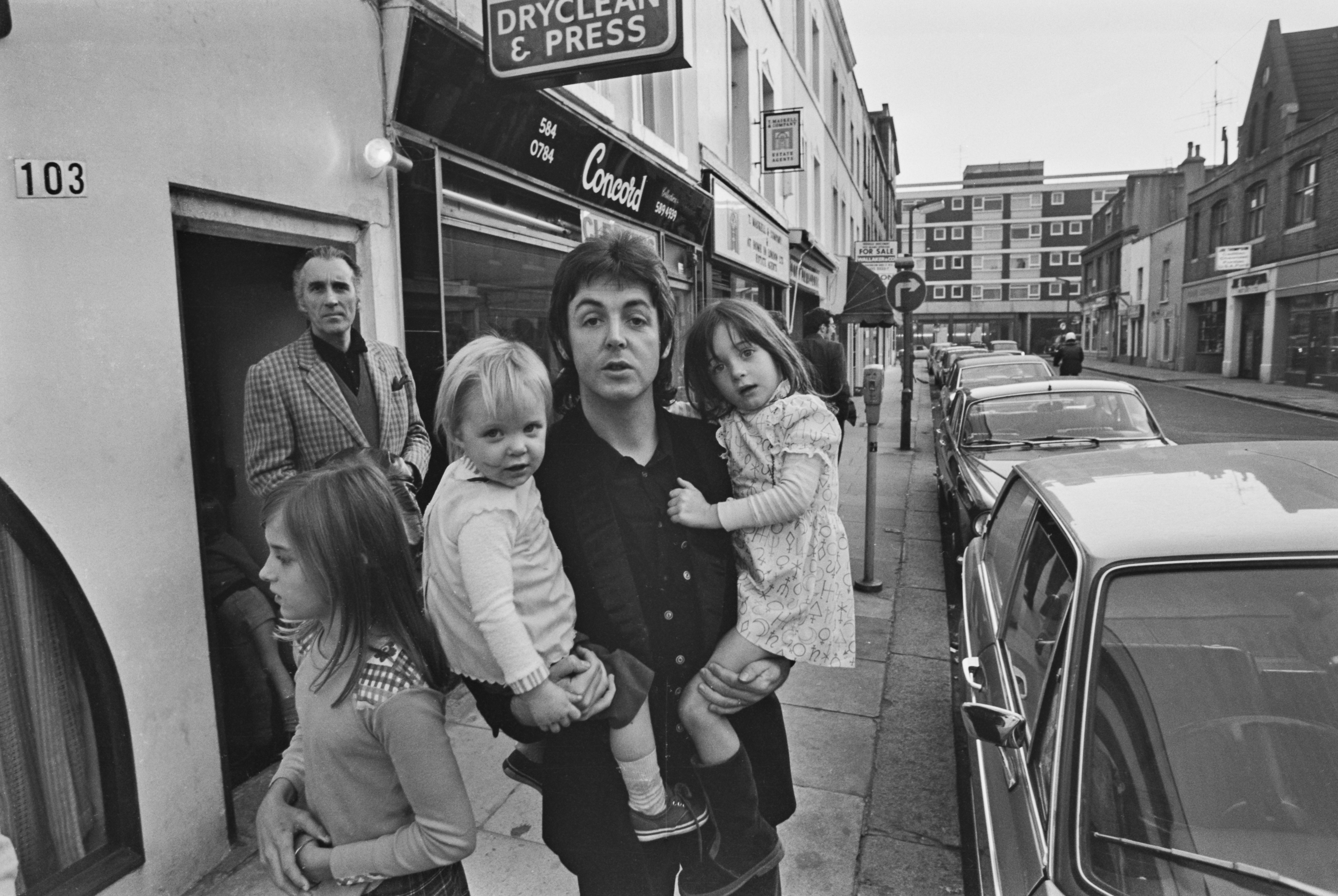 Paul McCartney with his daughters Heather, Stella, and Mary McCartney at San Martino restaurant on October 28, 1973, in London, UK. | Source: Getty Images
As young girls, Stella and Mary had no idea that their dear father was famous. Mary admitted that she and her siblings didn't pay much thought to their father's rapidly rising fame while they were still living under the same roof.
The sisters simply enjoyed spending quality time with the acclaimed musician, completely unaware of his fame. Stella mentioned they were raised in a relatively isolated environment and rarely had access to newspapers.
The renowned fashion designer noted that while living on their Scottish farm, she experienced a sense of purity and authenticity. She felt "cleanest" and most "natural" in that environment.
Stella also remembered that they were often naked at their farm, and her parents never wore deodorant, yet they never had any unpleasant smells.
Paul does not have a nanny and proudly said he "does everything" himself. Despite parenting challenges, he never became exhausted by the responsibility of being a dad.
He spoke highly of how much he learned from the experience, adding that it gave him an "education" that resulted in him becoming a "different dad" but a good one.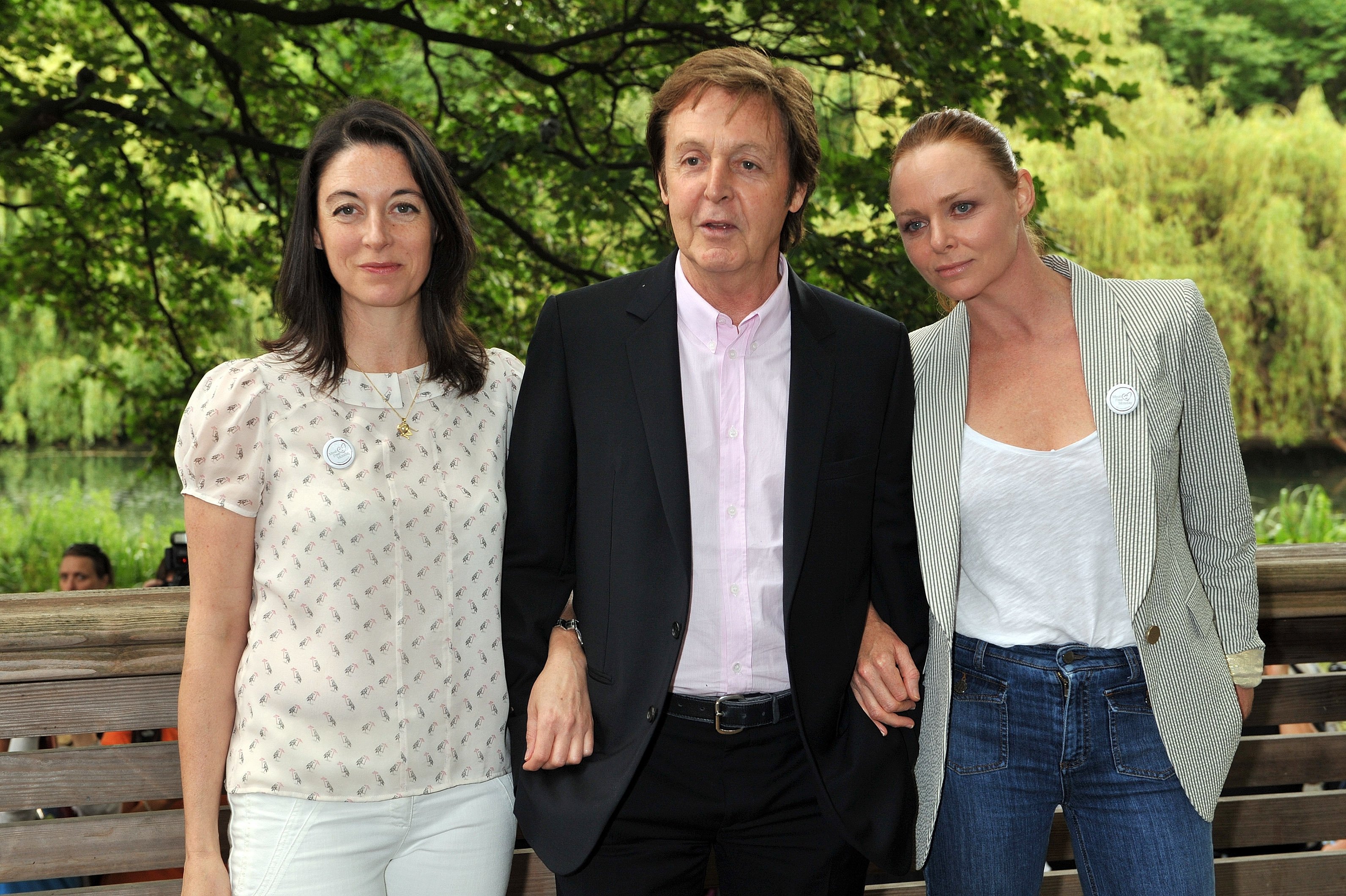 Paul McCartney and his daughters Mary and Stella McCartney pose for the media as the family launches "Meat Free Monday" at Inn The Park on June 15, 2009, in London, England. | Source: Getty Images
Paul couldn't bear the thought of leaving his children behind whenever he went on tour, so he often brought them along for the ride. The idea of leaving them with a nanny or entrusting their care to someone else was simply too much for him to handle. He explained:
"We worried about leaving the kids at home and then getting a nanny or somebody ringing up saying 'oh they've gone into hospital' or 'they're very ill', and we'd be far away in Australia or something."
As they grew older, Stella and Mary became more aware of their father's fame, but they were still able to maintain a sense of normalcy and privacy thanks to the efforts of their parents.
However, Stella mentioned that she would "connect the dots" about the nature of her father's job. In the past, Paul would compose and perform songs for his daughters to listen to. Stella recalled:
"We pretty much always saw him on the telly—it's just what happened. My dad jokes that when I was young we were in Scotland and he was on telly and I turned around and I'm like… 'You're Paul McCartney!' It was a bit weird."
Mary and Stella are Vegetarian Like Their Parents
May and Stella share a deep love for vegetarian cuisine and the many delicious ways to enjoy it. Mary spent much time at the dinner table with their family as a child discussing food rather than music.
She remembered working with her family to develop new, flavorful meals and watching her mother add flavor to the food while cooking in the kitchen.
Their mother greatly influenced the sisters' love for plant-based food. Mary recalls that when she was seven, her parents, Linda and Paul, told them they would no longer consume meat.
She remembers that her parents had eaten lamb in Scotland and saw an adorable little lamb playing outside, making them feel connected to the animal and making it difficult for them to return to eating meat.
Since inheriting her mother's love of cooking, Mary has become a renowned vegetarian cookbook author and TV host, sharing her plant-based culinary skills with the masses.
With her vegetarian-centered cooking show, Mary provides delicious and innovative meat-free recipes for anyone interested in embracing a vegetarian lifestyle.
Paul and Mary's Culinary Adventures with the Family
Paul's love for cooking and entertaining his loved ones knows no bounds. He relishes the opportunity to add a touch of magic to his dishes during the holidays and is excited to share his vegetarian recipes and hosting tips with others.
Mary often visits her father at his Blossom Wood Farm, a 160-acre farm near Rye in East Sussex, England. His farm is the same space Linda lived in when she was alive, in addition to their farm in Scotland.
In 1973, Paul purchased the English farm, making it one of his oldest properties. It became a beloved retreat for the family, and during the pandemic, Mary and her family even made it their temporary residence.

Whenever Mary gets into her father's kitchen, she and Paul make a great team, with him assisting with the chopping and his daughter leading the cooking.
They recently created a memorable celebration meal featuring a traditional English roast dinner with Brussels sprouts, roast vegetables, and stuffing balls.
Though Mary isn't a fan of Brussels sprouts, she found a way to prepare them in a way that she enjoys by stir-frying them and serving them with dressing—a small price to pay for her father's happiness.
In addition to the roast, they also made a plant-protein chicken alternative with red onion gravy. After cooking, Mary's father likes to add to the festivities by treating her to a cocktail or playing good music.
Mary's father is a skilled cook who takes his time to perfect dishes like lasagna and mashed potatoes. He's so devoted to his mashed potatoes that he spends a long time whipping them with a fork to achieve the perfect consistency.
When they have Sunday lunch together, Paul takes charge of the mash. He doesn't add any special ingredients, just his time and attention to detail in elevating the dish.
Paul as a Doting Grandfather of Eight
Paul is now a doting grandfather to a brood of eight grandchildren. Four of them, Arthur, Elliot, Sid, and Sam, are the sons of his eldest daughter Mary, who had them from two relationships.
Mary and her first husband, Alistair Donald, welcomed Arthur in 1999 and Elliot in 2022. After her divorce from Alistair in 2007, Mary had two more sons with her second husband, Simon, whom she married in 2010. They welcomed Sam in 2008 and Sid in 2011.
Paul's large family includes four grandchildren from his daughter Stella and her husband Alasdhair Willis: Miller, Bailey, Beckett, and Reiley.

Each of his grandchildren holds a special place in his heart, from Arthur, his first grandchild, to Reiley, the youngest addition to the McCartney clan.
The legendary musician cherishes every moment spent with his grandchildren and loves being a part of their lives. In a 2019 interview, he gushed about the quality time they share.
Despite the demands of his busy schedule, Paul always makes time for his beloved grandchildren and enjoys creating beautiful memories with them. He often travels with them or picks them up from school with his wife, Nancy.
Even during the difficult times of the COVID-19 pandemic, Paul was grateful for the opportunity to spend extended periods with his daughter Mary's children. He enjoyed the experience of being in the countryside with them for some fresh air and loving walks.
In fact, Paul admitted feeling a bit guilty for having such a good time during a time of crisis. Regardless, he remains thankful for the love and joy his grandchildren bring into his life.
Despite the challenges of raising a family while being famous, Paul has devoted himself to his children and grandchildren. He has taught them the same values of hard work and creativity he has embraced in his career.
As he continues to prioritize his time with his loved ones, Paul's impact as both a musician and a father will surely continue through the passions and successes of his family.