Paul McCartney became famous for playing bass in the iconic band the Beatles. A few years before the end of the Beatles, Paul met his beloved wife, Linda McCartney, in London. Back then, Linda made a living as a receptionist at Town & Country Magazine but soon found the opportunity to photograph musicians.
She leaped at the chance and soon became involved in circles that included the most recognized artist of the time. She hung around managers of the most successful bands and dated celebrities.
Then, in May 1967, Linda met Paul at the launch of the Beatles' "Sgt. Pepper's Lonely Hearts Club Band" album.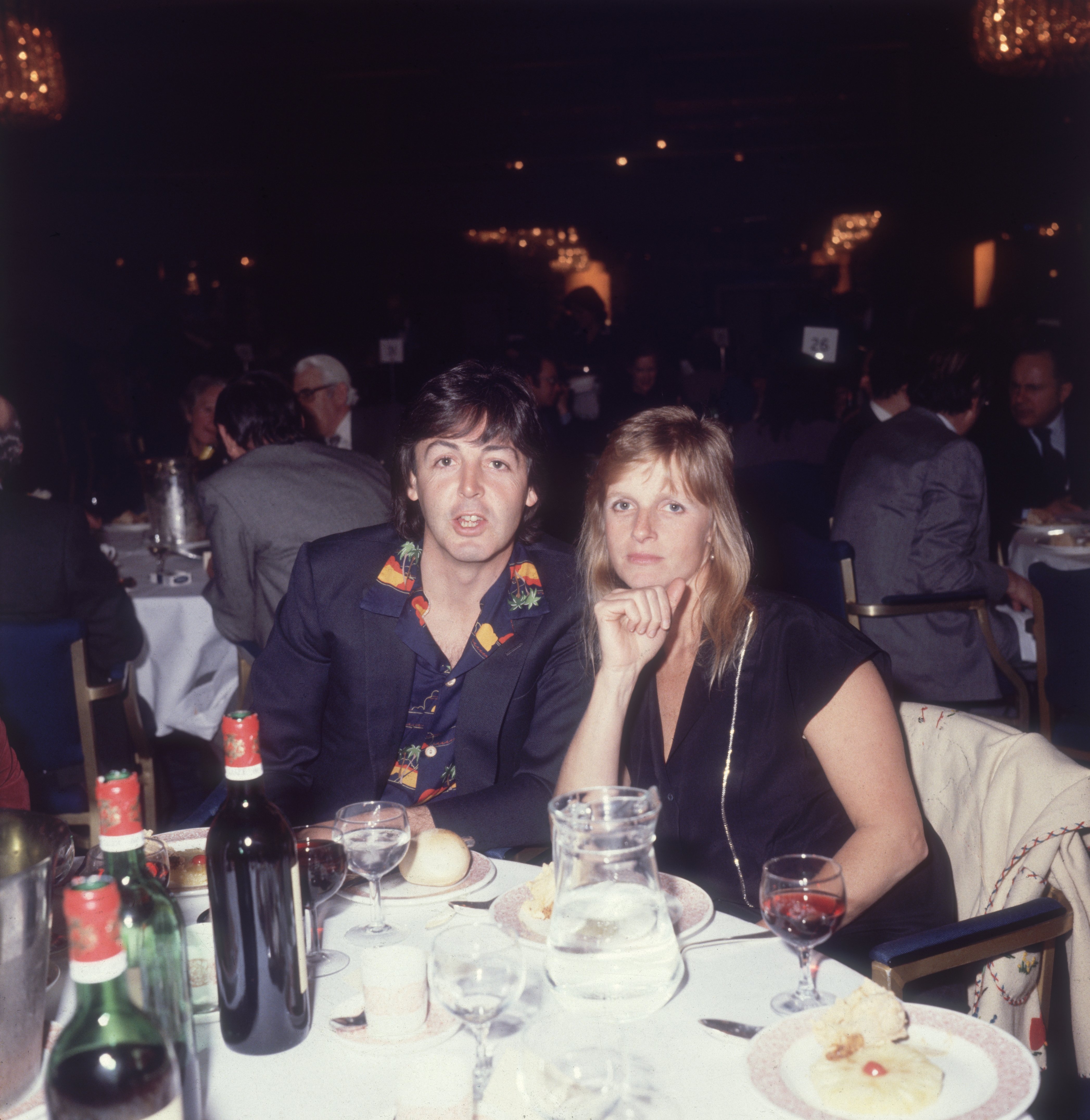 Paul McCartney and Linda McCartney at Grosvenor House Hotel, 9th May 1980 | Source: Getty Images
Paul and Linda officially tied the knot in 1969, much to the despair of the masses of Beatles fans. On top of getting married, Linda and Paul announced they were expecting their first baby together. Their first daughter was born at the end of 1969, and the new parents named her Mary McCartney.
While the rest of his kids were making names for themselves in various industries, Paul was still looking after the youngest of the bunch.
In 1995, Linda and Paul announced that she was being treated for breast cancer. Although they were hopeful at first, and the treatments seemed effective, doctors soon revealed that the disease had spread. Linda's cancer had lodged in her liver, and prospects of recovery diminished significantly.
After battling cancer for three years, Linda passed away at the age of 56. Her publicist, Geoff Baker, shared the news, saying she passed while on vacation, with her husband and children at her bedside. After Linda's death, Paul was inconsolable. However, the father of five still had to look after his kids.
Paul McCartney Refused Nanny: 'I'm Not Exhausted at All'
After Linda's death, Paul took on the role of raising their children all by himself. The musician had to adjust his whole life to ensure his children arrived at school on time and had everything they needed. Although this might seem like a stretch for a famous artist, Paul commented that it was a delightful new experience:
"I love being a dad. I love every second of it and I'm not exhausted at all. People say, I'm up at 6:30 a.m., what is going on? But I genuinely love it. It's a thrill bringing up a young kid. It's such an education. I'm a different dad now, but it's good."
While the rest of his kids were making names for themselves in various industries, Paul was still looking after the youngest of the bunch. Paul's son, James, Found he had a taste for music, just like his dad, and often helped Paul with his solo music. He also released his own music. Mary took after her photographer mother instead.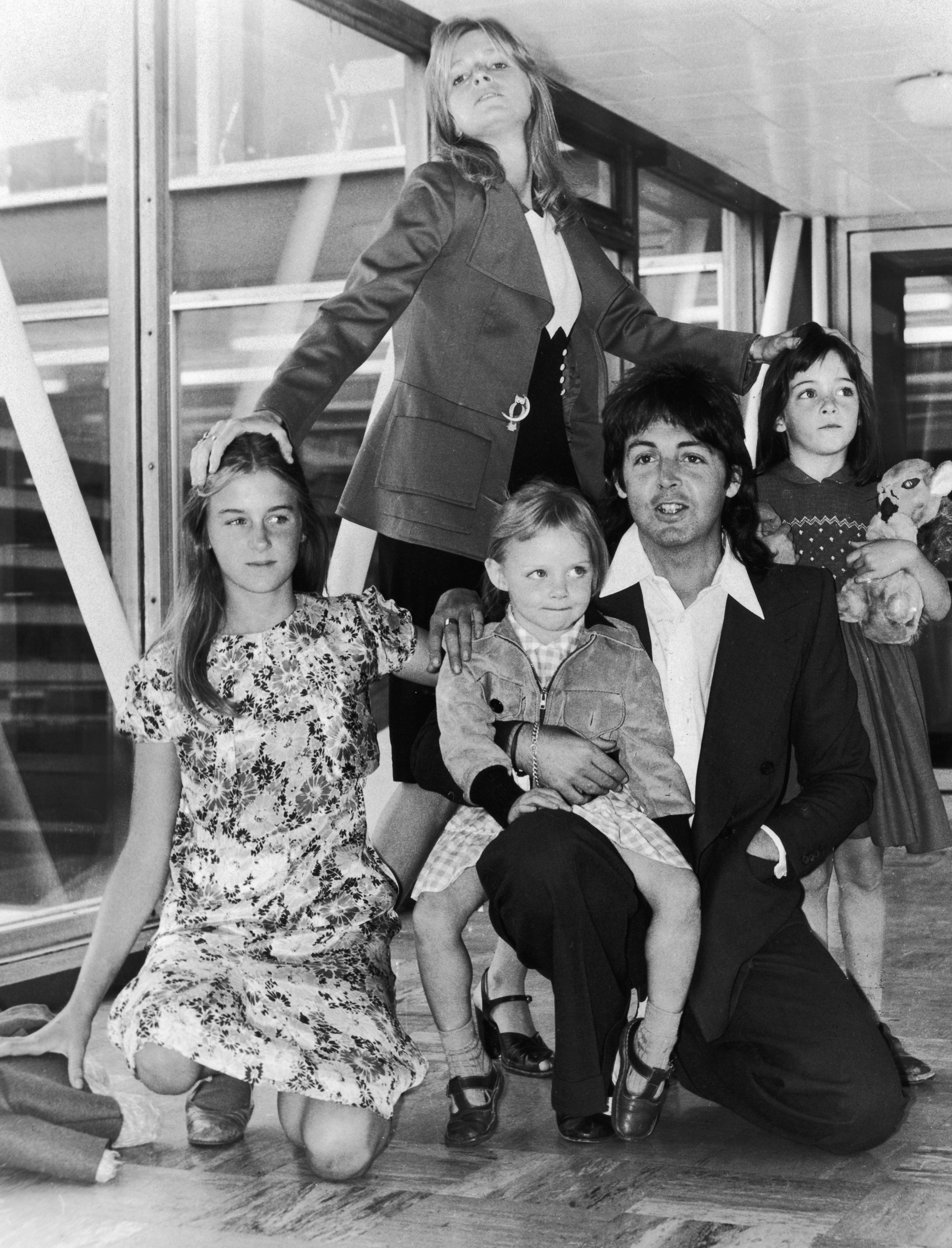 Paul McCartney, Linda McCartney, Heather McCartney, Stella McCartney, and Mary McCartney at an airport, 30th June 1975 | Source: Getty Images
Paul has always believed in gently guiding his kids. As small children, Paul would often provide advice and "a bit of guidance" whenever his kids seemed stuck or unsure. As they grew older, though, the relationship between the rock icon and his kids developed as well.
Besides being a dad to his five children, Paul is also a grandfather.
Paul reflected on his bond with his kids over the years, saying they started guiding him instead of the other way around. Although he'll still offer what advice he has, Paul is more than content to be there as someone his kids can unwind with instead.
Being a parent to adult children also holds its perks. The bassist mentioned that he enjoys spending time with his kids now, since he can have much more fun with them lately. Paul divulged, "We do have a lot of fun. Now they're older, we can have a drink together, for instance!"
Paul and His 8 Grandkids: He Loves to Read to Them at Night
Besides being a dad to his five children, Paul is also a grandfather. And, just like his role as a father, Paul enjoys spending time with his grandchildren immensely. The musician gave fans a glimpse into his usually highly confidential personal life when he described how he treats his grandkids.
He mentioned that his favorite part of babysitting is that he has very few real responsibilities. He noted, "You're just there to help." Although his children may have strict rules at their houses, Paul has made it abundantly clear that he won't be sticking to their routines.
Although Paul only sees his kids when the family goes on holiday, he makes the most of every vacation. The proud granddad shared that he loves reading to them at night and even pulled inspiration from his grandkids. Prompted by a casual "Hey Grandude" from his grandson, Paul wrote a children's book with the exact phrase as its title.