Pierce Brosnan is a celebrated actor of Irish descent. At 69 years old, he has played everything from James Bond to Thomas Crown, and all shades in between. He has a $100 million mansion in Malibu, but his present status contrasts his very humble beginnings.
Brosnan was born on May 16, 1953, and grew up in the village of Navan in County Meath, an isolated area near the River Boyne. He never knew his father, Thomas Brosnan, and his mother, May, left home to work in England as a nurse. She would visit occasionally, and the young boy was mostly under his grandparents' care.
As fate would have it, his grandparents passed on. With no one in the family willing to take him in, young Brosnan was sent to live in a boarding house. The landlady, Eileen, had her children staying with her so Brosnan stayed in the upper floor with grown, working men. Describing his sleeping quarters, Brosnan said:
"The three lodgers stayed in a long room with iron beds with old mattresses. At the end of the room, there was my little bed, with a curtain around it, so the light wouldn't shine in when the older guys came home."
The boy was enrolled in a school managed by a Catholic order, an experience he described as ugly. Brosnan said he learned nothing from the Christian Brothers, who were cruel and hypocritical. He put that negative season behind him and left school in 1964. At a mere 11 years old, he was a trainee commercial artist at a small studio near River Thames.
It was while working as an artist that he found acting, first on stage, and then on the screen. But what served him was a clear vision of what he wanted to be.
First, he wanted to be an artist, and he achieved that. Then, he decided he wanted to be a movie star, and history stands to witness that Brosnan is a movie star. When asked how he seems so poised on screen, Brosnan said:
"It comes out of a lack of confidence, at times. It comes out of an insecurity of not being good enough, not having enough education, not knowing the right answer or not being able to articulate my feelings."
Brosnan has had to work on his confidence. Circumstances did not furnish him with the luxury of a close family to bequeath him a sense of belonging, so he works on himself constantly to keep self-doubt at bay. He is known to watch his films only once and never look at them again because the confidence on the screen does not always transfer to real life.
How He Became a Family Man
One place where the "Robinson Crusoe" actor can feel secure is among his big family. Brosnan has five children. His first wife, Cassandra Harris, had Charlotte and Christopher from her first marriage, and he adopted them. With Harris, he welcomed Sean. Sadly, Harris passed away in 1991, leaving him as a single father.
He tries to keep his children and grandchildren as close as possible.
Brosnan found love again with his current wife, Keely Shaye, whom he married in 2001. They added two sons to the brood: Dylan and Paris. In 2013, tragedy struck again when the Brosnan family lost Charlotte to the same illness that had taken her mother.

As time passed, the "Black Adam" star had come to cherish his family more and more because life is precious and fragile. He tries to keep his children and grandchildren as close as possible, celebrating every new addition to the family. Speaking about the source of this longing, the star said:
"I cherish family very much. I cherish being a father. I did not grow up with a father figure or with a solid family. There was deep fracture, a certain isolation and an aloneness which wielded the wonderful power of my imagination. I had to get by on my own sensing and intuition."
A father's joy is seeing his adult children make their way in life and do what fulfills them, and the pleasure of a grandfather is to experience the wonder of new life that brings back memories of holding his own babies in his arms. Brosnan is a proud grandpa with four grandchildren to love and spoil: Isabella and Lucas from his late daughter Charlotte, and Marley May and Jaxxon from his son Sean.
A Precious Orchid
Brosnan has come a long way from the banks of River Boyne and from that old mattress as a lodger. He and his family once made their home in Malibu in a $100 million estate inspired by the time the actor spent in Thailand filming "Tomorrow Never Dies." But Brosnan has since traded the 180-degree ocean view for island life. Describing his new schedule in his home in Kauai, Hawaii, the star said:
"Nine holes in the morning, a good lunch, afternoon in the studio, swim at the day's end. Watch the sun set. Fire on the beach. Play some music. A cocktail, sitting on the beach."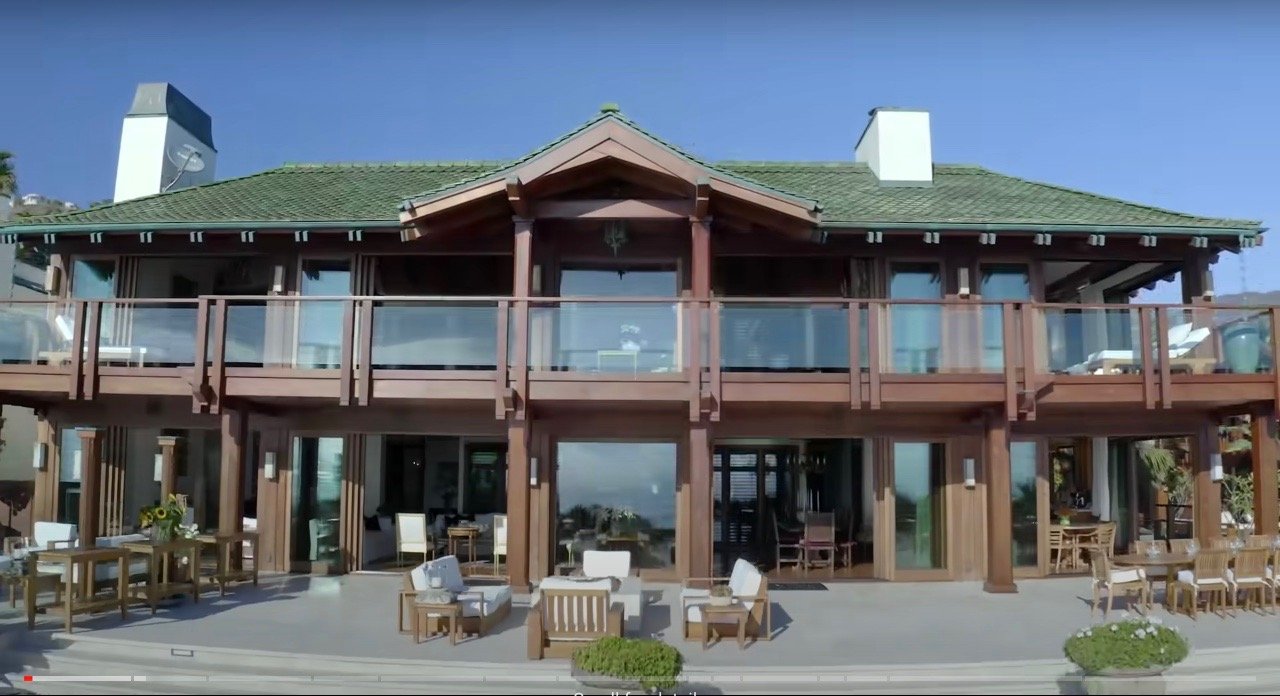 Pierce Brosnan's $100M estate in Malibu, the Orchid House. | Source: YouTube/Archdigest
The choice between paradise and second paradise must not be too agonizing. But the change of scene must be good for the family. Brosnan continues to churn out quality work if films like "Black Adam" are anything to go by. He and his wife continue their conservation work following the success of their documentary, "Poisoning Paradise."
Either way, Pierce Brosnan and his beloved Keely will be side by side, loving each other, their children, grandchildren, and the planet.