The wife of the late Elvis Presley, Priscilla Presley, has recently challenged the validity of her daughter's will. Lisa Marie Presley, daughter of Priscilla and Elvis, passed away on January 12 at the age of 54. Following her death, Priscilla took legal action to dispute the validity of her will.
Priscilla and Barry Siegel, Lisa's business manager, were the co-trustees of her will. Barry was set to resign as trustee, and instead of keeping her 77-year-old mother in the position, Lisa chose to replace Priscilla with her two oldest children, Riley Keough and Benjamin Keough.
Sadly, Benjamin passed away in 2020, which means Riley is now the sole trustee of Lisa's estate. In response to this decision, Priscilla decided to challenge the will, claiming her name was misspelled in the document and Lisa's signature is "inconsistent" with her regular signature.
Priscilla insisted that she was trying to look out for her three grandchildren.
Although Riley is now the sole trustee, Priscilla may be made co-trustee. The grandmother and granddaughter have always had a good relationship, though, and Riley revealed she was pregnant in a surprise statement at her mother's funeral, much to Priscilla's delight.
Priscilla Presley Explains Her Decision to Contest the Will That Favors Her Granddaughter
Priscilla's attorneys claimed she only became aware of Lisa's amendment to the will after her daughter had passed away. Priscilla also never received the document while her daughter was alive, and the document was never notarized or witnessed. All these conditions break the trust agreement and give Priscilla a strong case.
While Lisa went through a nasty divorce with her ex-husband, Michael Lockwood, Priscilla took her two youngest granddaughters in.
But although Priscilla's motives may seem underhanded, she explained that her actions were for the benefit of the family. Priscilla insisted that she was trying to look out for her three grandchildren. In an announcement on what would have been her daughter's 55th birthday, Priscilla remarked:
"Today would have been Lisa's 55th birthday. My wish is to protect my three grandchildren and keep our family together. From the first moment I held Lisa in my arms, I've protected, loved and guided her, as I have my son. Our hearts are broken, and I am having to learn to live without my only daughter."
Priscilla ended the statement by thanking the fans for all their well-wishes and showing the family support after Lisa's death. Although some dispute her intentions, Priscilla held that she adores her grandchildren, who she raised as a mother, while Lisa was incapable of looking after them.
Priscilla Presley Loves the Grandchildren She Took Care Of
While Lisa went through a nasty divorce with her ex-husband, Michael Lockwood, Priscilla took her two youngest granddaughters in. Lisa divorced Michael after accusing him of child abuse, and the two fought tooth and nail for custody over Finley Lockwood and Harper Lockwood. At the time, Priscilla posted:
"There is Lots of confusion, commotion and concern from all the talk circulating. Let me put this to rest … the girls have not been in foster care and never will be. The girls have been with me and will be until all this is sorted out."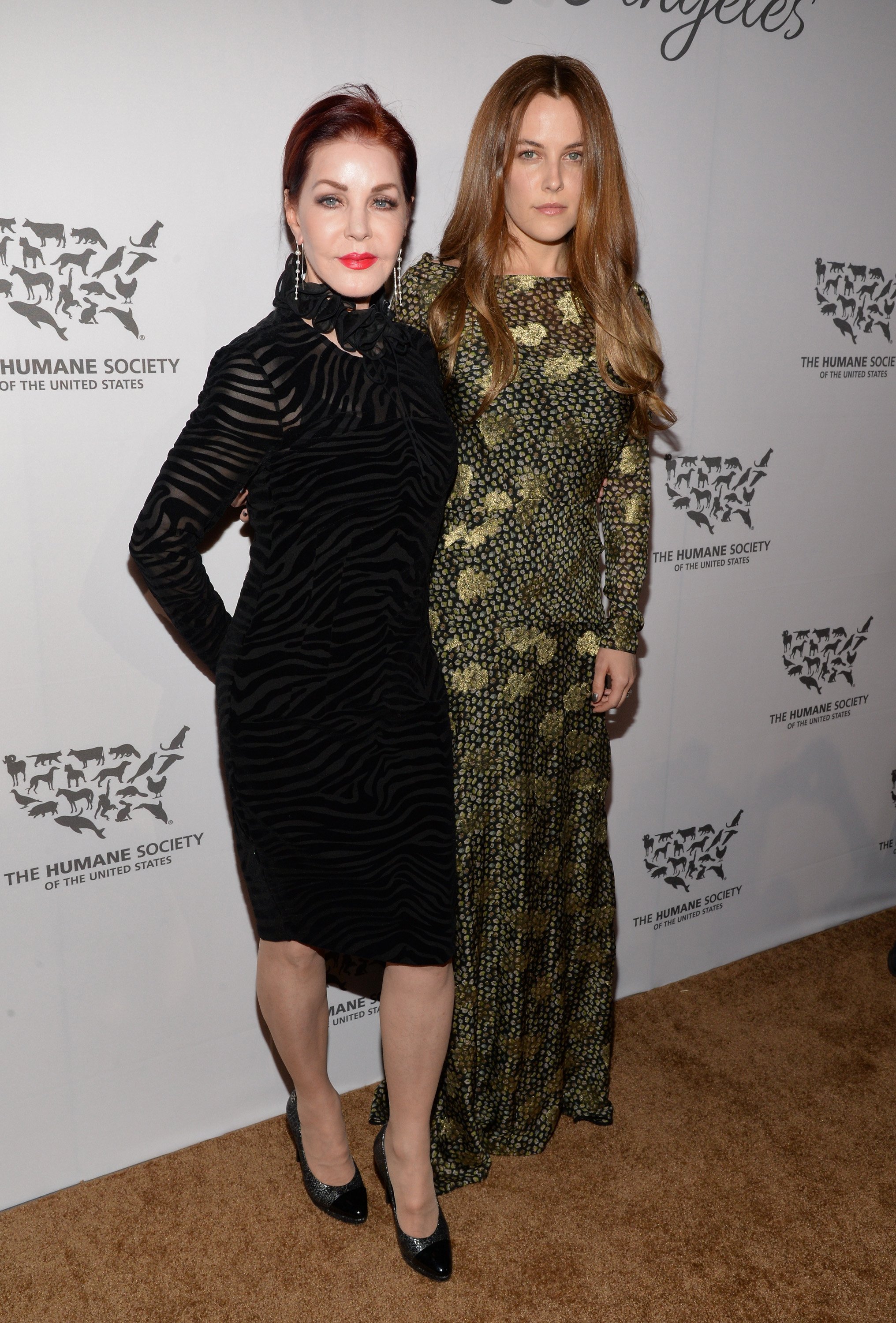 Priscilla Presley and Riley Keough on May 7, 2016 in Hollywood, California | Source: Getty Images
Despite the terrible circumstances, Priscilla was thrilled to be taking care of her granddaughters. She thanked everyone who showed their support amid the custody battle and said she would be taking excellent care of the two little girls. When asked what it was like to look after the young twins, Priscilla said:
"It's great, it's absolutely great. I love it, I love it. Having twins is quite an experience, I have to say."
Now that the twins' main guardian has passed away, many anticipate yet another lengthy custody battle. Sources have noted that the girls' father, Michael, will try his best to be declared their legal guardian, but Lisa's previous husband, Danny Keough, will most likely be doing the same.
Although Danny isn't their biological father, he considers himself their stepdad and will do everything in his power to keep them from Michael. Some suspect Lisa's oldest daughter, Riley, and their grandmother may also step in.