Richard Gere's first wife was Cindy Crawford, whom he married in December 1991. He was 42, and she was 26 when they tied the knot, and their union concluded in divorce in 1995.
The actress blamed her younger age for the dissolution of their marriage, noting how she hadn't thought she was young even though she was. Crawford said she had a relationship with Richard for six years but only married for two.
After divorcing, the former couple remained friendly but weren't as close as before. However, they didn't see each other that much, and the actress believed the other problem in their relationship was that they were never peers because of her age.
It was hard to change "the nature" of their already established relationship when she grew into herself. Richard's second wife was Carey Lowell, 12 years younger than him, who married the star in November 2002.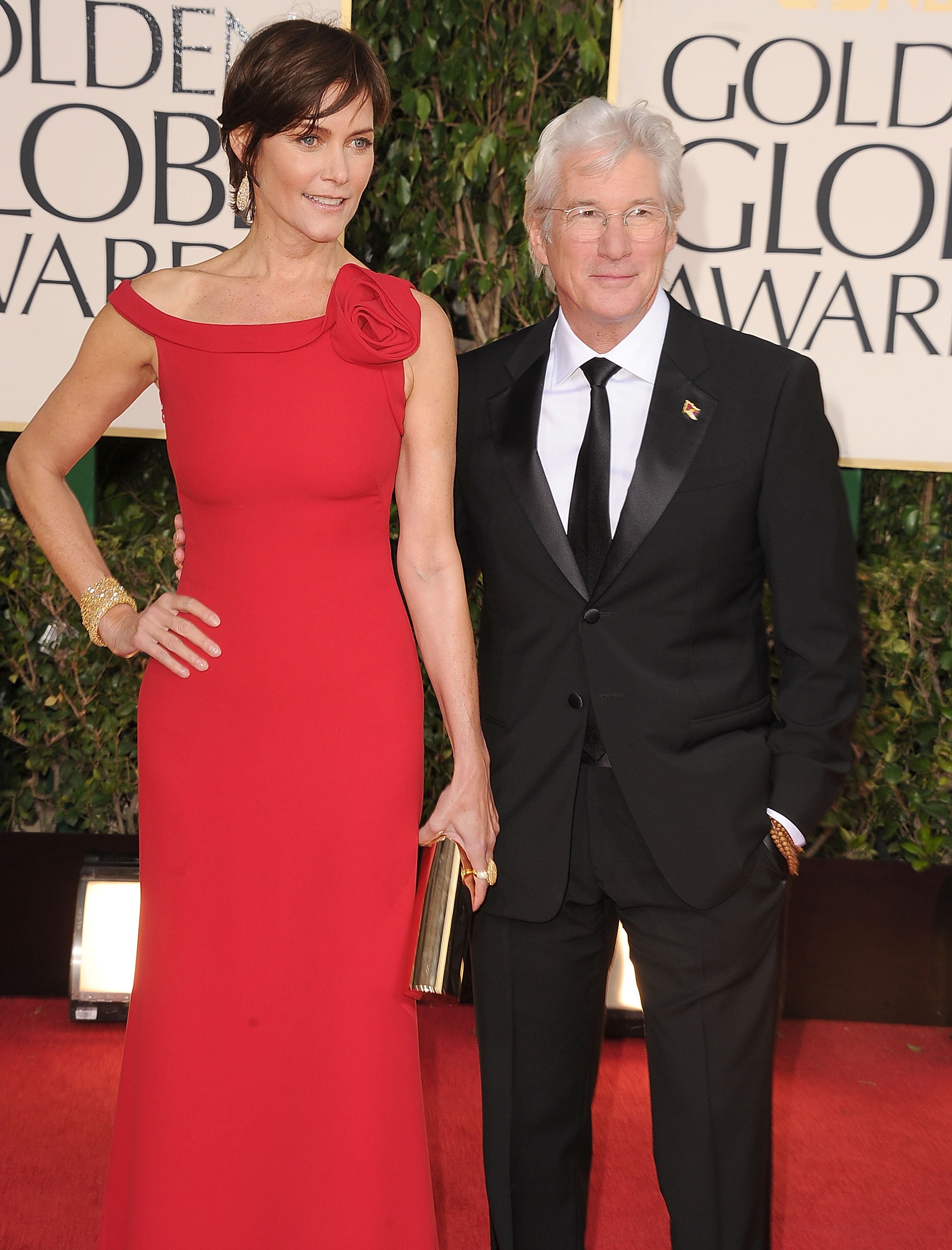 Carey Lowell and Richard Gere at the 70th Annual Golden Globe Awards on January 13, 2013, in Beverly Hills, California | Source: Getty Images
In 2012, Lowell filed for divorce after being married for twelve years, and they agreed to joint custody of their then-teenage son, Homer Gere Jr. Sources said the former "Law & Order" actress cited Richard's preference for privacy and quiet while she liked partying.
However, their court battle took years as his estranged wife tried to get part of his alleged $45 million fortune. The former couple finally reached an undisclosed settlement agreement in October 2016 and weren't present as Supreme Court Justice Matthew Cooper officially marked them divorced in Manhattan.
The squabbling over the divorce also included an incident in October 2014 when Richard poked a cameraperson with his umbrella! The "Pretty Woman" actor later found love for the third time and wasn't shy to tie the knot again!
Richard Opens up about His Secret to a Happy Marriage
In January 2023, Richard, then 73, said he related to the themes in his movie, "Maybe I Do," because he'd been married thrice. The star acted alongside William H. Macy, Susan Sarandon, Emma Roberts, Diane Keaton, and Luke Bracey in the film.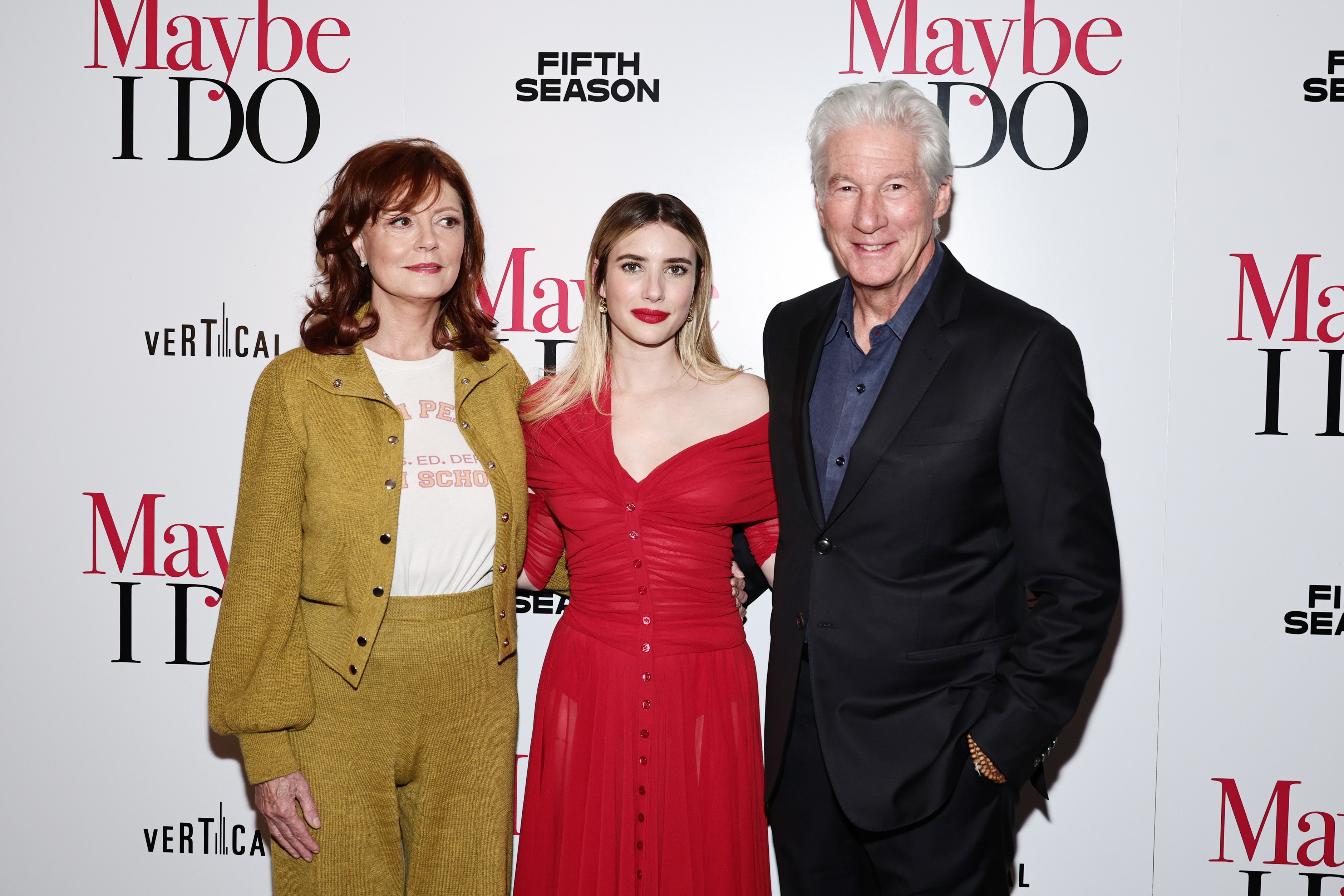 Susan Sarandon, Emma Roberts, and Richard Gere at a special screening of "Maybe I Do" on January 17, 2023, in New York City | Source: Getty Images
Richard, who had been married to Alejandra Silva since 2018, said, "There's always two things are (sic) going on at the same time in any relationship is (sic) that you, as an individual, are still trying to figure out who you are, always."
The actor shared two children with Silva: Alexander, four in 2023, and a younger son whose birth was confirmed in April 2020. His biggest question was how to share that with another person and make it fit.
Richard believed that the person one was today was not the same as who you were 50 years ago when your relationship began. He said one wouldn't be the same person, and you wouldn't be the same with your partner; with him revealing the secret to a lasting marriage, stating:
"So it's a constant checking in to see, 'Does this work?' And sometimes it doesn't … you've gone in different directions and, okay, you're in different places, and there's not a reason to stay together anymore."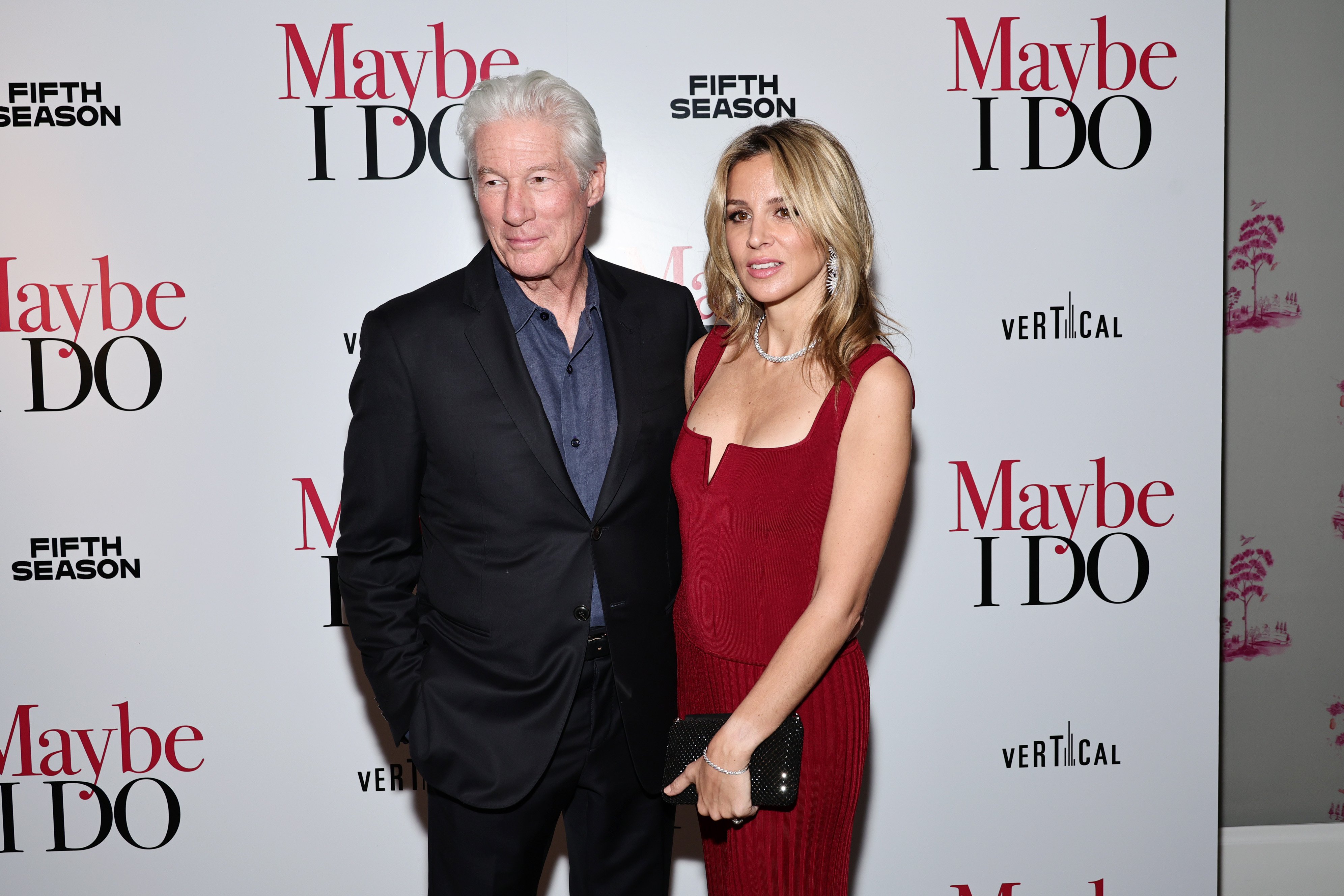 Richard Gere and Alejandra Silva at a special screening of "Maybe I Do" on January 17, 2023, in New York City | Source: Getty Images
The actor was always looking for happiness in his marriages but could never find it until he met Silva. With his third wife, Richard appeared content as they had the same personalities and life goals.
A "Very Empathetic" Richard Got the Happy Life That He Has Always Sought
In April 2018, Richard and Silva tied the knot in a secret civil ceremony. According to reports, the couple was set to celebrate their nuptials on May 6, 2018, with some close friends and family at their New York home, with the actor saying:
"I have found the quiet and happy life that I have always sought."
Ironically, the star settled with a woman much younger than him again, as he was 68 and she was 35. The Spanish businesswoman once revealed how she fell in love with the iconic actor.
She described herself as having been "a little lost" and without life before she met him, but after they met, he'd given meaning to her life. Silva shared how she felt someone was reaching out to her and showing her the true path.

Before the couple even became parents, Richard's wife confessed that they planned to start a family soon. In 2019, the actor confessed that he was the "happiest" man in the universe since finding love with his wife.
He said he was married to a beautiful, sensitive, and intelligent woman committed to helping others. The star described the businesswoman as forgiving, fun, and knew how to cook and made the best salads.
Richard shared that his wife was a vegetarian, meditated, was a great mother, and had the "touch of an angel." He said she was also Spanish from Cervantes and Buñuel, the land of queens and kings, and one couldn't get better than that!
Silva added that she'd never thought she'd find a man who was so perfect for her. She explained that she didn't have the words to describe how happy she was and addressed their decades-long age gap.
The actor's wife revealed how he'd promised her twenty good years, but he had more energy than her and was more active. Richard's wife said she had difficulty keeping up with him as if he wasn't human!
Silva shared that everyone who saw her with the star said he was crazy about her, and he knew she loved him madly. She believed she brought him stability, and it helped that she wasn't a model or an actress because she'd never been interested in those careers.
What bonded them the most was their wish to help people in need and their commitment to Buddhism and Tibet's people. Richard's wife said he also saw her "unconditional commitment" as a person, a humanitarian, and a woman.
[Alejandra] Silva's husband [Richard Gere] revealed that that was the background he grew up in throughout his childhood.
Being with the actor was the most romantic and sweetest dream Silva had, and that's why she'd decided to remain in the relationship. The businesswoman loved that her husband was "very empathetic" and a "humanitarian."
She said their karma was attracted from the moment they saw each other. Silva believed that issues like their age gap and Richard's Hollywood stardom disappeared because of their strong karmic energy.
Their first child, Alexandra, was welcomed in February 2019, and their second son was born in April 2020 at their New York state ranch. Richard said his father helped him to become a compassionate parent.
Homer Gere Sr. would embrace, smile, or do whatever he could to assist whenever he didn't have money. Silva's husband revealed that that was the background he grew up in throughout his childhood.