Late veteran star Robert Conrad was famous for portraying the role of Secret Service agent James T. West in the western series "The Wild Wild West."
Robert Conrad was a film and television actor and portrayed notable roles, including his prominent role in the mid-60s series, "The Wild Wild West" and the miniseries "Centennial" in the late 1970s.
Conrad was an all-around performer, dabbling as a singer and a stuntman in Hollywood projects. Here is all there is to know about the iconic TV star.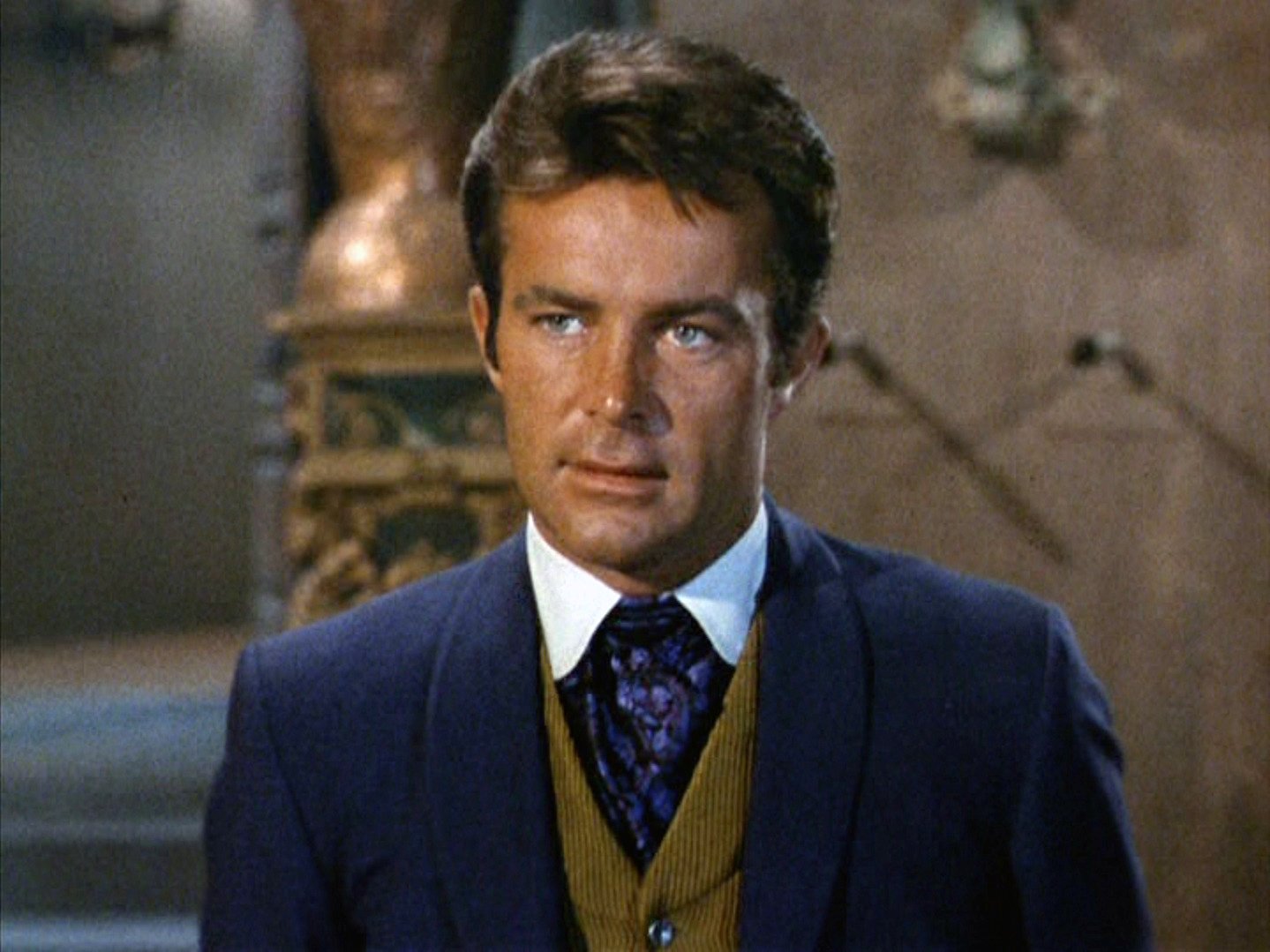 Robert Conrad as James T. West in "The Night of the Eccentrics," Season 2, episode 1 of "The Wild Wild West" aired on September 16, 1966 | Source: Getty Images
Early Life of Confusion & Success
On March 1, 1935, Robert Conrad was born in Chicago to teenage parents. His father, Leonard Falk, was later a superintendent at a New Jersey plant that made chocolate flavoring.
His mother, Jacqueline Hartman, later became a publicist under the name Jacqueline Hubbard. The future TV star adopted the name Robert Conrad as a youngster because he said his mother married several times:
"Every time my mother would have a marriage, she would change my name to the name of her husband, and I got tired of it."
In his early twenties, the "Baa Baa Black Sheep" entertainer began his career as a singer performing with a trio in Chicago hotels.
He was later urged by a friend, actor Nick Adams, to relocate to Hollywood, and he got him a movie part in a film he was a cast in, "Juvenile Jungle."
While Adams left the role, Conrad remained, making his movie debut. He later started getting minor roles in TV shows like "Bat Masterson," "Sea Hunt," and "Maverick."
Then came "Hawaiian Eye," which ended in 1963, and he went on to film the movie "Young Dillinger," in which he played the outlaw Pretty Boy Floyd when his agent called him to audition for "The Wild Wild West."
The famous Western show first premiered in September 1965 and ran for four seasons with more than 100 episodes. Known for portraying the tough guy, in his earliest TV roles, Conrad had a small part as an Indian:
"I had to get shot by the good guys and fall off a horse, which I did successfully, and that established me as having enough talent to do stunts."
The legend further stated that whenever there was a speaking role and a stunt associated with that speaking role, they would hire him "because you got two for the price of one."
Promotional portrait of Robert Conrad in costume as James T. West from the television series "The Wild, Wild West," on February 28, 1967 | Source: Getty Images
Promotional portrait of Robert Conrad in costume as James T. West from the television series "The Wild, Wild West," on February 28, 1967 | Source: Getty Images
The fights he got involved in on the show were often his own stunts, which earned him recognition. Conrad later revealed that he did his own stunts.
However, that claim was found inaccurate by Gene Scott Freese in his 2014 book titled "Hollywood Stunt Performers, 1910s-1970s."
"They were under strict orders never to be caught on the set of Conrad's wardrobe," Freese wrote, "fostering the illusion to the press and the public that Conrad's proud claims were true."
Before making a name for himself, Conrad had run away from his hometown when he was only fifteen years old and spent time in Minneapolis with friends in the early 1950s.
Not only was he gifted as a performer, but he was also a talented athlete who loved boxing and martial arts. He moved to Hollywood and landed his first series, "Hawaiian Eye," on ABC in 1959.
Meeting His Teenage Lover
Conrad was first married to his wife, Joan Kenlay, whom he wed in 1952 but divorced in 1977 after 25 years of marriage. The former couple welcomed five children within their union, Nancy, Joan, Shane, Christy, and Christian.
He then met his second wife, LaVelda Fann, then seventeen. The couple met in 1978 when he had flown to Atlanta to emcee at a pageant event at which she was passing her crown as Miss National Teenager.
The stuntman was 43 years old and was still married to Kenlay. Conrad revealed that he bravely asked the then 17-year-old Fann when she would turn 18:
"I asked her on the air when she would be 18. She said in a week, and I said, 'Call me in a week.' She didn't, but I called her. That wasn't robbing the cradle; it was grand theft."
He eventually got away with courting young Fann because they later tied the knot in 1983. The newly wedded couple moved to a secluded area called Bear Valley in California, a town of only 100 people back then.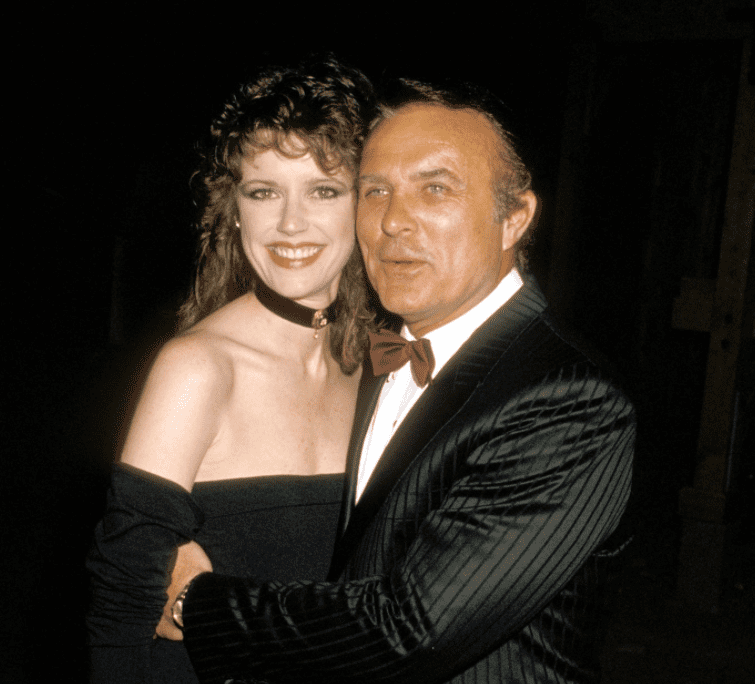 LaVelda Fann and Robert Conrad during 23rd Annual Academy of Country Music Awards at Knott's Berry Farm in Anaheim, California | Source: Getty Images
They welcomed three kids, daughters, Camille, Chelsea, and Kaja. Speaking on having the courage to move in with Conrad at a secluded area, the actress said at the time:
"You've really got to be into a guy to want to move with him and live this kind of life."
Meanwhile, Conrad sang her praises, stating: "LaVelda is the most honest, real person I know." In 1966, reports revealed that the twosome still lived in the same area near Lake Tahoe. However, their union ended in 2010 after 27 years of marriage.
Accident & Paralysis
Near the last years of their relationship, Conrad was involved in a car accident which left him partially paralyzed on his right side. He also sustained a head injury, including a spinal cord injury in the head-on collision.
His wife Fann had been by his side throughout the ordeal and revealed at the time that Conrad had only 40 percent use of his left arm and was confined to a wheelchair but could "take some steps" with help.
She also disclosed that he suffered short-term memory loss because of his head injury and had no recollection of the accident. His speech had also been affected. Fann noted he was depressed and had been taking some medication.
His Tragic Death
Conrad sadly passed away in February 2020 from heart failure, a family spokesman, Jeff Ballard, revealed at the time. The renowned Hollywood star died at his home in Malibu, California, at age 84.
He is survived by five children from his first marriage, Joan, Shane, Nancy, Christian, and Christy: three kids from his second union, Kaja, Chelsea, and Camille, including 18 grandchildren.
Touching Tribute
His ex-wife Fann shared a moving tribute in his honor in March 2020 to mourn his death. She shared a slideshow of throwback images, including the one dating back to where they first met at the beauty pageant standing side by side on stage.
Other snapshots showed the happy couple over the years, including one of their kids posing with their arms wrapped around each other while beaming. Fann captioned the post:
"Rest in peace, partner. You taught me well. Because of you, I know I can be bruised but not mistaken. Another's opinion cannot measure my worth."
The mother of three continued to share: "I have the strength and courage to be myself every day of my life. Thank you for the challenge…and the greatest gift of all; Kaja, Camille, and Chelsea."
Where Is Lavelda Now?
According to her Instagram, the 62-year-old is still using her late husband's last name. But now, she is in another relationship and even got engaged in 2019.
In July 2018, LaVelda posted a picture posing alongside her significant other as they attended a wedding and flashed smiles for the shot.
In September, a year later, she took to her Instagram account and announced the exciting news of her engagement in Mexico.
"It's official! #heputaringonit," she wrote along with an up-close image of the stunning wedding band. Another photo displayed the happy couple smiling with joy written on their faces.
Even after her divorce from Conrad, LaVelda still shared throwback snaps of them. In one post from 2014, she shared a blurry image showing her gazing at her former spouse and captioned it: "Sometime in the mid-eighties… I can tell by the scary hairstyle."
In March 2016, she posted another throwback snap of her family featuring Conrad and their young kids pictured on the water in a canoe boat, writing: "#fbf repost from my @buncmc…#preciouscargo@kajaconrad @aka_camille @buncmc."
Their daughters are all grown up now. LaVelda shared a photo of her girls in March 2019, looking all pretty, and dubbed them "the most three glorious women on this planet!"