Robert Herjavec was married to Diane Plese for 25 years before they divorced. Afterward, he tied the knot for the second time with Kym Herjavec. The pair have been married for six years, though she initially refused to date him.
Die-hard fans of Croatian-Canadian Businessman and Television Personality Robert Herjavec know he is currently married to his second wife, Kym Herjavec.
However, before she came into the picture, the onscreen icon was previously married to Optometrist Diane Plese. The former couple first met in 1988 when Robert went to Plese's clinic for an eye appointment.
Robert Herjavic and Diane Plese at the 2013 People's Choice Awards Arrivals on January 9, 2013 in Los Angeles, California | Source: Getty Images
He was 26 and was not yet a millionaire, but he caught the doctor's attention. Soon after that visit, the pair started dating, and in 1990, they got married in a Croatian church in Ontario, Canada.
INSIDE THE FORMER COUPLE'S MARRIAGE
Robert and Plese then became parents to three children, Caprice, Skye, and Brendan. Today, the three children are grown up and are successful in their various fields.
Caprice is a consultant for Frederic W. Cook & Co., Inc, and Skye is a University of Southern California graduate and has interned in many top companies.
Meanwhile, Brendan graduated from Wilfrid Laurier University and furthered his education at Yale University. Currently, he is the president of Entrepreneurship and Innovation at his Alma mater.
More than anything, Robert is proud of his children's achievements, and irrespective of their ages, he still dotes on them. Caprice, Skye, and Brendan have always felt their father's love right from when they were younger.
At some point, Plese was busy with work, and Robert opted to be a stay-at-home dad to look after his kids. The television personality enjoyed quality father-children time with his kids in their lavish Toronto home.

It had always been Robert and Plese's dream to live lavishly as they never experienced luxury in their younger days. During a 2013 interview for Montreal Home, the businessman revealed that as soon as he spotted the property, he loved it. The mansion is a French-style chateau located in Toronto's Bridle Path.
Robert loved every moment he spent with his wife and kids in the luxury home. He didn't mind staying at home with his kids for three years before returning to work after his wife stopped practicing. Plese felt thankful and blessed to have married a man like Robert. She revealed:
"He's so excited about life. How can you not want to be with someone who is so happy and motivated?"
Unfortunately, their union was destined to crumble from the start, and it was only a matter of time before they called it quits.
INSIDE ROBERT AND PLESE'S DIVORCE
In March 2015, Robert and Plese made the headlines when news of their separation became public. It was shocking to hear, as the former couple had been married for 25 years. Although the reason for their split was not mentioned, the "Shark Tank" star released this statement to TMZ:
"Human relationships are so difficult… I wish nothing but love and peace for our family as we move forward from this."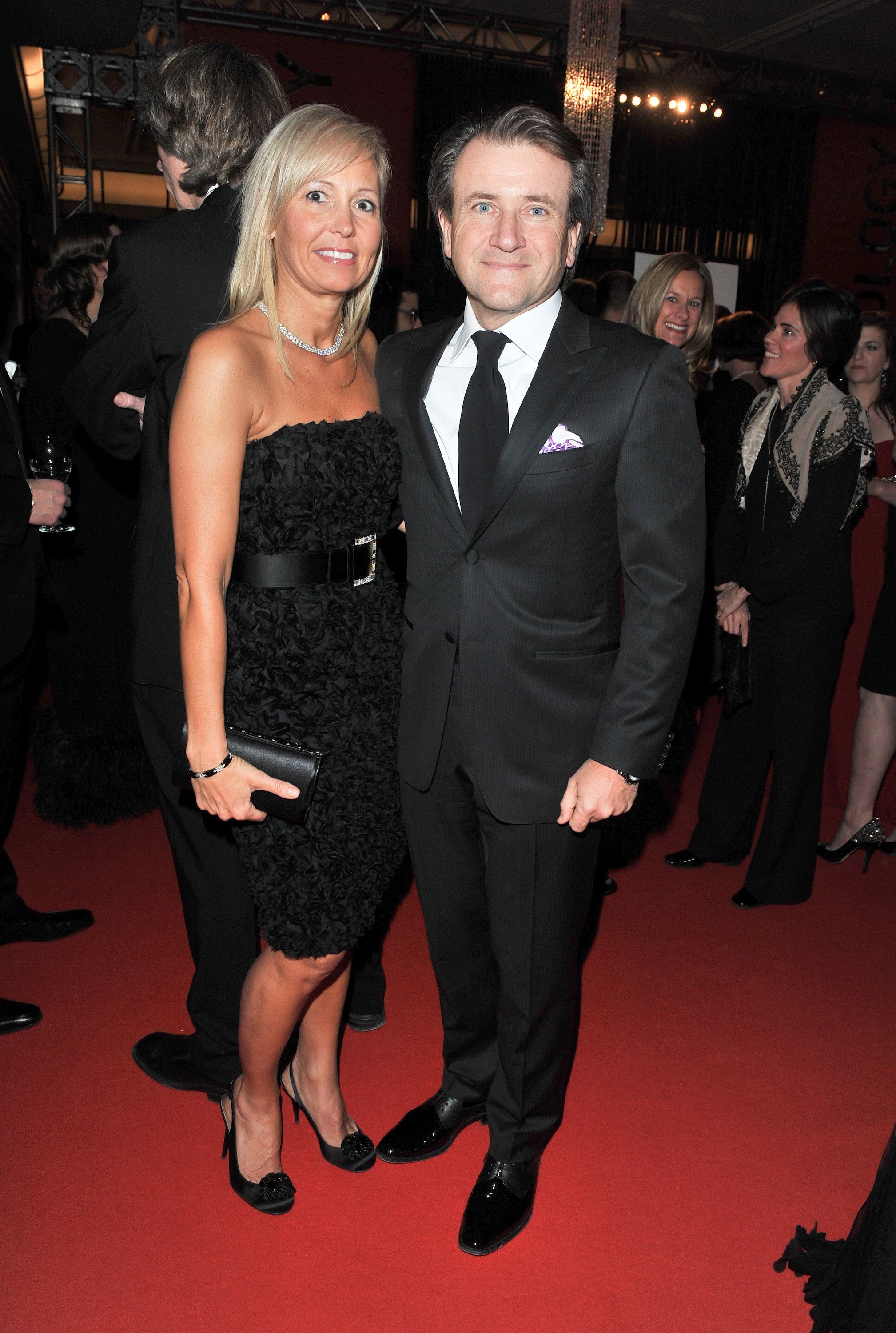 Diane Plese and Robert Herjavec at the Canadian Film Centre Gala and Auction at The Carlu on February 9, 2011, in Toronto, Canada | Source: Getty Images
A lot of fans who looked up to the couple were left disappointed. Sadly, Robert and Plese's children were also affected, which hampered their relationship with their father.
During the initial stages of the separation, Caprice, Skye, and Brendan stopped speaking to their dad, and it landed him in a dark place.
The businessman told People it was a challenging year, and at some point, he was suicidal. But with the help of his pastor John McAuley, Robert was able to scale through the trying time.
ROBERT AND KYM'S LOVE STORY
After overcoming the dark phase in his life, Robert found love again in the arms of his wife, Kym Herjavec. The pair met in February 2015, during the 20th season of "Dancing With The Stars." They were paired to dance together and eventually formed a great friendship.
Soon, the bond between the duo got more profound, and rumors of a relationship made the rounds. Still, Robert and Kym did not admit to an existing romantic relationship until March 2015. The father of five confessed that he loved hanging out with Kym.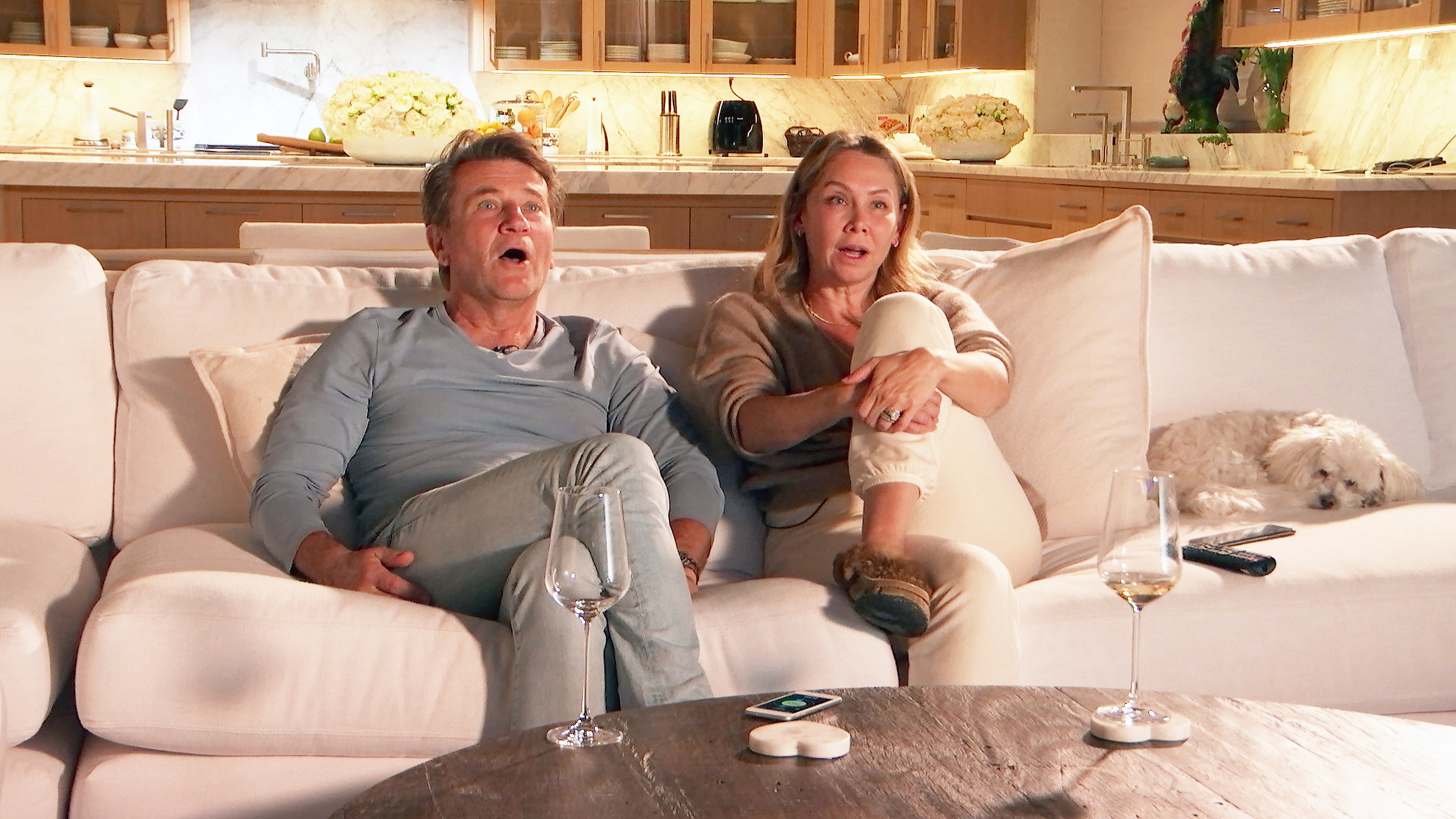 Robert and Kym Herjavec in the "The Watch Party Has Begun" series premiere episode of CELEBRITY WATCH PARTY which aired on May 7, 2020 | Source: Getty Images
He gushed about the former dancer, noting that it was great to have someone like Kym in his life. Other co-stars also attested to the couple's beautiful bond, on and off the screen.
Although the pair ended up dating, Kym initially refused to go on a date with Robert. The businessman had asked her to dinner a month into the dancing competition.
At first, Kym agreed, but later, she turned down his request. Thankfully, the pair found a way around the situation and ended up together.
ROBERT AND KYM'S ENGAGEMENT & WEDDING
Robert took his relationship with Kym to the next level in 2016 when he popped the question. He proposed with a 6.37-carat ring, and it was a surreal moment for Kym, who could not hold back her tears. The dancer revealed:
"It was very romantic, very sweet, and he got down on his knee and proposed. It was beautiful."
On the other hand, Robert noted that it took him a long time to plan, and he kept it a secret. He told Good Morning America, "I didn't let anybody know until a week before because I'm really bad at surprises and I was afraid I'd mess it up."
Luckily for Robert, everything went as planned, and the couple rounded the day up with a surprise engagement party. Not long after, the love birds tied the knot in July 2016 in front of family and friends in Los Angeles.
For the occasion, Kym donned a Monique Lhuiller strapless gown. She walked down the aisle with her parents by her side while "Somewhere Over The Rainbow" played, and it was beautiful.
Although the couple was happy to spend forever together, Robert took precautionary measures to ensure the safety of his properties in the event of them splitting up.
He had lost $263 million, half his fortune, to his ex-wife when they divorced, so to prevent a recurrence, he asked Kym to sign a prenup. The latter was deeply in love with her man and had to oblige to spend forever with him.
Today, the couple are still happily married and share two children. They welcomed twins Hudson and Haven in 2018, making Robert a father of five. Despite the number of children the TV personality has, he and his wife wish to have more kids.
Unfortunately, it was not possible as they were already advanced in age. However, Robert and Kym are thankful for their beautiful children.
ROBERT AND KYM'S THOUGHTS ON THEIR MARRIAGE
Since tying the knot, the couple has found happiness with each other, and despite being married for just six years, they feel like they have "been together forever."
Countless times, Robert has gushed about his wife, serenading her with kind words. Once, when Kym successfully traveled alone with their twins, Robert was impressed, and he revealed:
"She's incredible. Wonder Woman has nothing on my wife."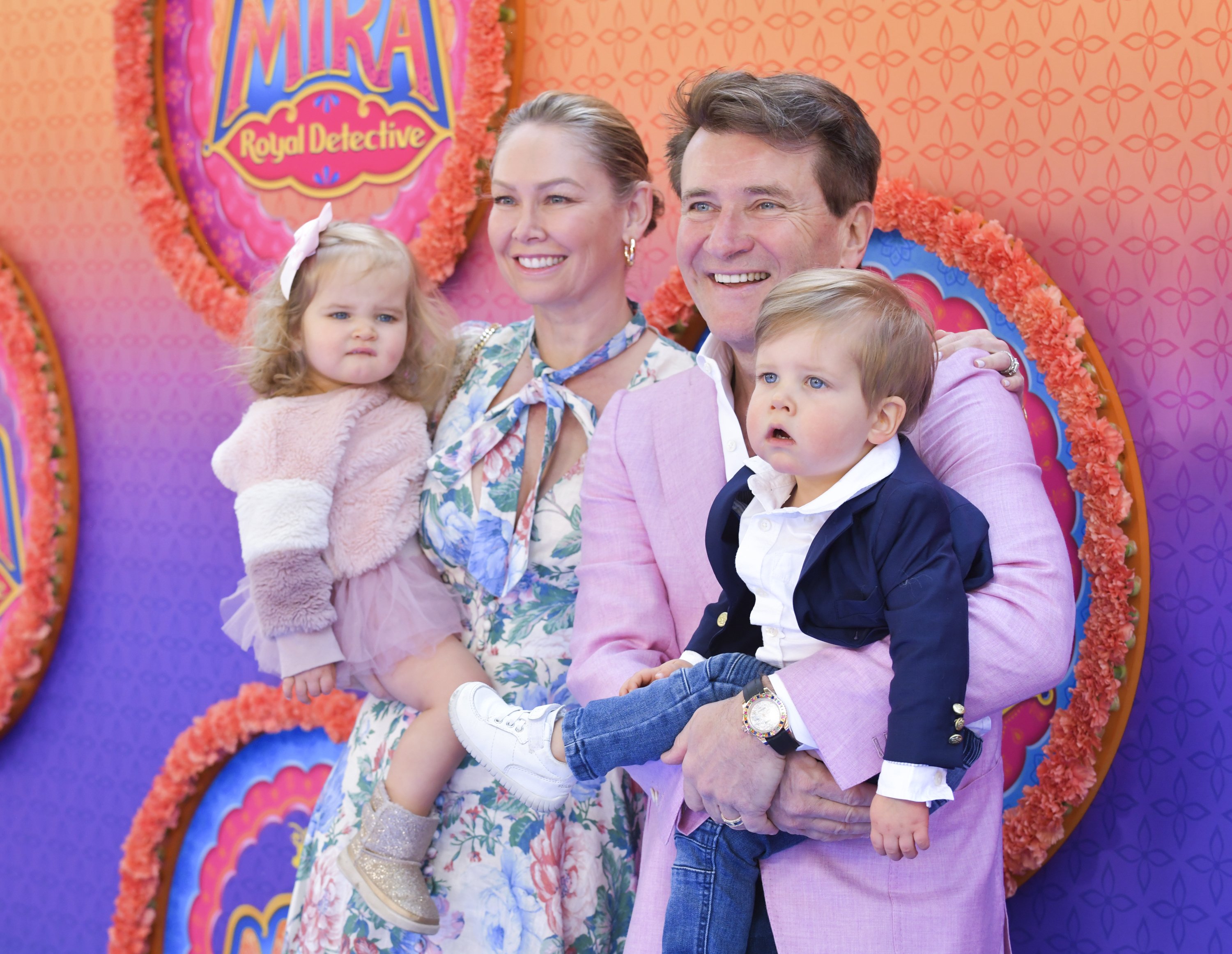 Haven Mae Herjavec, Kym Herjavec, Robert Herjavec, and Hudson Robert Herjavec attend the Premiere of Disney Junior's "Mira, Royal Detective" at Walt Disney Studios Main Theater on March 07, 2020 in Burbank, California | Source: Getty Images
On the other hand, Kym has also spoken well of her husband during interviews. In addition, she has also opened up about the secret of their love-filled union. For Kym, starting as friends with Robert helped them build a healthy relationship.
She considers friendship as necessary in every relationship. With the way the couple and their kids appear on social media, fans are optimistic that their family will remain intact for a lifetime.