The late Robin Williams left behind three children when he died at 63 by suicide on August 11, 2014. The star became a father for the first time at 31 when he and his wife, Valerie Velardi, welcomed Zachary "Zak" Williams on April 11, 1983.
He was 38 when he and his second wife, Marsha Garces, had a daughter, Zelda Williams, on July 31, 1989. On November 25, 1991, the actor became a new father for the third time at age 40 when he and Garces welcomed another son, Cody Williams.
Zelda was named after Princess Zelda from the video game "The Legend of Zelda," Cody also got his name from a "Final Fight" game character. Robin once said people had two visions when holding their children for the first time.
He jokingly said the new parents either imagined their adult children saying to them, "I want to thank the Nobel Committee for this award." Or the other option would be them stating, "You want fries with that?" but he also advised parents on how they needed to be to have the best outcome, adding:
"…And now that you have a child you have to clean up your act, 'cause you can't drink anymore. You can't come home drunk and go, 'Hey, here's a little switch: Daddy's gonna throw up on you!'"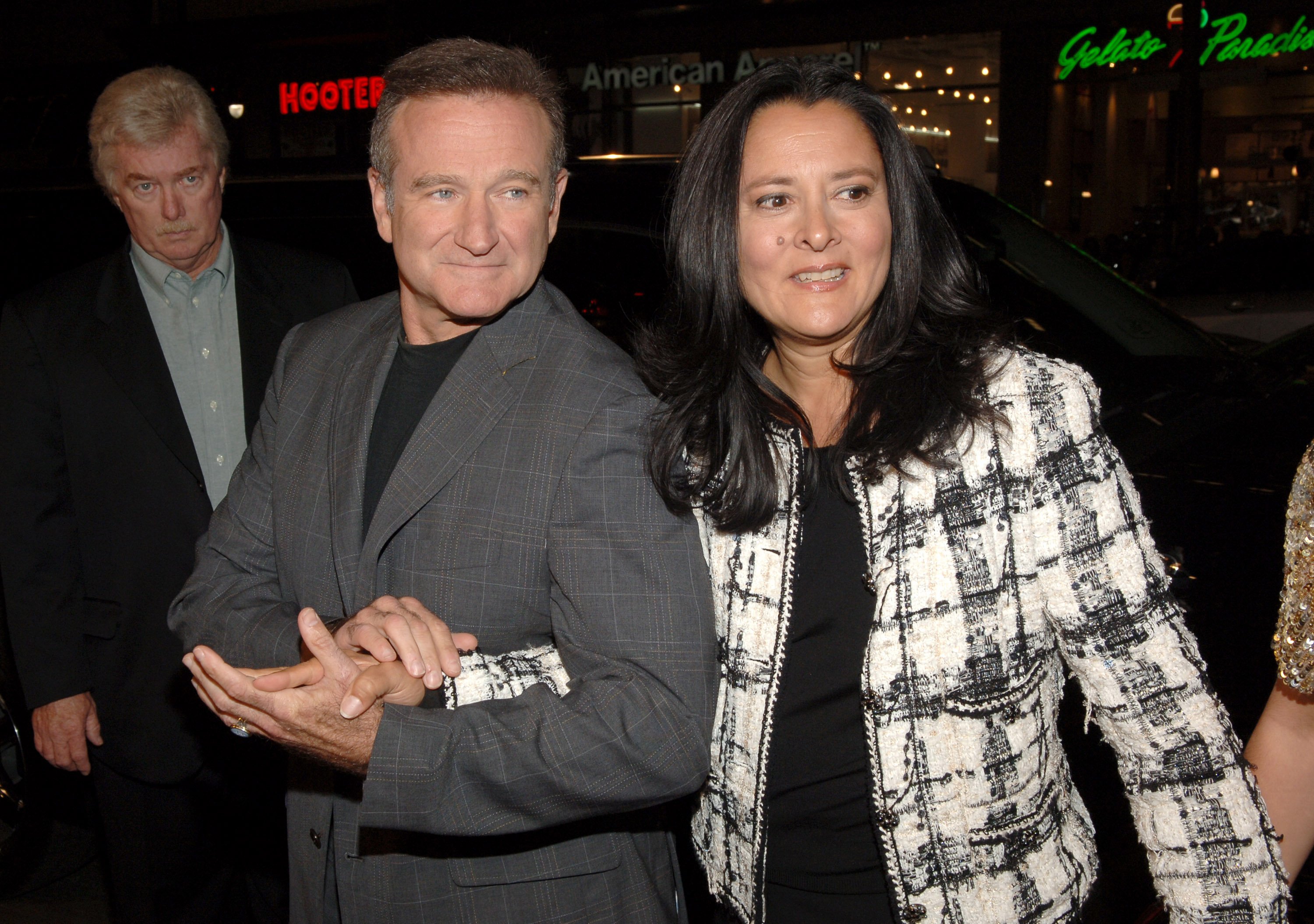 Robin Willliams and his wife Marsha Garces Williams during the "Man of the Year" Los Angeles premiere in Hollywood, California, on October 4, 2006 | Source: Getty Images
Although the legendary actor passed away years ago, he'd given his children enough life lessons for them to turn out into extraordinary adults. Below we get to know the trio a little bit more and see how they've kept Robin's legacy alive.
Who Are Robin's Children?
After marrying Velardi in 1978, Robin welcomed his first son, Zak, who tried his hand at acting in the past. In 2007, the oldest Williams sibling starred in "Slow Your Roll: Extreme Comedy"; the following year, he appeared in "The Graduates."
After losing his father, Zak co-founded the "Prepare Your Mind (PYM)" company, which sold "mood chews." The website said the product helped target the hormone levels in the body to manage anxiety and stress.
Robin's son confessed that he self-medicated with weed and alcohol after his father's death, and using bandaids to wean himself off left him feeling addicted, numb, and disconnected. He didn't feel like he was the best version of himself.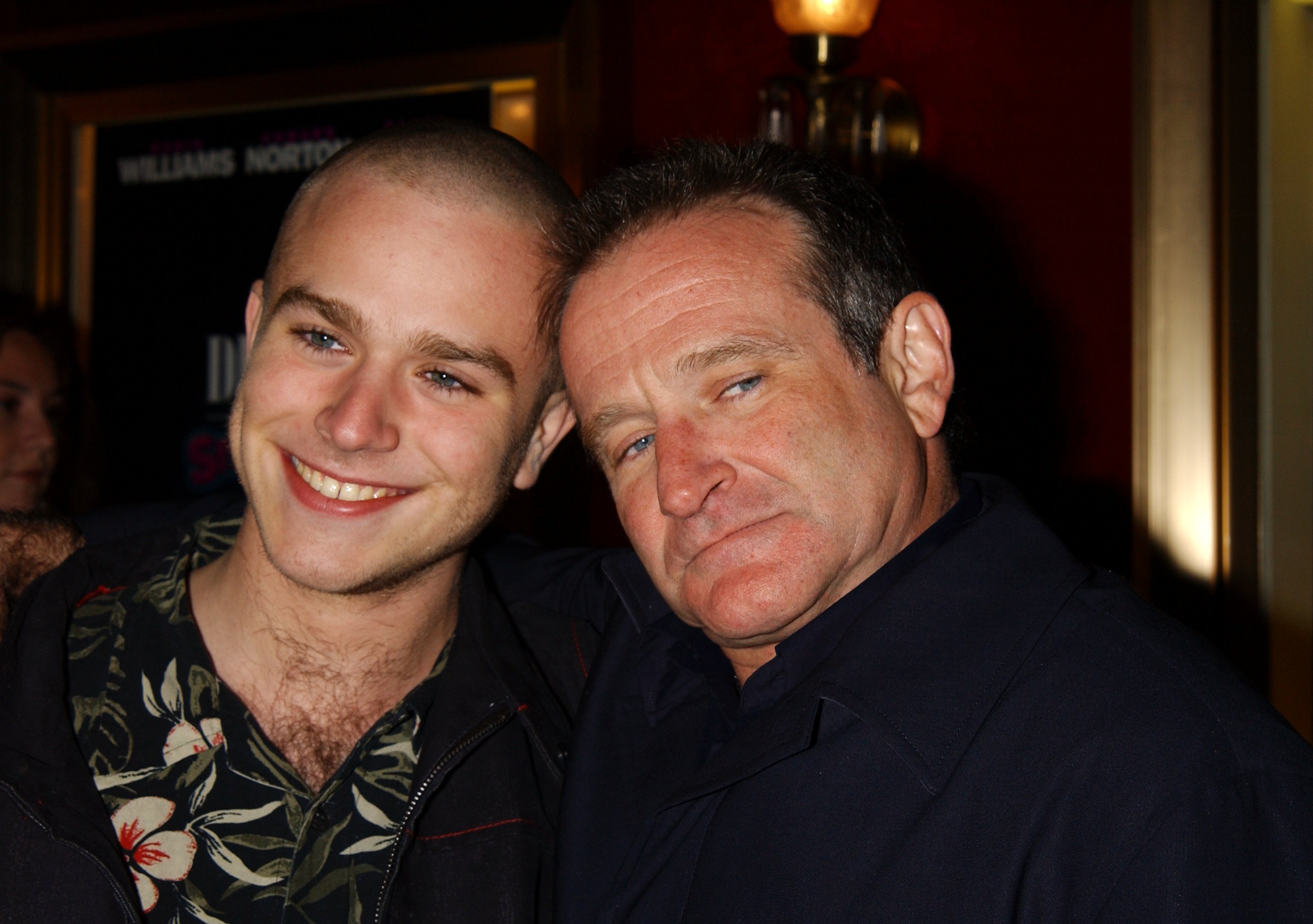 Zachary and Robin Williams at the premiere of "Death to Smoochy" on March 26, 2002 | Source: Getty Images
Zak eventually became better, but his company helped him recover, and he got sober and stopped self-medicating. In October 2020, he married Olivia June, and he's remained a mental health advocate in honor of his father.
By 1998, Robin and Velardi had divorced, and he tied the knot with Zak's nanny, Garces. Zelda was welcomed six months after her parents married in 1989, and she made her acting debut at age five.
In 1994, the late actor's daughter had a role in "In Search of Dr. Seuss," and in 2011, she appeared alongside him in an advert for Nintendo's "The Legend of Zelda: Ocarina of Time" game. Besides acting, she also directed some movies and music videos.
In 2020 she directed "Kappa Kappa Die" and has also done voice-over work, including for "The Legend of Korra" and the "Teenage Mutant Ninja Turtles." After losing Robin, Zelda honored him in August 2020 with a tweet.
In her statement, she spoke about how hard it was to talk about her father's death and encouraged people to get mental health assistance if they were struggling. Zelda also noted how difficult it was for her to deal with having to see the world sharing memories about Robin and accepting condolences.
She explained that she was "constantly touched" by the love her father received, but sometimes it felt like a roadside memorial – a place instead of a person. The star felt like people drove past, leaving their sentiments, and then they were comforted knowing their love for Robin "was witnessed."
On the other hand, Cody has chosen a much more private life. However, in 2015, he did appear in "Ant-Man," and then in 2018, he was in the documentary "Robin Williams: Come Inside My Mind," and also featured in that year's "Black Panther."
Another follower said the late actor's [Robin Williams] son [Zachary "Zak" Williams] had the same twinkle in his eyes that his "beautiful father" had…
In 2019 he starred in "Captain Marvel," and that same year, he married Maria Flores and paid tribute to his late father by tying the know on the day Robin would've turned 68. In 2020, Zak honored their father with an Instagram post on the anniversary of his death.
Alongside a gorgeous black and white photo of Robin, his son noted how it was six years since his father's death. He shared how the late star's legacy lived on in the family and people who carried his spirit in their hearts, adding:
"We will continue to fight for what's good in the world, for peace, and for connecting people instead of tearing them apart. Love you so much!"
Although Robin was no longer around to see it, his children have kept his memory and legacy alive. One of them has already made the late star a grandfather, and there might be more grandchildren to come over the years.
Who Are Robin's Grandchildren?
By early 2023, Zak had two children with his wife; on February 4, 2023, he uploaded two cute Instagram images of his daughter paging through the "First Bites" book, and in October 2022, he shared a picture of his son.
While celebrating his second wedding anniversary, Robin's son shared his wedding photos. The first showed him standing beside June as she held their son; the second image was of the couple exchanging their vows.
For 2022's Christmas holidays, June uploaded several Instagram family photos giving fans a more detailed look at their growing children who had the same eyes as their late grandfather. That same year, Zak celebrated Mother's Day by sharing pictures of his wife and children on Instagram, with a fan writing:
"All I see is Robin smiling in this picture!"
In June 2021, Zak posted an image of him sitting down and feeding his son. He revealed that it had been four years of his sobriety and confessed that he wouldn't have believed it years back if someone had told him that life would get good, with one fan noting:
"So like your dad."
Another follower said the late actor's son had the same twinkle in his eyes that his "beautiful father" had and wished they'd known Robin. In 2019, Zak confessed that he'd named his son McLaurin Clement Williams in honor of his late father, whose middle name was McLaurin.
The National Suicide Prevention Lifeline is 1-800-273-8255. Other international suicide helplines can be found at befrienders.org.