Ron Howard met his wife, Cheryl, at school, and it was love at first sight. The couple celebrated their anniversary 50 years from their first date in 2020, and in 2021, they celebrated their 46th wedding anniversary.When they were still in high school, Ron Howard proposed to Cheryl, and she accepted, and they married in 1975.
Cheryl has always supported him during his struggles in becoming a director and took part in all his films.The couple currently shares four kids, and Ron Howard is still curious about how their marriage works because they got married young. However, he believes that the secret to their long-lasting marriage is "communication."
On November 1, 2020, Ron and Cheryl celebrated the 50th anniversary of their first date. For the day, the couple went to see a re-release of Stanley Kramer's "It's a Mad Mad Mad World," and they drove in the 1970 VW Bug Ron drove then.
After the movie, they had pizza at now-defunct Barnone's in Toluca Lake. Ron showed off a pair of socks with his wife's face to further celebrate.
In June 2021, the couple celebrated their 46th wedding anniversary quietly but beautifully. Ron took to his Instagram to share a selfie of both of them. In the background, they had a balloon showing 46.

HOW RON HOWARD AND CHERYL MET
Ron met Cheryl in school just before he left to join the set of "The Smith Family," which only lasted for a season and a half. He was a junior at John Burroughs High School in Burbank.
While trying to get his assignments from his teachers, before he left, he spotted her. He recognized her as the redhead who sat in the front row. He also knew she was on the drill team that performed flag routines at halftime during basketball games.
He admitted that she looked pretty before noticing that she looked at him and gestured for him to come to her. Cheryl asked him if he would still be playing basketball even though he was leaving.
After he made a guest appearance on Andy Griffith's "Headmaster," he returned to school, and on seeing Cheryl, he formally introduced himself and forgot to get her number.
Ron decided to stalk her by driving around the route she would mostly use after school. Unfortunately, it was a waste of time, and in late October, he gave up the stalking and decided he would call the listed number with her surname.
Once he summoned the courage to call her, he lied about not being able to do his assignment before asking her out to see Stanley Kramer's 1963 all-star comedy "It's a Mad, Mad, Mad, Mad World" playing at the Cinerama Dome.
When Cheryl agreed after her father gave his permission, Ron promised to pick her up and laid out the itinerary of the date, which included having a pizza after the movie.
Over pizza, they exchanged life stories, and before the end of their date, Ron was already in love. When he drove her home and dropped her off, he knew it was the perfect date.
RON'S PROPOSAL TO CHERYL
Within a few weeks of dating, Ron proclaimed his love for Cheryl, but she told him she liked him but could not love him yet. A few months later, she declared that she might love him and only told him she also loved him after about a year.
While in high school, he proposed the idea of marriage, but she politely told him off. He tried again when she was at Valley College, but Cheryl told him she was focused on her studies so she could transfer to Cal State-Northridge.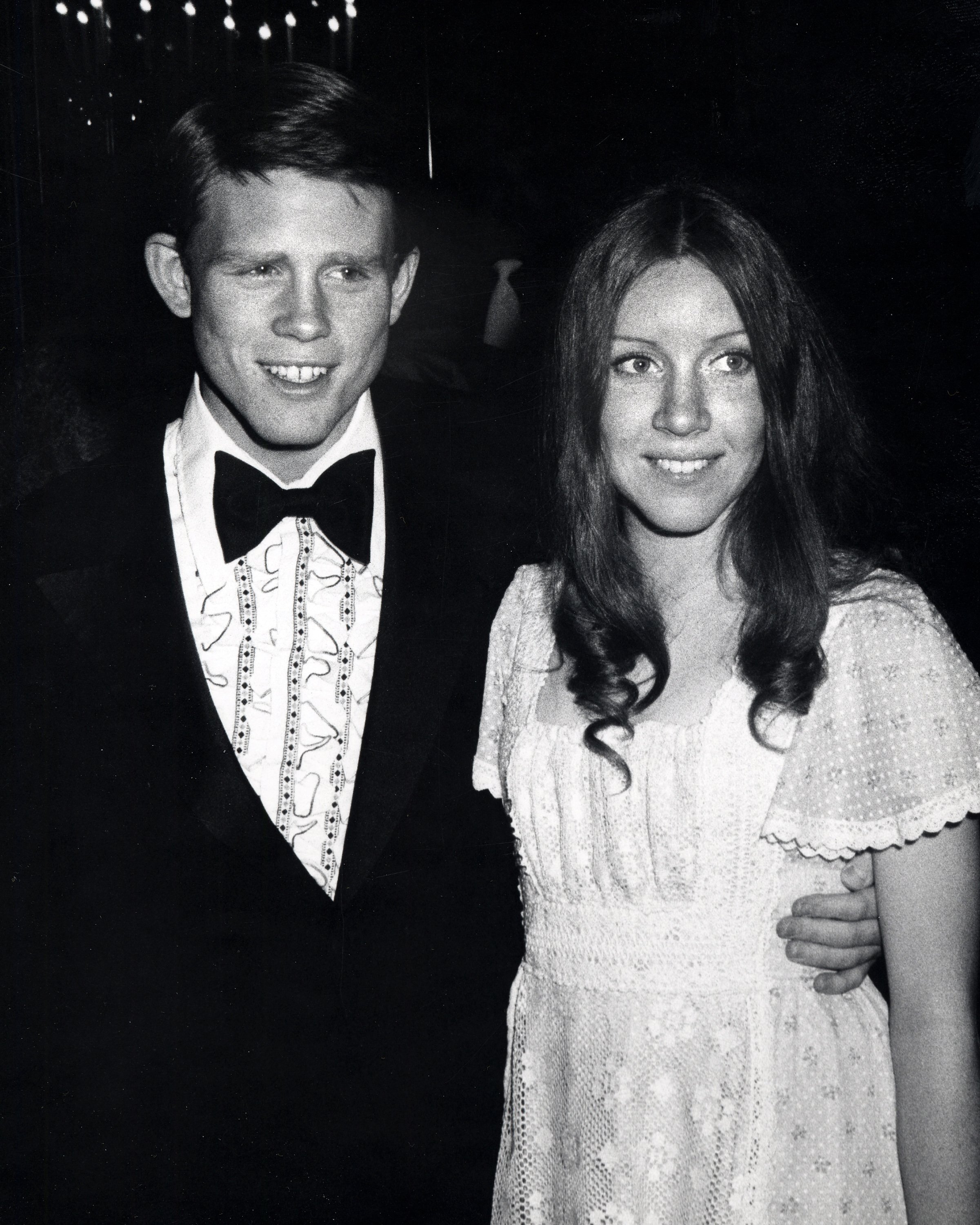 Ron Howard and Cheryl at "Salute to Jack Benny" on March 21, 1974 | Source: Getty Images
By the spring of 1975, they had turned 21, and Cheryl had successfully transferred, so he resolved to propose again despite self-doubt.
While driving to a movie, he asked her again on the Ventura Freeway. Cheryl smiled and said okay before confirming with Ron if that meant that they were engaged.
Ron revealed that it was probably the most romantic proposal and acceptance ever to have taken place on a Southern California on-ramp.
RON AND CHERYL'S WEDDING
On June 7, 1975, their wedding took place at Magnolia Park United Methodist Church in Burbank. The officiant was a former child actor named Bobs Watson.
Ron's parents didn't understand their hurry to get married, but they understood that the love between Ron and Cheryl was real. The couple had a low-budget wedding that cost them eight hundred dollars, including Cheryl's dress.
It was a simple ceremony followed by cake and nonalcoholic punch in the church's courtyard, and they did not have a reception.
After posing for pictures and cutting the cake before their friends and family, they left for Ron's parents' house in Toluca Lake.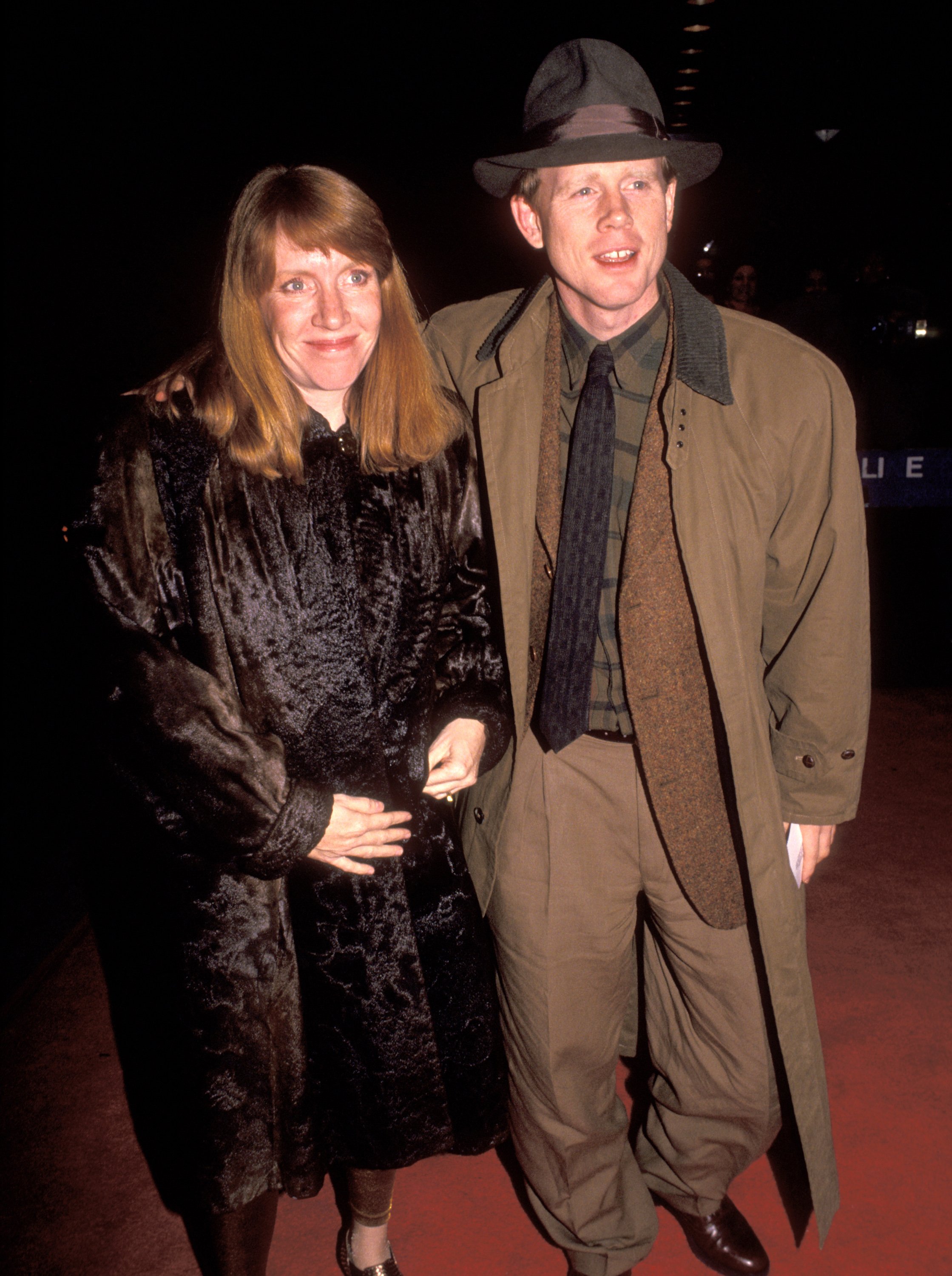 Ron Howard and Cheryl at the "JFK" New York screening on December 18, 1991 | Source: Getty Images
ABOUT RON HOWARD'S LUCKY CHARM
Cheryl is a talented writer and author of "In the Face of Jinn," "Tell Me a Story," "Grandma," and "Heart and Desire." Even though she did not start writing till she was 22, Cheryl had always loved stories since she was a child.
Being supportive of her husband, especially when he wanted to become a director, Cheryl decided to dabble in movies. She has starred in 11 of her husband's films.
Cheryl, who he called his 'lucky charm' has starred in "Grand Theft Auto," "Angels and Demons," "A Beautiful Mind," The Da Vinci Code," "Night Shift," "Edtv," "Ransom," and many more.
RON HOWARD'S CHILDREN
In March 1981, the couple welcomed their oldest child, Bryce Dallas. She is a well-known actress and director with movies like "The Help," "Jurassic World" franchise, and "Rocketman."
Bryce is married to actor Seth Gabe, and they share two children. The couple welcomed a set of twins, Paige Carlyle and Jocelyn Carlyle, in February 1985.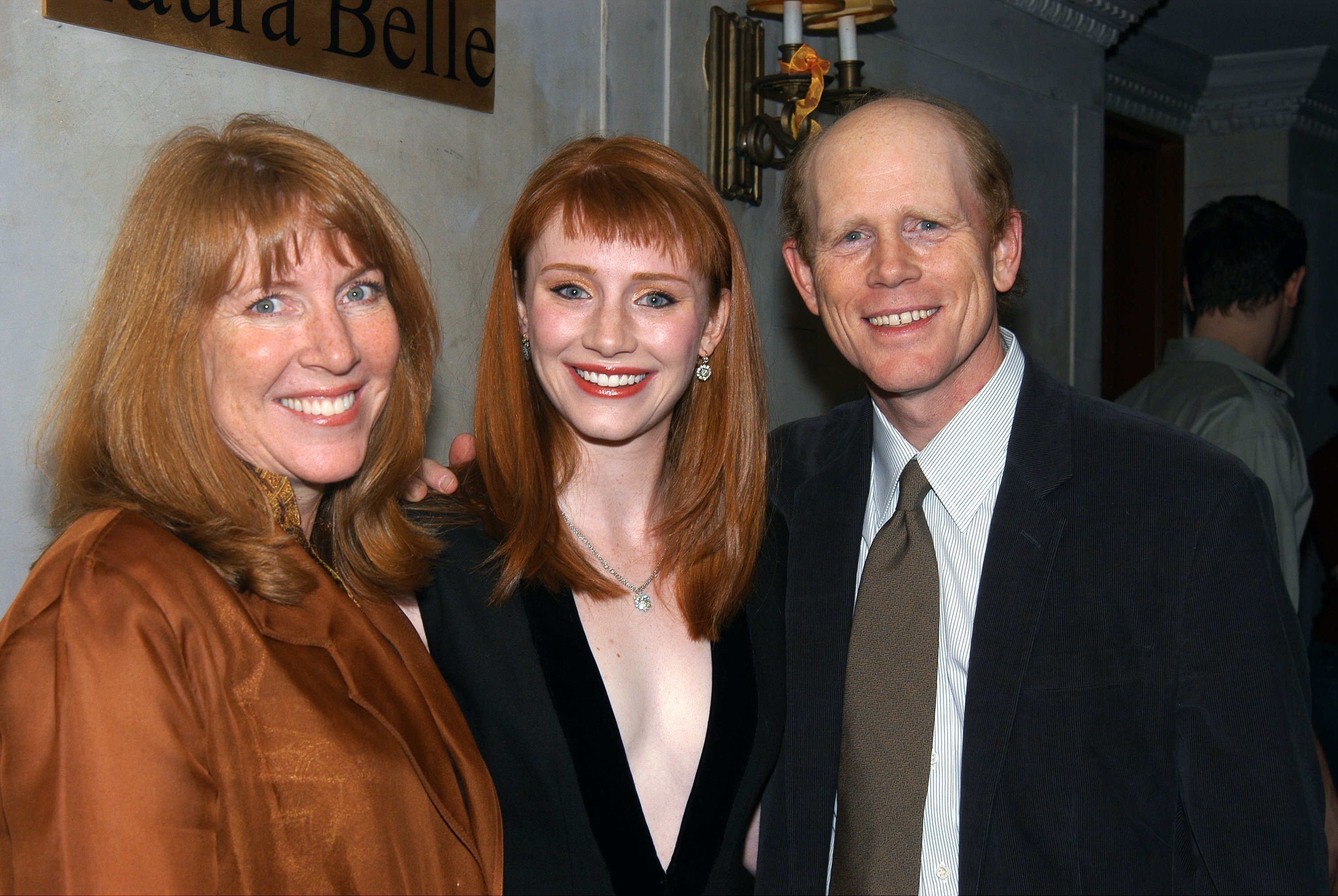 Cheryl, Bryce, and Ron Howard at the Roundabout Theatre Company's opening night party for "Tartuffe" as Bryce made her Broadway debut on January 9, 2003 | Source: Getty Images
Paige also follows in her father's footsteps as an actress, while not much is known about Jocelyn because she does not have a career in Hollywood.
Paige has starred in "Adventureland," "The Employer," "Medium," "stalkTALK," "Arrested Development," and "The Astronauts." She is engaged to Tim Abou-Nasr, an actor and musician.
In April 1987, the couple welcomed their only son and youngest child, Reed Cross. He is a professional golfer and YouTuber who shares golf-related videos.
Reed is married to Ashley, and they share one young daughter, Aspen Leigh making Ron a proud father and grandfather.
THE SECRET TO THEIR LONG-LASTING MARRIAGE
Ron said the secret to their long-lasting marriage had been communication, even though they had an instant connection when they met. He said,
"I met her, and there was never anybody else."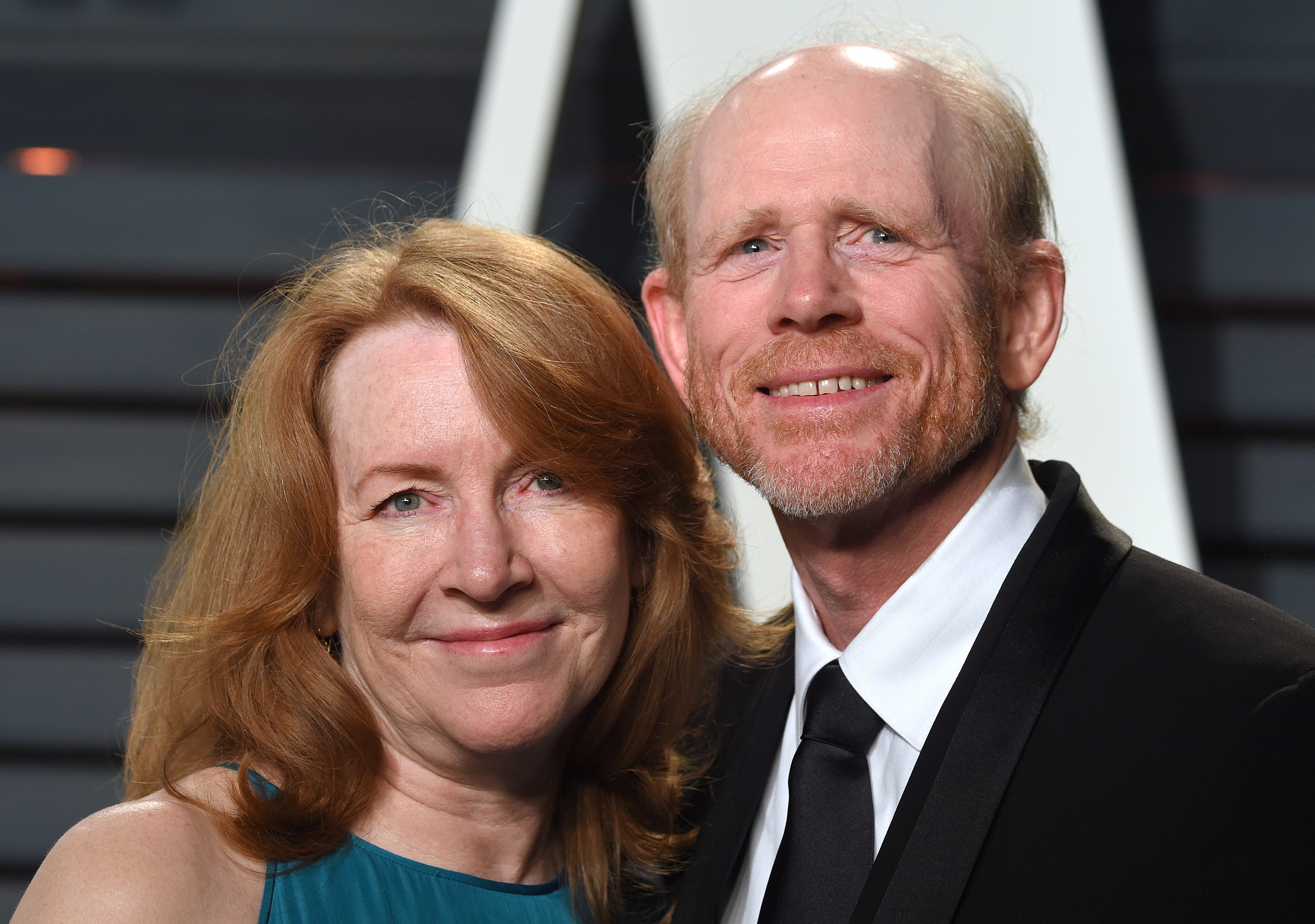 Ron Howard and Cheryl at the 2017 Vanity Fair Oscar Party | Source: Getty Images
He said no technique or tactic would work, but communication is essential. In Ron's opinion, both parties have to learn to communicate and find constructive ways to have difficult conversations.
He also revealed that couples usually have an element of luck because people grow together or don't, and no one can force that to happen.