Ron and Cheryl Howard have one of Hollywood's most interesting love stories. Following their first encounter as teenagers, the couple has remained strong for almost five decades amidst all the doubts and challenges. Here are the details of their relationship and the secrets to their love-filled union.
Regarding entertainment, Ron Howard is a man of great reckoning. He cemented his name in Hollywood as a notable actor, director, and producer with many accomplishments.
The embodiment of showbiz success, Ron began as a child actor and slowly made his way to the top. Now at 68, the icon is a mentor and role model to many upcoming actors.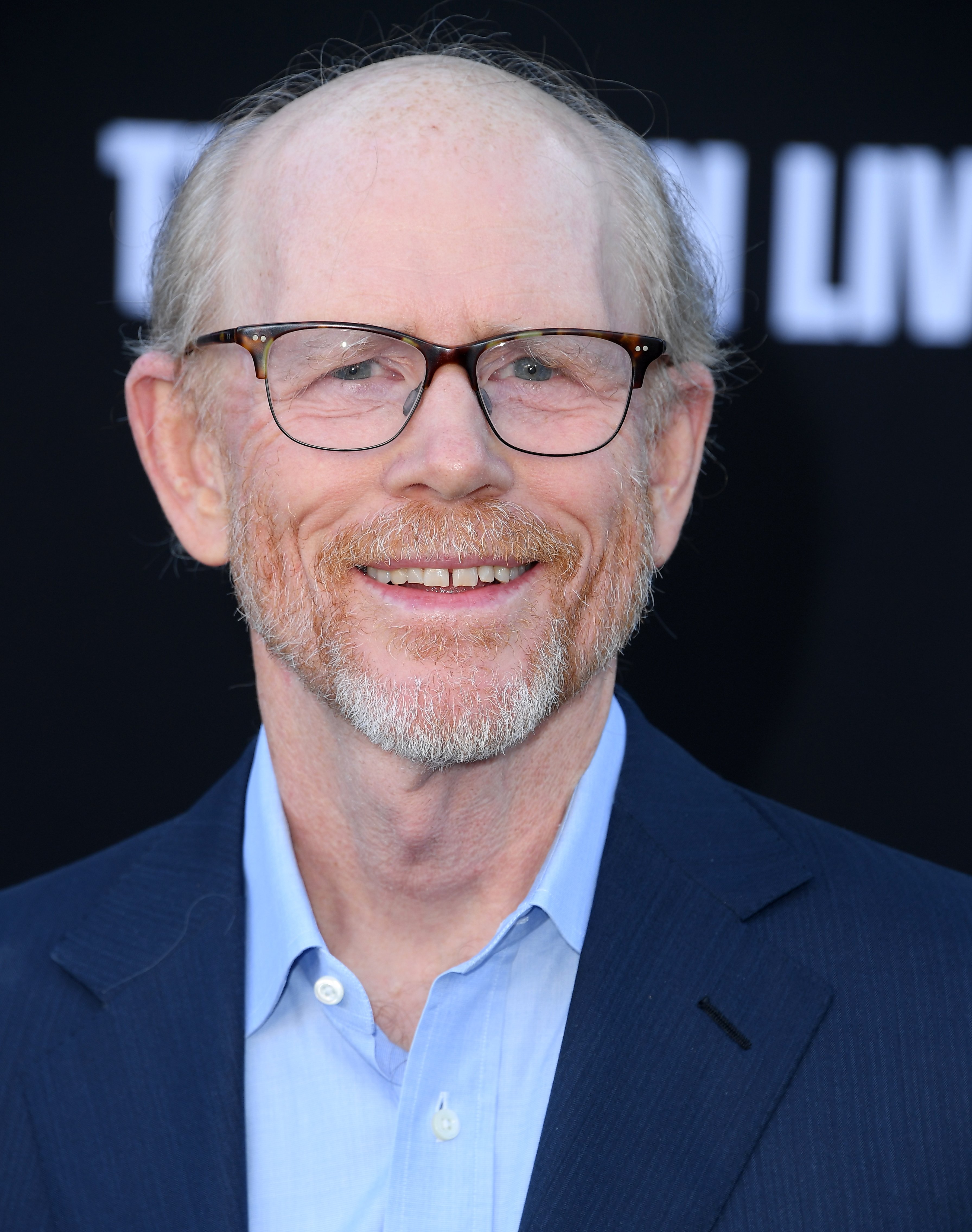 Ron Howard arrives at the Premiere Of Prime Video's "Thirteen Lives" at Westwood Village Theater on July 28, 2022, in Los Angeles, California. | Source: Getty Images
While Ron undoubtedly did a lot of work to become successful, he had a special someone behind the scenes cheering him on — his wife, Cheryl Howard. The pair have been together for nearly five decades, but their love story dates back to when they were still teenagers.
Ron and Cheryl first crossed paths in the 11th grade at John Burroughs High School in Burbank, California. The lovebirds were both 16 at the time, and according to the actor, there was an immediate connection. From then on, Ron never took his eyes off Cheryl. He would later admit:
"I met her, and there was never anybody else."
After building a connection for a short time, Ron and Cheryl finally went on their first date on November 1, 1970. The award-winning director picked up his date in his VW Bug, and the duo went to see the movie "It's a Mad Mad Mad World."
Afterward, Ron and Cheryl went out for pizza at a Toluca Lake restaurant. It was indeed a memorable day, and many years later, the couple still celebrates the significance of that day.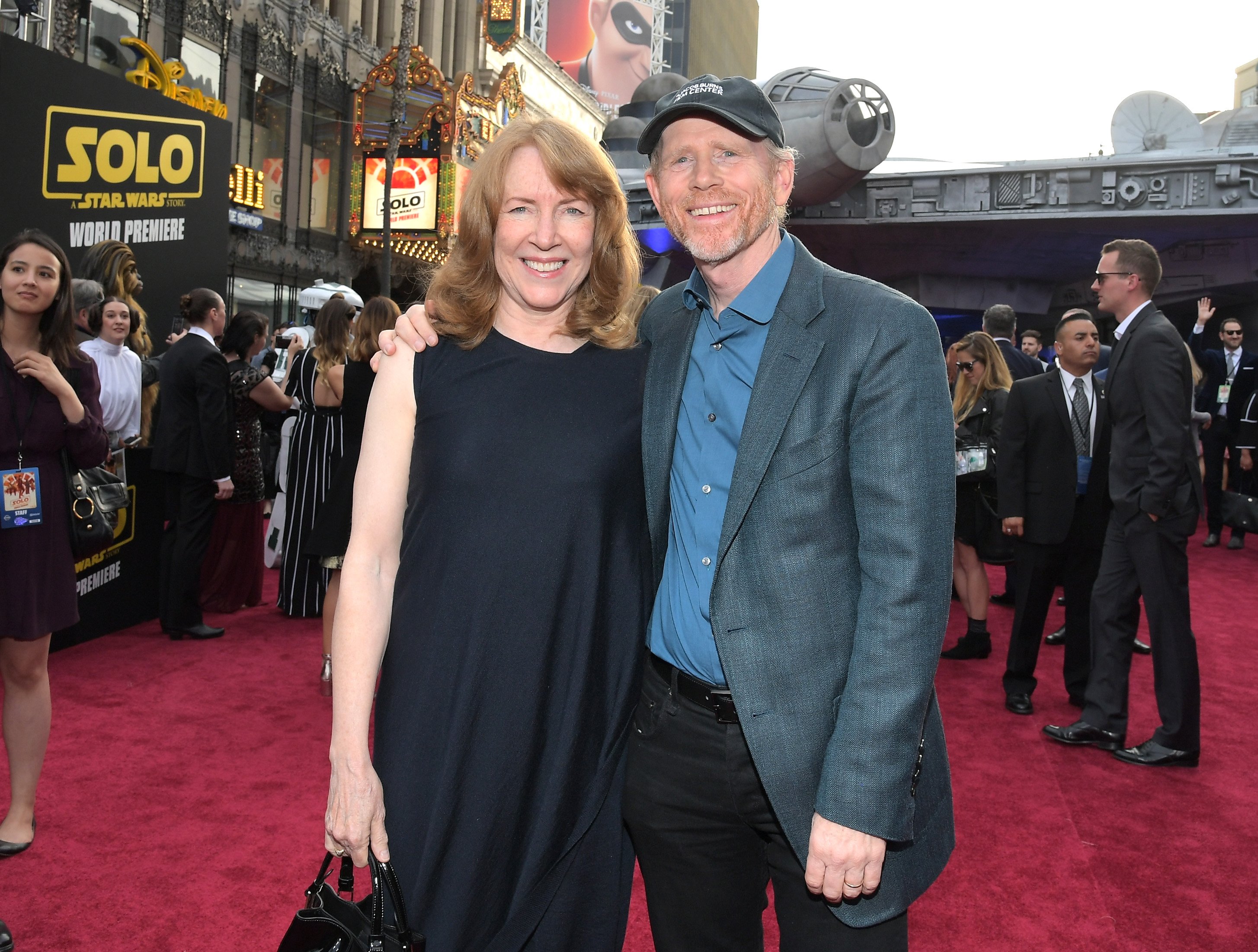 Cheryl Howard Ron Howard attend the world premiere of Solo: A Star Wars Story in Hollywood on May 10, 2018. | Source: Getty Images
On November 1, 2017, Ron celebrated the occasion by taking to Twitter to share a beautiful picture of him and Cheryl embracing each other in a picturesque setting.
In the caption, the "The Andy Griffith Show" star noted that he was forever grateful. Three years later, Ron and Cheryl marked the special occasion by trying to replicate the events of that day.
In an Instagram post, Ron noted that he would take Cheryl on a trip to their local take-out pizza place in the same VW Bug he picked her up with on their first date.
Later that day, the actor shared a photo of him and his wife at home with the take-out pizza, noting that they would watch a Netflix movie while munching on the food.
Undoubtedly, Ron and Cheryl's first date is a day they will never forget. At the same time, it is as memorable as their prom night. In 1972, the couple went to prom as each other's dates, dressed in matching outfits.
But although the Hollywood icon is happy that his marriage has worked, he once believed it should not have, considering the circumstances surrounding their love story.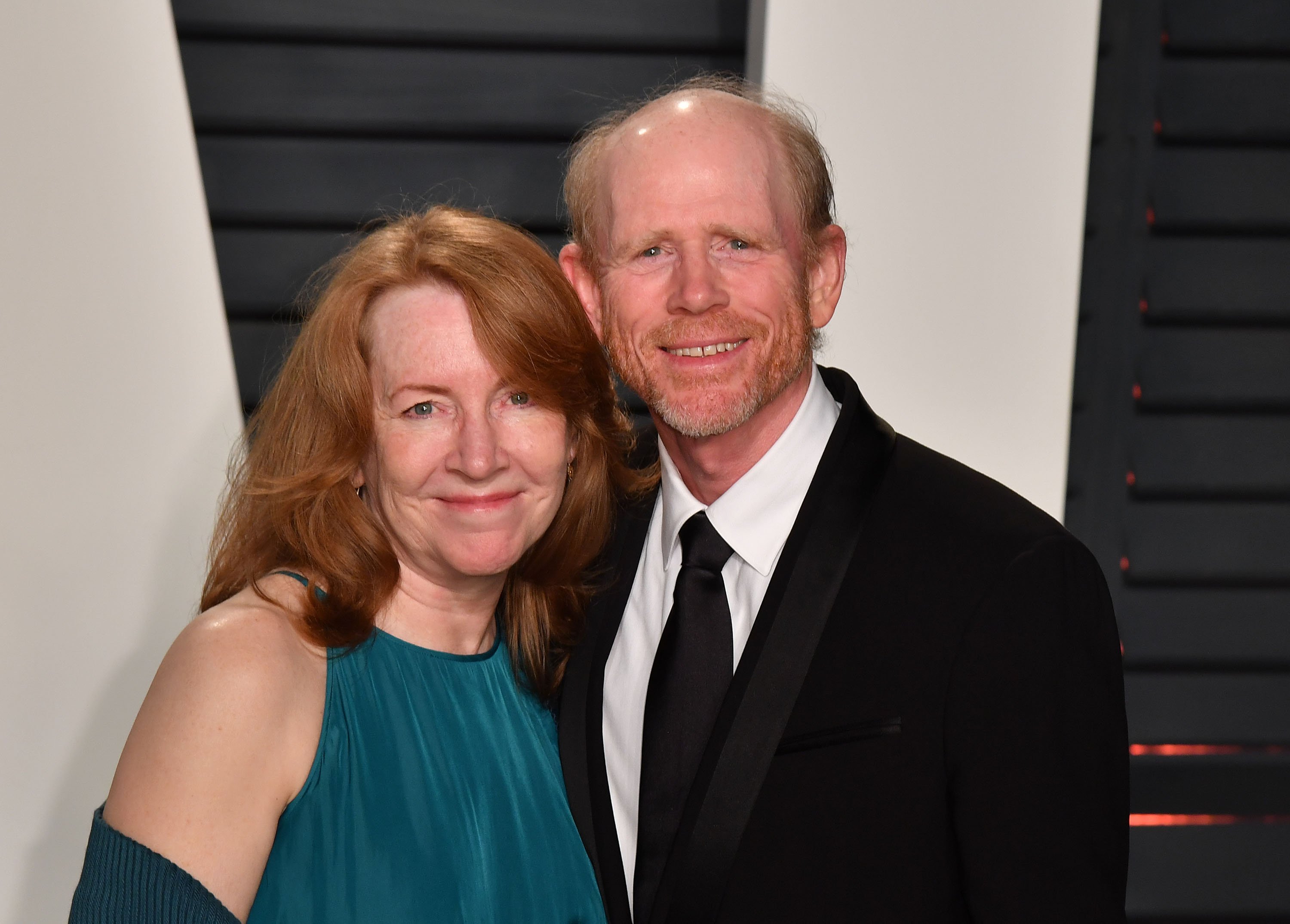 Ron Howard and Cheryl Howard attend the 2017 Vanity Fair Oscar Party hosted by Graydon Carter at the Wallis Annenberg Center for the Performing Arts on February 26, 2017, in Beverly Hills, California. | Source: Getty Images
The actress donned a beautiful dress, which she made while Ron wore a lovely suit. A snapshot that captured the duo in their outfits showed them posing in front of the VW Bug, which Ron drove with on their first date.
Three years after their memorable prom night and after dating for five years, Ron and Cheryl tied the knot on June 7, 1975. They would welcome four children Bryce, Jocelyn, Paige, and Reed. The couple's marriage and children were only the start of many good things.
Ron and Cheryl's Relationship after More than 40 Years
Ron and Cheryl have been married for over forty years, yet their love for going on dates has not wavered. Like old times, the power couple still goes out by themselves and enjoys each other's company.
On November 26, 2021, the producer shared a picture of him and Cheryl in London. The couple looked happy as the actress leaned into her husband's embrace, while the duo sported big smiles. In the caption, Ron talked about his and his wife's book "The Boys: A Memoir of Hollywood and Family as a Gift." He wrote:
"I write about growing up as a kid actor, our unusual family & I recall Cheryl & me meeting & falling in love back in the 11th grade. It was gr8 2 look back."
A few months earlier, the doting husband posted a picture of him and the red-haired beauty taking the afternoon to hike in the rainforest of Queensland. Days later, Ron gave fans a glimpse of what another hiking day with his wife on his day off looked like via a lovely photo on Instagram.
Besides hiking, Ron and Cheryl also love going out for lunch dates, and the former never fails to capture such moments and share them with his fans on social media.
Other images plastered on the actor's Instagram page have also featured the couple spending time together while taking a stroll in the rain and walking their beautiful dog.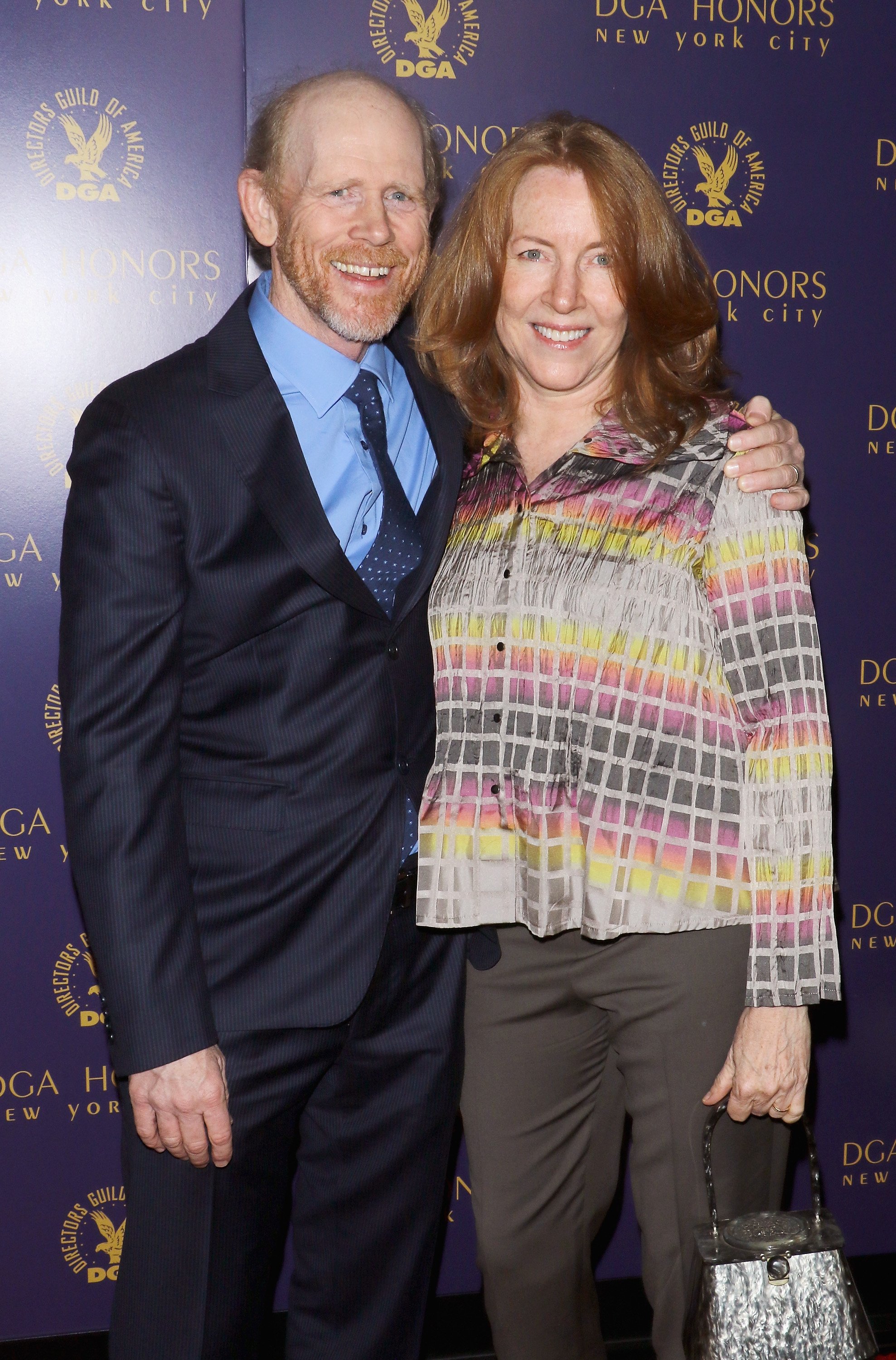 Ron Howard and Cheryl Howard attended the DGA Honors Gala 2015 at the DGA Theater on October 15, 2015, in New York City. | Source: Getty Images
After almost fifty years of marriage, it is great to see Ron and Cheryl still happy and in love. On July 7, 2022, the lovebirds marked 47 years of marital bliss but did not share how the occasion went by.
However, in previous years, Ron shared sweet photos and tributes to commemorate the special day. In 2020, he posted a casual picture of him and Cheryl and captioned it:
"45 yrs ago today, Cheryl & I wed. Our journey has been one of many blessings & lessons experienced both together & as individuals."
Ron flaunted himself and Cheryl on Instagram for the couple's 46th wedding anniversary the following year. He posted a photo that showed the couple hugging each other and smiling heartily while standing in front of the 46 number balloon. In the caption, the actor described himself as a "lucky fella."
Ron's Thoughts about the Longevity of Him and Cheryl's Union
Over the years, Ron has been open about his long-lasting marriage. He has revealed how lucky he feels to have met his wife and the secrets to their happy union.
But although the Hollywood icon is happy that his marriage has worked, he once believed it should not have, considering the circumstances surrounding their love story. In his words:
"I felt fortunate when we met. It's crazy – were teenagers, it shouldn't have worked. We got married young, that shouldn't have worked either, and yet, it really and truly has."
Long-lasting marriages like Ron and Cheryl's have secrets, and for the couple, the actor has revealed that communication is essential. According to him:
"People say, 'How'd you do it?' There's no technique. There's no tactic other than communication is really important."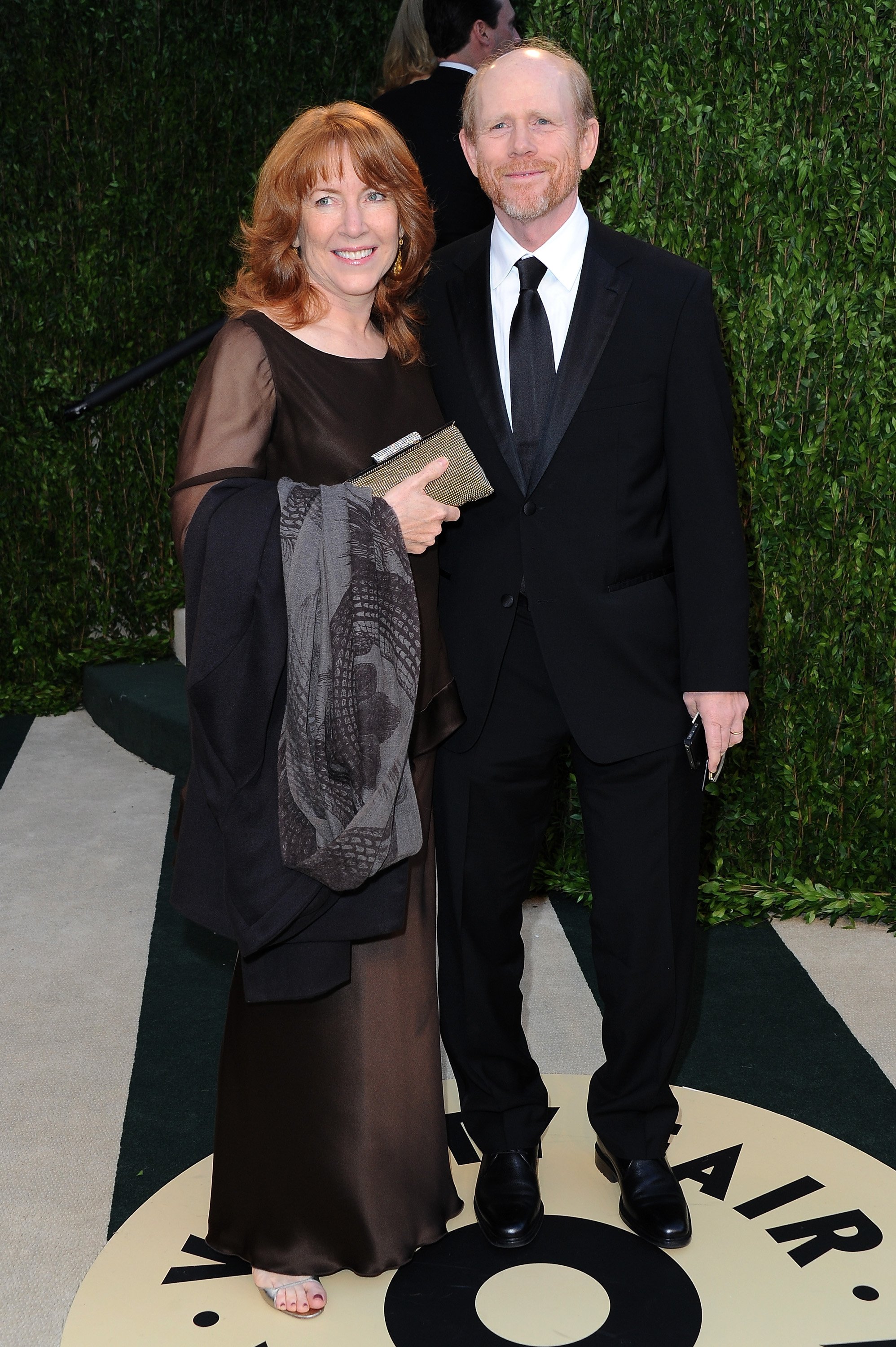 Ron Howard and Cheryl Howard arrive at the 2013 Vanity Fair Oscar Party hosted by Graydon Carter at Sunset Tower on February 24, 2013, in West Hollywood, California. | Source: Getty Images
Besides communication, Ron has also mentioned that luck has a part to play, as one can't predict if a couple will grow together or not. Furthermore, Cheryl's unwavering support for her husband is another reason they have scaled through challenges.
The actress has been by her husband's side throughout his career, and as a result, they have endured different experiences. Ron and Cheryl union will always prove that marriage is long-lasting and loved-filled, irrespective of challenges.