Roseanne Barr's revived sitcom was canceled after a controversial tweet by the veteran comedian derailed all plans. Afterward, she subsequently blamed her co-star Sara Gilbert for destroying her life.
Roseanne Barr's self-titled iconic comedy series, "Roseanne," was a popular hit in the 90s, and it placed her name on the tongue of every fan.Two decades after the original show ended, it was revived by ABC Studios. After a record-breaking premiere, it was announced that a second season was in the works.
However, the show was canceled after Barr shockingly posted a racist tweet about an African-American woman who had worked under President Barack Obama.
After apologizing for her controversial tweet, Barr surprisingly blamed actress Sara Gilbert for the cancellation of the show and accused the co-star of destroying her life.
"Roseanne" Reboot Gets Cancelled
In 1998, when Barr's sitcom "Roseanne" first aired on ABC, it rose straight to the top, becoming one of the best series of that era.

The sitcom, which also starred famous actors like John Goodman and Laurie Metcalf, was a groundbreaking project exploring the lives of working-class Middle America.
After its nine-season run, the show ended with much critical acclaim, and it launched the careers of so many actors who worked on the show.
In 2017, two decades after the original show ended, ABC Network ordered a reboot of the series to the joy of most fans.
Starring original actors maintaining their characters from the 90s, the first reboot episode garnered over 27 million viewers, becoming the highest-rated new TV series in years.
Three days later, ABC renewed the revived "Roseanne" for another season which was expected to return for a 13-episode run.
However, things changed dramatically when Barr, the central figure of the series, posted a racist tweet about an African-American woman named Valerie Jarrett, a senior adviser to Barack Obama throughout his presidency. She wrote:
"if Muslim brotherhood & planet of the apes had a baby=vj."
Her tweet generated a lot of backlash, and she was accused of being a racist. Shortly after ABC Network caught wind of the tweet, it was announced that the revived "Roseanne" series had been canceled.
Barr Throws Blames
Shortly after the rebooted series was canceled, Bob Iger, one of the directors of ABC, called Valerie Jarrett to apologize on behalf of the studio. Barr deleted the post about Jarrett and later offered her an apology. The comedian wrote:
"I apologize to Valerie Jarrett and to all Americans. I am truly sorry for making a bad joke about her politics and her looks. I should have known better. Forgive me – my joke was in bad taste."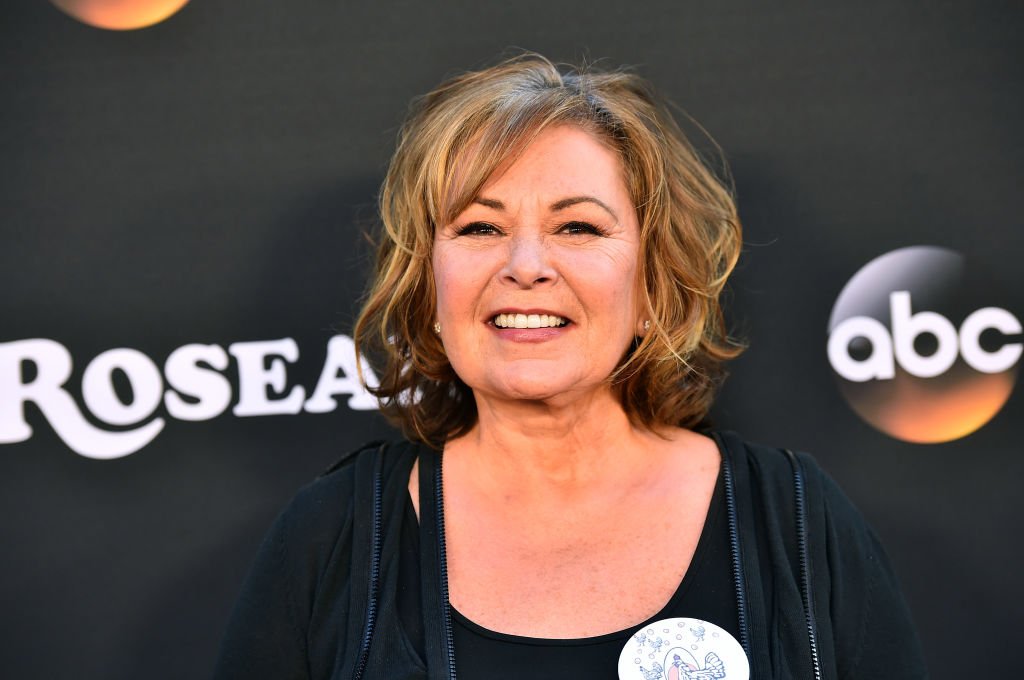 Roseanne Barr on March 23, 2018 in Burbank, California | Source: Getty Images
Explaining her controversial tweet, Barr said it was 2 a.m, and her tweet was influenced by the sedative she used before sleeping.
According to her, the sleep aid could cause changes in mood and behavior, but she admitted to going too far with her words, and it was a regrettable mistake.
A year and a half after the incident, Barr had another scapegoat to blame for her show's cancellation and, this time around, the comedian pointed fingers at co-star Sara Gilbert. After her tweet, which prompted a lot of backlash, Gilbert, who played her daughter in the sitcom, had tweeted:
"Barr's recent comments about Valerie Jarrett, and so much more, are abhorrent and do not reflect the beliefs of our cast and crew or anyone associated with our show. I am disappointed in her actions, to say the least."
Now, the comedian believes Gilbert's tweet led to the show's cancellation. Barr accused Gilbert of destroying her life and the show with the tweet. She also explained that she does not talk to Gilbert or anyone from the show anymore.
On her part, Gilbert defended herself by claiming she was highly disappointed and heartbroken after the show was canceled but that she and Barr will always be family and she loved the comedian.
Her Current Life
After her scandalous tweet, which abruptly ended the reboot of her famous sitcom, Barr stayed out of the spotlight for a couple of years. But the talented comedian resurfaced with a picture on her Instagram and wrote that she was feeling good and looking better.
In the picture, the veteran entertainer donned a leopard print dress coupled with red roses overlaid and struck a pose outside her home in Hawaii.
She currently lives there with her partner Johnny Argent who she met online in 2002 when the actress held a writing competition on her blog.
Nowadays, Barr is most active on her YouTube page, where she posts videos about conspiracy theories and also hosts interviews with fellow conspiracy theorists and comedians.
Barr's Big Family
Behind the scenes and away from her controversies, Barr is a mother to five lovely children. Her motherhood journey began in 1981 when she was 18 and gave birth to her first child, Brandi Brown.
The veteran comedian later gave up Brown for adoption before she fell in love with Bill and married him in 1974.
The couple subsequently welcomed their first daughter, Jessica, in 1975 before they added the second, Jennifer, in 1976, followed by their youngest son, Jake, in 1978.
In 1988, Barr reunited with her first daughter Brown after hiring a private investigator to help track her daughter down.
However, just two years later, in 1990, Barr and her husband called it quits after 16 years of marriage. Afterward, she became romantically involved with Tom Arnold, but they separated after four years without sharing a child.
In 1995, Barr married her third husband, Ben Thomas, and she expanded her family when she welcomed her youngest child, son Buck. She and Thomas divorced in 2002, and after that, the actress focused on taking care of her children.
The family was thrown into controversy when Barr's third daughter, Jenny Pentland, released a memoir titled "This Will Be Funny Later," where she explained that the ABC series "Roseanne" was based on their family.
She said that her mother was playing a fictional version of herself in the series while the characters of Darlene and DJ were based on her sister Jessica and her little brother Jake.
Pentland explained that what was happening in their lives became troubling, which led to many details being left out in the show's later seasons.
Pentland also revealed that she and her older sister Jessica were sent to multiple reform schools and psychiatric institutions to curb their rebellion and drug use as teenagers.
However, she clarified that her decision to tell her side of the story was part of self-imposed therapy and that writing her book allowed her to put herself in her parents' shoes.
Her Grandchildren
A couple of months after the show was axed, Barr revealed the most significant change since the show went off the air were her seven grandkids, with whom she now spends a lot of time.
The veteran star explained that the birth of her grandchildren has made her push her children to make sure they treat their kids right.