In January 2023, Serena Williams shared an Instagram Story video where she proudly showed off the meat pies she'd done for her husband, Alexis Ohanian Sr., and daughter Alexis Olympia Ohanian Jr. The star called the confectionery Jamaican pies.
The pan had more miniature pies for her daughter, Olympia, and when her impatient husband took one right on-camera, she laughed and told him who they were for! The businessman quickly dropped the pastry back onto the tray for his daughter.
Williams was pleased with the outcome of her work and even noted how the backs were "nice and soft" and hadn't burnt. Alexis Sr. took a bite of one of the pies off-camera and showed off the meaty inside for the camera.
The tennis star also mentioned that she'd used Impossible meat for her pies instead of real meat. She also revealed how she liked baking on nonstick sheets because they made the baked goodies soft.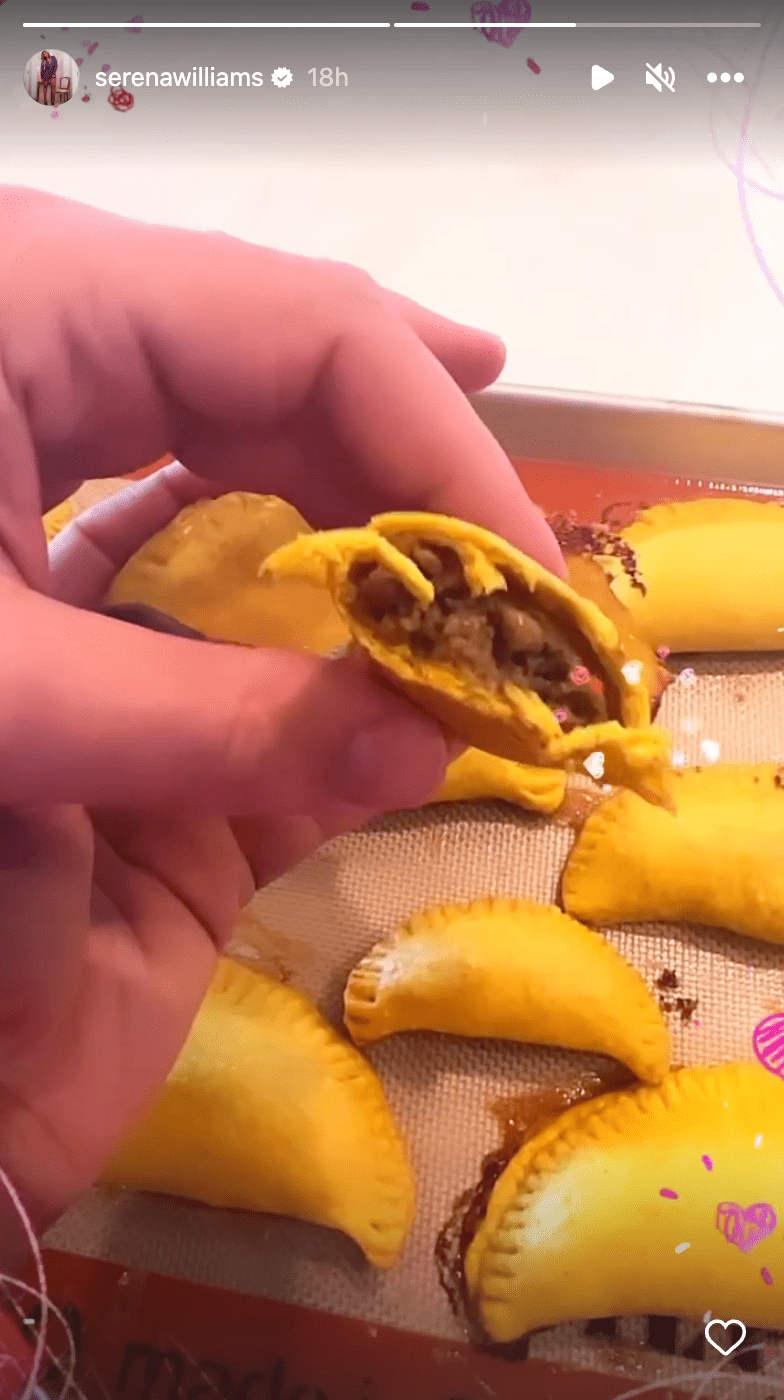 Serena Williams' husband, Alexis Ohanian Sr., showing off the inside meat pies she made in January 2023 | Source: Instagram Story/serenawilliams
The athlete almost died while trying to expand her family while carrying her child. Luckily, her knowledge of her family's medical background and stubbornness became her saving grace.
Serena Is Lucky to Be Alive with Her Family
Williams initially met Alexis Sr. while staying at the same Roman hotel. The tennis player was sitting with some team members at a table when the tech businessman came and "plopped" himself down at the table next to them.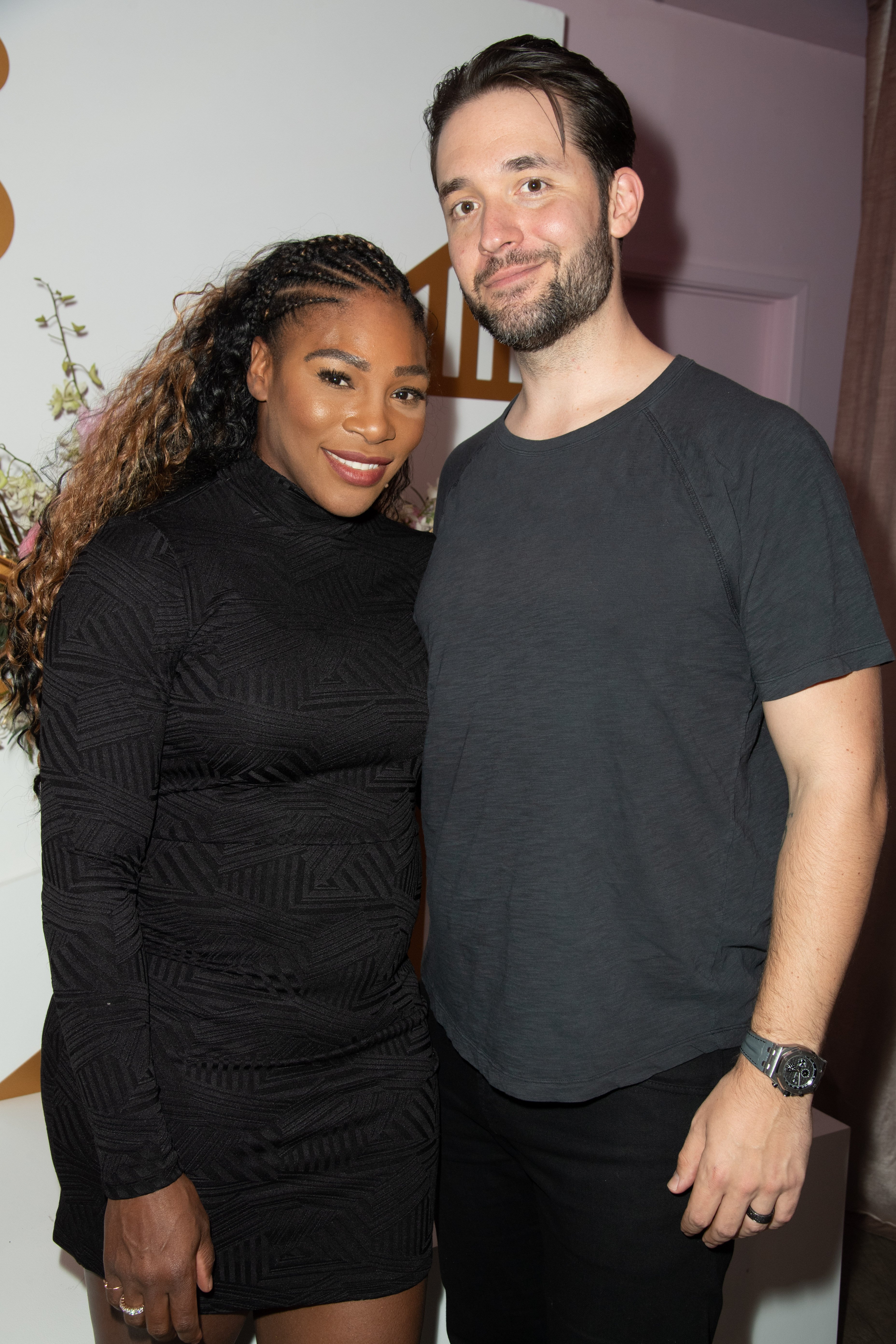 Serena Williams and Alexis Ohanian at The Serena Collection Pop-Up VIP Reception on November 30, 2018, in Los Angeles, California | Source: Getty Images
The athlete couldn't understand why he'd left all the other empty tables to come to sit close to theirs. The pair later met again at the hotel's swimming pool and ate breakfast together before she invited him to her Italian Open match.
By December 2016, the duo was already dating and in love after a year since their first meeting, and Alexis Sr. proposed marriage at the same hotel they first met. However, before they tied the knot, they discovered Williams' pregnancy!
The tennis professional's fiancé was by her side when she experienced a complicated delivery. In November 2017, the couple finally married in New Orleans, and in August 2022, Williams shared how she'd enjoyed every second of being pregnant with her daughter.
She joked about being one of those annoying women who adored their pregnancies and worked until the day they had to go into the hospital. However, she confessed that things became complicated when she reached the hospital.
Sharing how easy her pregnancy was, the star said she was two months pregnant when she won 2017's Australian Open. In a 2018 piece, Williams confessed to "almost" dying after giving life to her child.
However, she considered herself fortunate for having an uncomplicated pregnancy. Sadly, her heart rate dropped drastically during contractions, leading to Olympia being welcomed via an emergency C-section.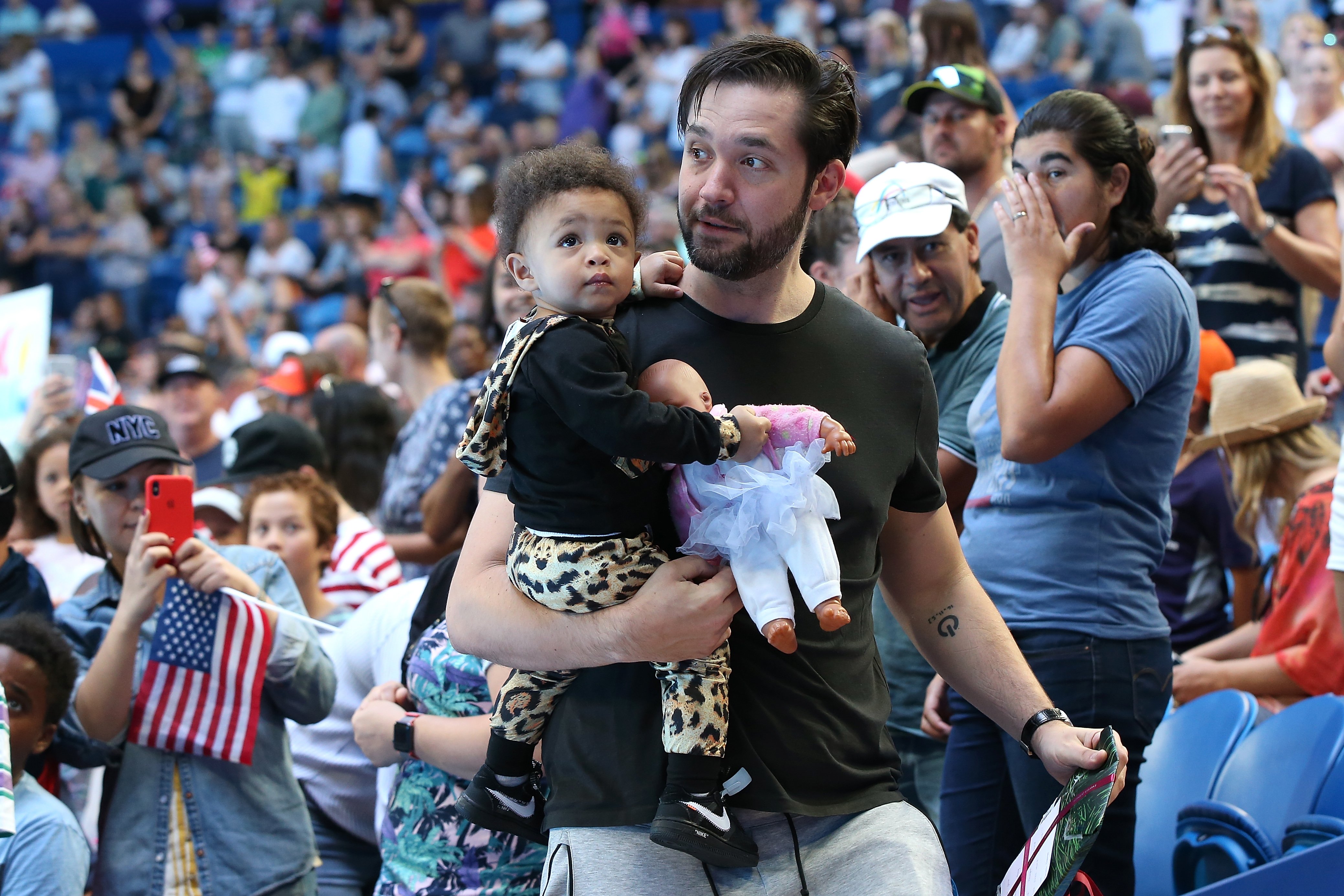 Alexis Ohanian and Alexis Olympia Ohanian Jr. at the women's singles match at the Hopman Cup on January 3, 2019, in Perth, Australia | Source: Getty Images
The surgery went by without any issues, and soon enough, the first-time mother got to hold her child. However, the next six days were uncertain because several health issues flared up, causing Williams to say:
"I am lucky to have survived."
Despite the athlete's challenging medical conditions, her innocent daughter still wanted a sibling. The little child's wish was one of the things that made Williams reevaluate her life.
Serena Retired after Daughter's Prayers to Have a Sibling
In February 2021, Williams discussed moving into her "dream home." In July 2020, after three years, an ultra-modern renovation, and a reimagining of the Florida home, the athlete, her husband, and their toddler settled into their dream home.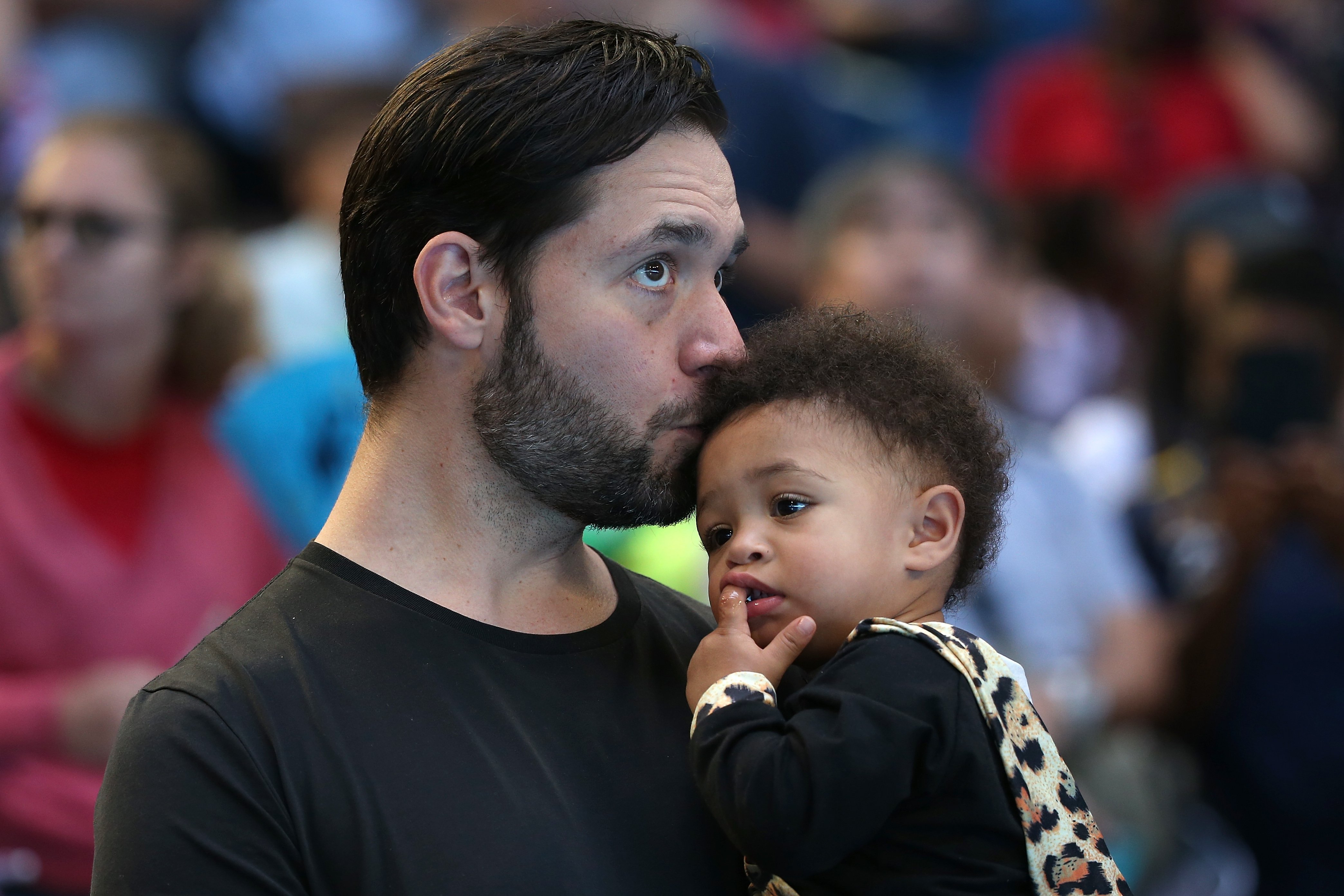 Alexis Ohanian and his daughter Alexis Olympia Ohanian Jr. at the women's singles match during day six of the Hopman Cup on January 3, 2019, in Perth, Australia | Source: Getty Images
The tennis player was more hands-on with the renovations while her husband supported her. However, Alexis Sr. took the lead when designing his daughter's bedroom, and both parents agreed that the child's pink custom-made castle bed with a slide was their masterpiece!
[Alexis] Olympia [Ohanian Jr.] said that a lot, even when she knew her mother [Serena Williams] was listening, and sometimes before bed, she would pray for a baby sister.
The couple hilariously revealed that they regretted putting in the slide each night as Olympia slid down and always wanted to do that at bedtime! However, Alexis Sr.'s wife said despite that, when her daughter was happy, she was happy too, with her adding:
"I've been so focused on my career my whole life, but when I had a family and got married, I realized that there's so much more to life. And that was great."
In her Vogue piece, Williams shared how one morning, she and her daughter were going to get a new passport for the child for a European trip when something quite significant came up. While in the car, Olympia was holding her phone and using an application she liked.
The robot in the game asked her what she wanted to be when she grew up. The star listened secretly and had the child whisper that she wanted to "be a big sister."
Olympia said that a lot, even when she knew her mother was listening, and sometimes before bed, she would pray for a baby sister. Discussing her choice to retire from professional tennis at age 41, Williams said she was going through an evolution and didn't like the word "retirement."
Alexis Sr.'s wife revealed that she was evolving away from tennis towards the most important thing to her – her family. She shared how she'd started a family and wanted to grow it one day.