For years, Simon Cowell focused on his career and is responsible for some of the world's best musical acts, like Leona Lewis, One Direction, Fifth Harmony, and Little Mix. He also found fame as a judge on "Pop Idol," "American Idol," "America's Got Talent," and "The X Factor."
Cowell was Hollywood's ladies' man and had been in several relationships throughout his time as a judge and producer. Despite this, he set one thing straight: he was never getting married and never having children.
At the time, the "X Factor" judge said he was sure he wouldn't be able to deal with an infant and all of their needs. Instead, he would prefer if children skipped their infant age and went straight to being at least five years old.
In addition to initially not wanting children, Cowell was also certain he would never get married, calling himself a "hopeless boyfriend." Aside from describing himself as too "weird" to love, he acknowledged how difficult he was to live with and sometimes needed time on his own.
The music mogul was in a relationship with Terri Seymour in the early 2000s when he determined he was "too old to have a baby." During his relationship with Seymour, he also made bold statements about not believing in marriage. He said:
"I don't believe in marriage, certainly not in this business. The truth is that you get married and in a year or two they clean you out! It's just not going to work."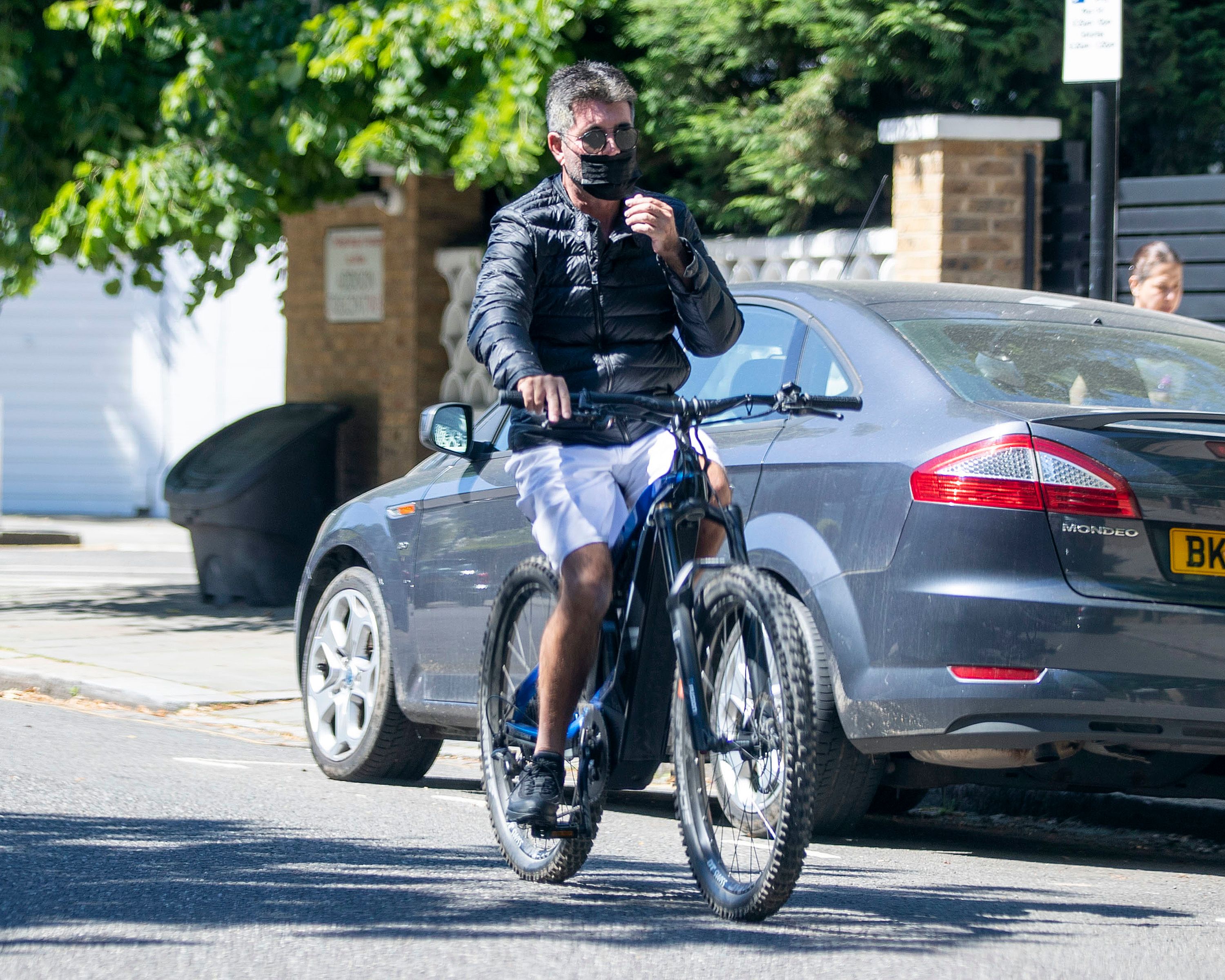 Simon Cowell on his electric bicycle on June 15, 2021 in London, England | Source: Getty Images
Cowell then compares the legal process of getting married to the contracts he has with recording artists that are at least 120 pages long and valid for five years. He says that marriages have no contracts and have laws that are a thousand years old. "It doesn't work – it changes you. That whole culture just puts you in a very weakened position," he claimed.
Knowing his views on marriage, his then-girlfriend understood and accepted it. However, things ultimately ended between them after four years together.
Despite claiming not to believe in marriage, it seems love convinced Cowell to think otherwise. Years later, he had an on-and-off relationship with Mezhgan Hussainy and proposed to her back in 2010.
Since then, he claims he's made 65 marriage proposals, yet no one's said yes. "So, it's probably not going to happen," he concluded.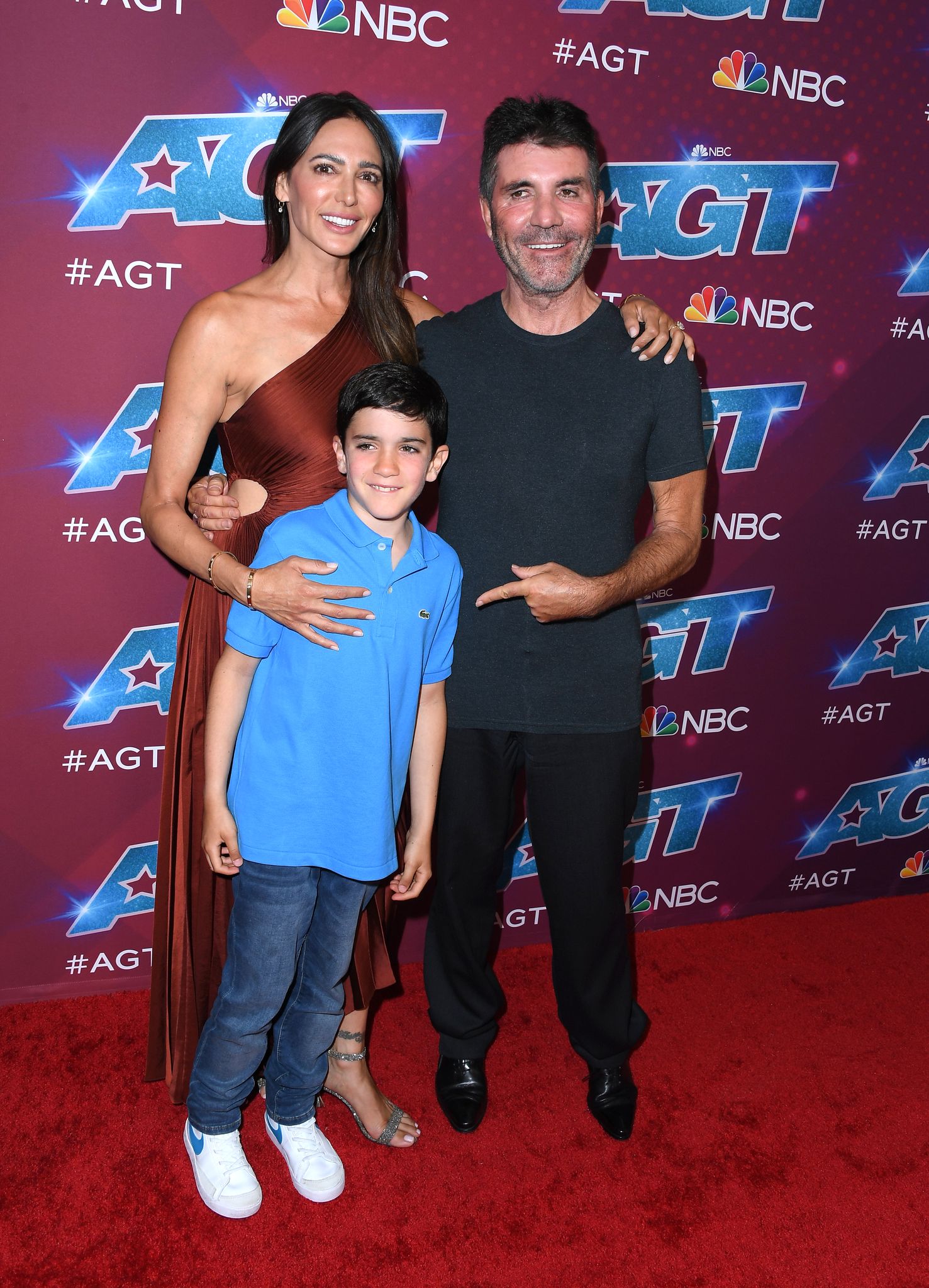 Simon and Eric Cowell with Lauren Silverman at the "America's Got Talent" Live Show at Pasadena Sheraton Hotel on September 13, 2022 | Source: Getty Images
Ladies' Man No More
After multiple failed relationships, Cowell began dating Lauren Silverman when he was 53. However, they met years back in 2004 while on vacation in Barbados, when Silverman was still with her then-husband, and Cowell was dating Seymour.
In 2013, rumors started swirling that Silverman was pregnant with Cowell's child. It was also a rocky time in Silverman's previous marriage, with reports stating that she had filed for divorce after being "unhappy in her marriage" for quite some time.
By the time the pregnancy rumors surfaced, Silverman and Cowell had reportedly already been seeing each other for a couple of months. It only took Cowell weeks to confirm that he was going to be a father, an idea he'd never thought of until then.
"Things are changing in my life right now for the better," Cowell admitted. "She's a very special girl," he added about his rumored girlfriend and baby mama.
While Silverman was working on her divorce, she and Cowell kept a low profile. However, when their son Eric was born, the "American Idol" judge was proud and overflowing with love.
They welcomed their son Eric on February 14, 2014, in New York, with the baby weighing 6 pounds and 7 ounces. The young man was named after Cowell's father and instantly became the ultimate love of his life.
Cowell had his inhibitions about being a father before his son came along, but he claims to have instantly become a natural dad right after he was born. "Literally within seconds of him being born, I got it! I was born to be a dad," he proudly shared.
Months after Eric's birth, Silverman's divorce was finalized, with his ex-husband Andrew Silverman citing adultery as grounds for their separation. The divorce came with some complicated settlement agreements, which meant Cowell couldn't do certain things with Silverman, one of which was seeing her seven-year-old son.
After everything settled down, Silverman and Cowell could finally live their lives without anything holding them back, and they celebrated it with a trip to the South of France. By this time, Cowell was already thinking about a future with Silverman, making plans for their future and the future of their son Eric.
Even Cowell's brother Tony noticed the change in him, saying that it seemed his brother was content and happy with his life for the first time in a long time. He also claimed that their late mother would have been overjoyed to hear about Cowell's engagement. He said:
"Since having his son, Eric, with Lauren, Simon has completely changed his life and, for the first time, he appears to be happy and content."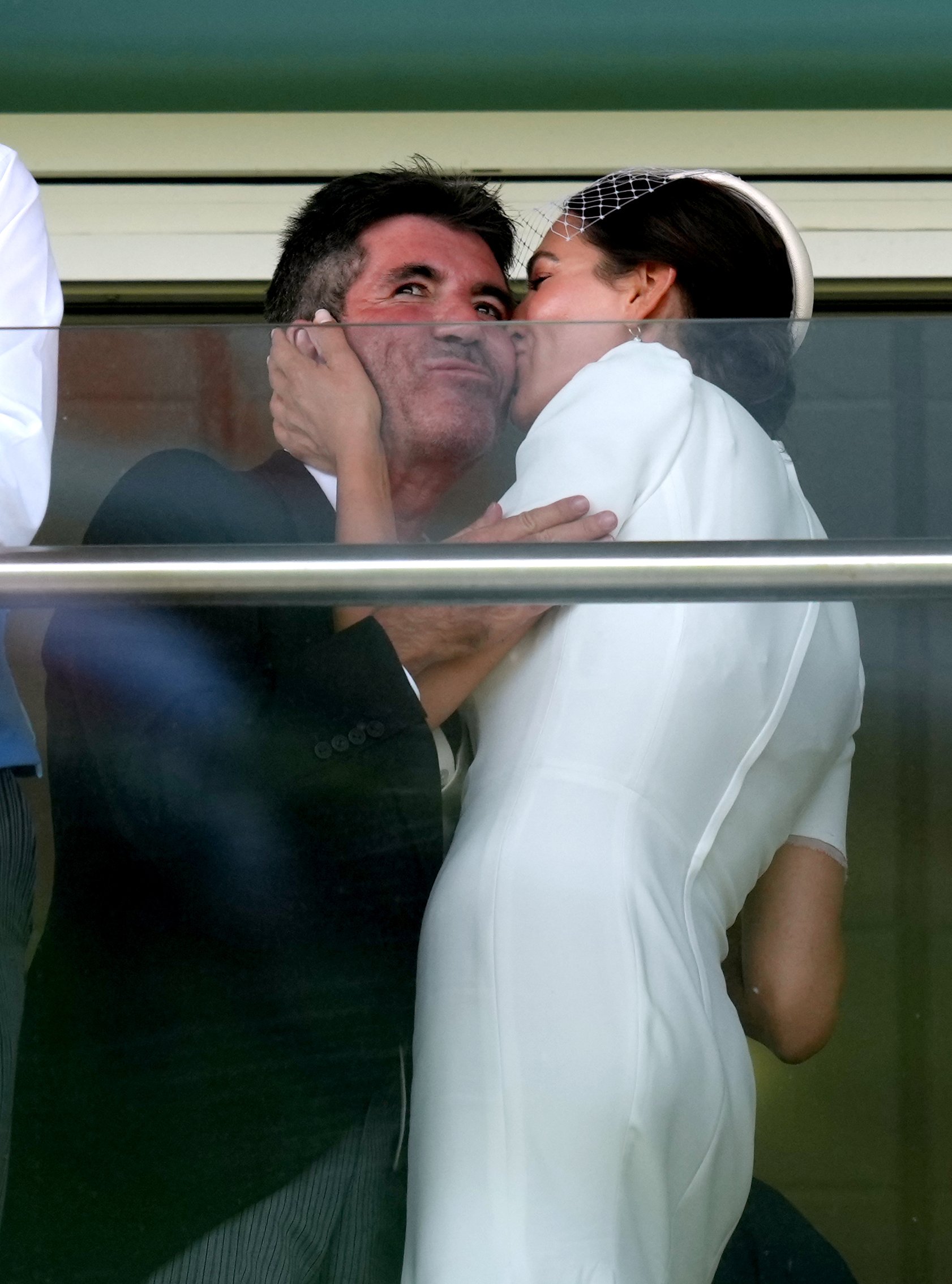 Simon Cowell and Lauren Silverman during day two of the Cazoo Derby Festival at Epsom Racecourse on June 5, 2021 in Epsom, England. | Source: Getty Images
Years later, the changes Silverman and Eric brought into Cowell's life became apparent. They love life as a family and get along well with one another.
Admittedly, Cowell never imagined being able to love someone so strongly again after losing his parents. He believed this was true until he saw his son's very first ultrasound scan.
Since that moment, the judge was besotted. "Now, I just cannot imagine my life without him. He's the most amazing thing that ever happened to me. I adore him," he admitted.
Cowell and his mini-me both enjoy Disney movies, "Scooby Doo," and laughing at their dogs, which are some of their favorite pastimes together. It's even changed how he judges contestants on the hit shows he's on, as he now understands what it would feel like if his son was up there being ridiculed by strangers.
Ultimately, despite the turbulent start to their relationship, those close to them claim that Cowell and Silverman are a match made in heaven. Sources claim that the pair are "soulmates" and have fun together and enjoy being each other's rock.
The pair brings out the best in one another and have a great bond, always making sure to include their son Eric and Silverman's older son Adam into the picture. They're a happy blended family, with Cowell's large mansion finally becoming a "home" filled with love and light with his family and dogs with him every day.
Getting Engaged to His Game-Changer
Eric has changed Cowell's perspective about having children, and the little man has his dad wrapped around his finger. He's his mini-me, and it shows in the way he's a born critic like his dad and is extremely cheeky for his age.
Cowell claims that Eric was exactly like he was when he was younger. He knows how to get his way, and it makes his dad laugh. Laughing through life is their family's way of spending time together. They're all about having a good time, and they make each other smile through their everyday antics and family activities.
However, despite being smitten by his son, Cowell doesn't think he'll have any more children. He also doesn't plan to leave his vast fortune to his son Eric. Instead, he will give it to a charity focused on kids and dogs.
After years of claiming that marriage wasn't for him, he got down on one knee during one of their trips to Barbados.
The celebrity judge doesn't believe in passing on wealth from one generation to another but instead wants to teach his son how to do well and give him the opportunity to do so while he's still alive.
In the same way, Silverman also changed his perspective on marriage. He remains madly in love with her, and their relationship has been life-changing for the celebrity.
When Cowell was given his star on the Hollywood Walk of Fame, he couldn't help but thank Lauren for her incredible role in his career. " Lauren, you've been my rock for the past few years; put up with everything I put up with," he proudly told everyone in attendance.
Silverman kept Cowell strong throughout the many mishaps he encountered through the years. His life drastically changed after crashing his electric bike in his Malibu home, resulting in surgery that had him bedridden for months. Since then, he's lost more than 20 lbs and changed his lifestyle to stay in good shape.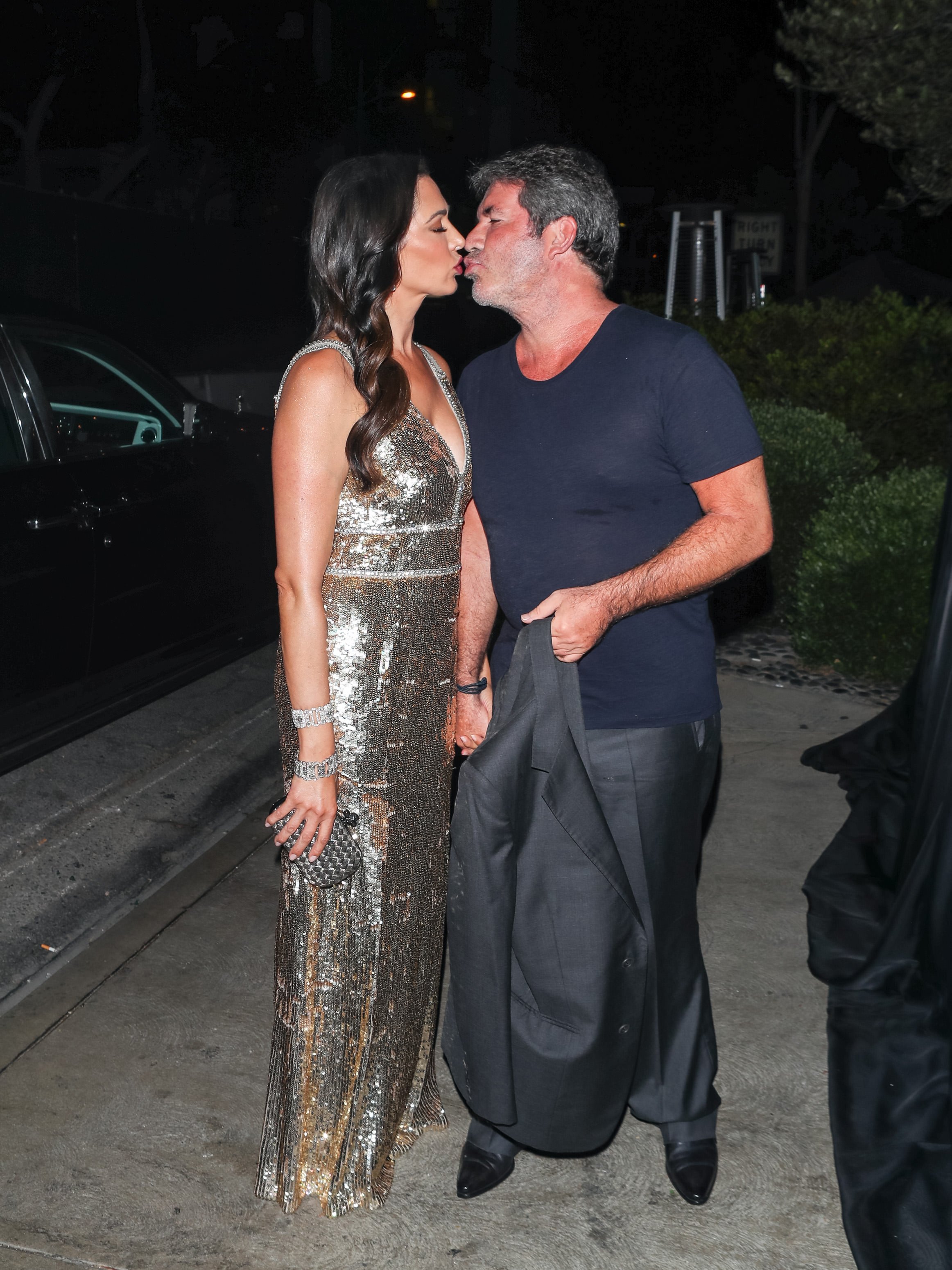 Simon Cowell and Lauren Silverman are seen on August 22, 2018 in Los Angeles, California. | Source: Getty Images
Throughout his recovery, Silverman stayed by his side until he was finally able to live life normally again. Through thick and thin, she stayed by his side, and this was more than enough to change the eternal bachelor's views on tying the knot.
After years of claiming that marriage wasn't for him, he got down on one knee during one of their trips to Barbados. It was the place where Cowell and Silverman first met when they were still with different partners, so although it brought back different memories, it was still a significant place for both of them.
The intimate proposal happened in front of their then-seven-year-old son Eric and Silverman's son Adam. She was stunned by the proposal, never expecting Cowell to propose to her knowing his views on marriage. She burst into tears and gave him a big "yes."
While planning the marriage proposal, Cowell was certain he wanted both Eric and Adam to be there. He loves the family that they have become through the years and adores both children, which meant wanting them to be a part of such a special moment.
However, more than being in love with Silverman, what ultimately made him certain of his decision was knowing he liked Lauren. He credits his mom and dad for giving him a great example of a good marriage, as they were the best of friends.
"We like the same things, we laugh a lot; we always have stuff to say to each other," he gushed. Ultimately, it was this sense of "home" that solidified his decision to get married to Silverman, who has everything he could possibly want in a woman and partner for life.
Simon Cowell and Lauren Silverman are seen with their newborn son, Eric Cowell, while at the beach on February 24, 2014 in Miami, Florida. | Source: Getty Images
Simon Cowell and Lauren Silverman are seen with their newborn son, Eric Cowell, while at the beach on February 24, 2014 in Miami, Florida. | Source: Getty Images
And instead of hiring people to plan their wedding for them, Cowell has chosen to do everything himself, and not even Lauren knows when it's going to be. He doesn't want history to repeat itself when during his 50th birthday party, things got out of control, and there were about 600 people in attendance.
The celebrity added that he didn't want to hire wedding planners, knowing arguments were bound to happen on the guest list, among other things. He didn't want the wedding planning to become a hassle for him, so he chose to do everything at his own pace.
That plan of him being on top of everything was eventually thrown out the window, as his initial idea of getting married to Silverman in a summer wedding didn't happen. The couple since decided not to plan anything regarding their big day and intend to marry spontaneously.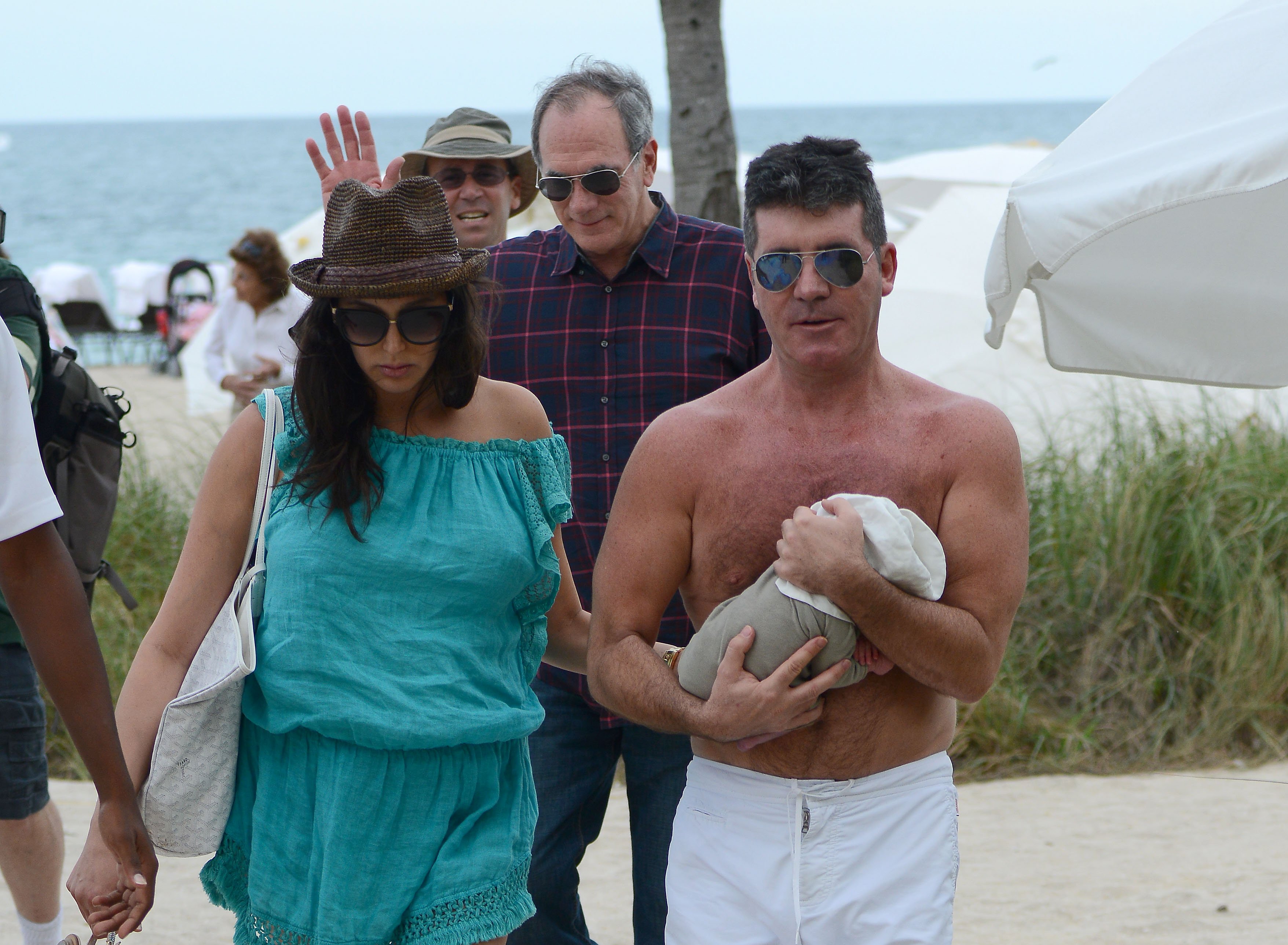 Simon Cowell and Lauren Silverman attend the Variety Club Showbusiness Awards 2022 at Hilton Park Lane on November 21, 2022 in London, England. | Source: Getty Images
While they're likely not to get married in a last-minute Las Vegas drive-by wedding, Cowell admits that the idea of a spontaneous, unplanned wedding is something that interests him and something that Silverman is on board with.
To date, the couple has yet to announce whether or not they've already pushed through with their whirlwind wedding. For now, Cowell balances being a hands-on partner and dad to Silverman and Eric while working hard running his label and being on "America's Got Talent."
Thanks to the hard work Cowell put in through the years as a producer, manager, and critic, he's able to live life as he pleases with his forever love and their beautiful son, both of whom light up his world and mean the world to him.