Diane Keaton had many high-profile relationships but was never engaged. The "The Godfather" actress found happiness parenting her two adoptive kids without a father figure. As she celebrates her 77th birthday, she hopes to unlock a new title — to become a grandmother.
Diane Keaton's breakthrough role in Hollywood was Kay Adams-Corleone in "The Godfather." Since then, she continued to rack up notable roles and soon established herself as a comic actress.
For more than six decades, Keaton has remained an A-lister with numerous awards, including two Golden Globe awards, an Academy Award, and a British Academy Film Award proving her dominance.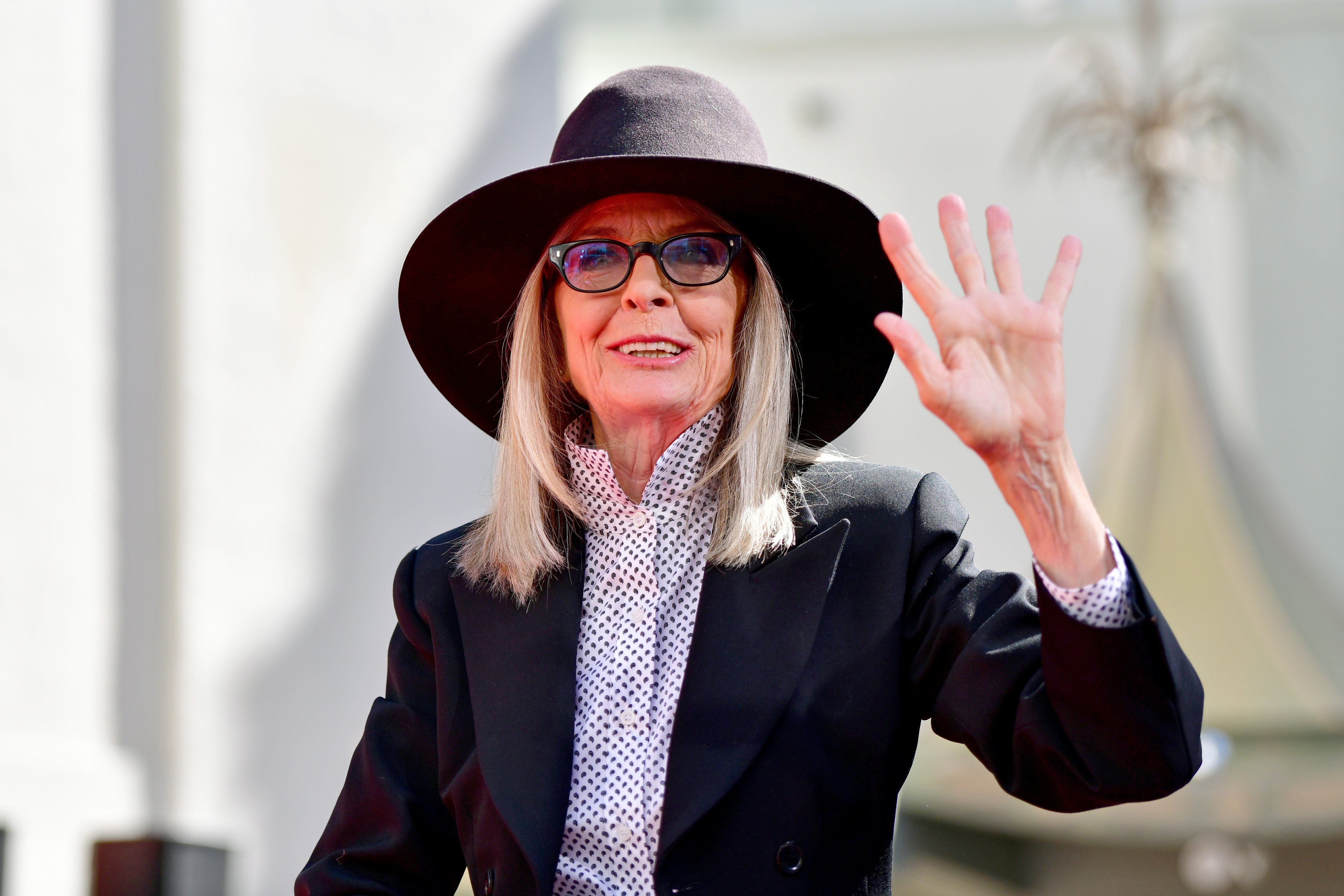 Diane Keaton on August 11, 2022 in Hollywood, California. | Source: Getty Images
Today, this seasoned, up-to-date movie star with recognizable vitality and passion for her work celebrates her 77th birthday. Keaton, a director and producer, was born on January 5, 1946, in Los Angeles, California. Right from her college days, she was enthusiastic about acting.
She majored in acting at Santa Ana College and, later, at the Neighborhood Playhouse in New York. In the 1960s, she earned her first role in the Broadway production "Hair." Following her appearance in the rock musical, she acted in a lead role in Woody Allen's "Play it Again, Sam" before moving to TV.

In 1970, the Californian-born featured in her first film "Lovers and Other Strangers." Her role as a young, inexperienced wife in the movie created the comic persona primarily associated with her.
Two years later, Keaton bagged her most significant role in "The Godfather" films. In 1977, she received overwhelming success following her appearance in "Annie Hall."
Fortunately, the film won Academy Awards for best actress, director, and picture — apart from the industry recognition, this has remained her most unforgettable role among fans.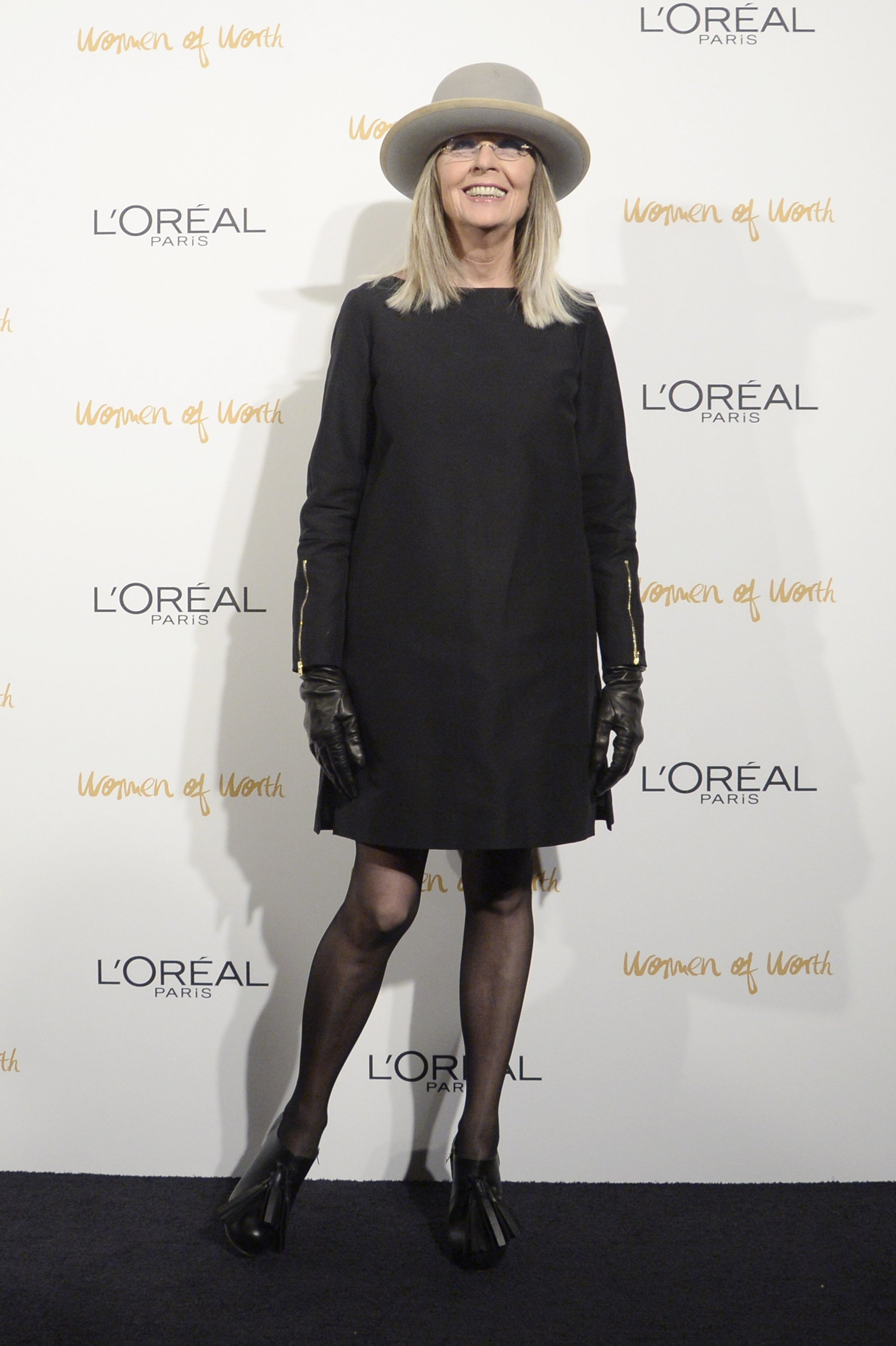 Diane Keaton on December 3, 2013, in New York City. | Source: Getty Images
Despite such immense success in a short time, Keaton continued delivering her best in note-worthies features like "Reds," which earned her an Oscar nomination, "Shoot the Moon," and "Father of the Bride," where she starred alongside Martin Short.
Through consistency and staying true to her talent, Keaton has earned her stripes as one of Hollywood's well-known stars. However, unlike some of her colleagues who raised families while pursuing their careers, the actress chose to focus on work, and despite her numerous relationships, she never married.
Diane Keaton Never Married despite Her Famous Romances
While Keaton is great at keeping interesting conversations onscreen and offscreen, she is not a man-keeper. The actress known for her singlehood — she has never been married, made a shocking revelation to InStyle.

At 73, she confessed that she had not been on a date for thirty-five years. Keaton has had no problem navigating her single life, as she loves having male friends.
Watching her mother make sacrifices for the family made her determined never to give up her independence.
Despite this unbelievably honest reveal, the "Family Stone" co-star once headlined stories following her romances with Hollywood magnets like Woody Allen, Al Pacino, Jack Nicholson, and Warren Beatty. However, none of her famous lovers ever proposed.

The Academy winner explained her decision to remain a spinster without mincing words. She believed marriage involved two people genuinely in love, only to realize that it only took contentment and belief in partnership.
She considered this a huge sacrifice but would have gone ahead if she had found a strong relationship. While sharing her love life with Katie Couric, she added:
"I think the reason I didn't get married was because I would have to compromise too much. I wanted to try more adventurous things for myself."

Nonetheless, Keaton, who chose independence over marriage, is proud of her choice, adding that her former lovers might have gotten the memo (they understood her mindset), which stalled them from proposing.
Even though she sees herself as being "unusual in that regard," the "The Godfather" star noted that there is an explanation for not being engaged by her exes. In her words:
"No one ever asked me [to marry them]. I think they got to know me and realized, 'Oh, jeez.' I hog conversations, I laugh too hard. Maybe I did miss out on something. But then, nobody can have everything, right?"

Keaton shielded from compromises but not responsibilities; while she did not find it fitting to start a family, the actress turned to motherhood for fulfillment.
Diane Keaton Parented Two Kids Alone
A different life began at 50 for Keaton as she experienced motherhood. In 1996, she adopted her first child, a daughter named Dexter, and in 2001, her son, Duke, joined the small family.
The "First Wives Club" alum admitted that motherhood lingered in her thoughts for a long time, but even though she resisted, it was something she had hoped to experience.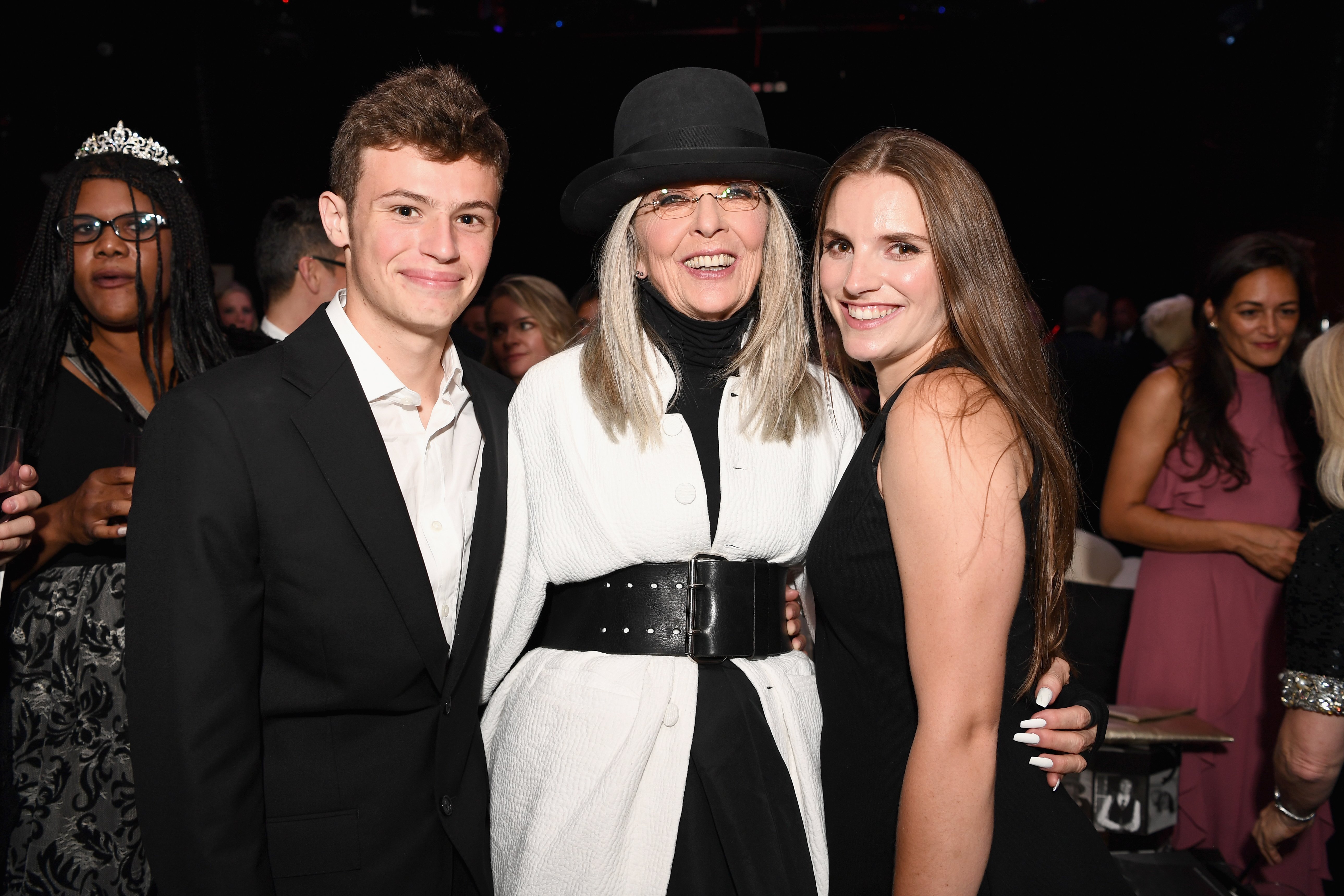 Duke Keaton, Honoree Diane Keaton and Dexter Keaton on June 8, 2017 in Hollywood, California. | Source: Getty Images
Without having a long-lasting relationship, marriage, or a father figure to help out, the "The Godfather" star plunged into motherhood, parenting her kids as a single mom.
Many years after adopting her kids, she remains grateful as they turned out right and are making her proud. Her first child, Dexter White, born in 1995, is married to Jordan White. Keaton shared her excitement following the news of her daughter's wedding, as she hoped to become a grandmother.
Unlike her famous mom, Dexter prefers a low-key lifestyle, and she does not have a Hollywood career. However, amid her private life, she sometimes shares photos showing her friends and loving family, including her mother, whom she describes with sweet words.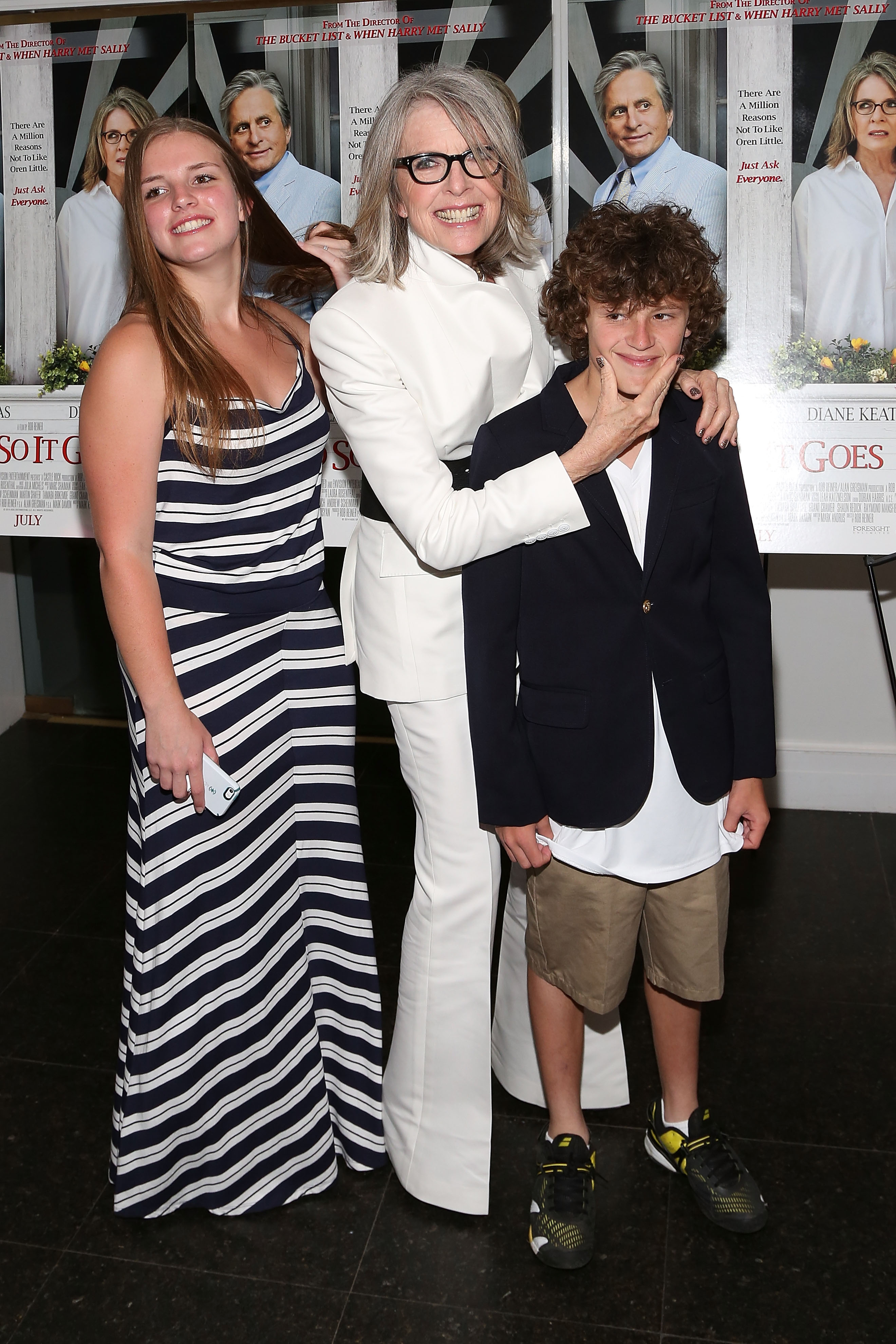 Dexter Keaton, Diane Keaton, and Duke Keaton on July 6, 2014 in East Hampton, New York. | Source: Getty Images
Duke, the youngest Keaton, does not mind being in the spotlight. He has been spotted on various outings with the actress more than once. Although he is yet to appear in any film, he enjoys photography, modeling, and hangouts with friends.
Irrespective of the siblings' personalities and lifestyles, they both adore their mother, and through the years, they have been her number one fan appearing on red-carpet events as her plus one.

During her interview with People at Hollywood's TCL Chinese Theater, the onscreen veteran shared her appreciation for her kids' unwavering support, claiming that being their parent meant "everything." "I love them," she added.
Diane Keaton's Choice of Singlehood was to Her Background
In no small way, Keaton has been open about her singlehood. While fielding questions from Lisa Kudrow, who asked what informed her choice to remain single, the actress admitted that her family dynamics were to blame.
Keaton, the oldest of four siblings, grew up in a loving household with two dedicated parents. Her father worked hard, and her mother sacrificed much to care for the kids.

Watching her mother make sacrifices for the family made her determined never to give up her independence. In her words:
"I mentioned watching her get that crowning glory and being Mrs. Highland Park. After that, we moved down to Santa Ana, and it was over. I feel like she chose family over her dreams…but I think that she is the reason why I didn't get married. I didn't want to give up my independence."
Instead, her childhood parenting blessed her with a yearning for parenthood. Apart from her career, being with her kids gives her the utmost fulfillment.
With one married daughter and a son living his dream life, Keaton enjoys her time as a cheerful mother turning 77 while anticipating becoming a grandparent!