Steve Harvey is known for his larger-than-life personality and the tremendous impact he has had on so many fans' lives. He turned 66 on January 17, 2023, and is still living a happy and healthy life with his wife, Marjorie.
The pair met when they were much younger and faced many trials and tribulations together before becoming the strong couple they now are. They have even successfully blended their families.
Steve and Marjorie have been married for 15 years. On the couple's 15th wedding anniversary, Steve wrote his beloved a love letter, expressing his gratitude for having her in his life for as long as he has.
In the love letter, he confessed that he felt he could finally start his life over when Marjorie came along. He also gushed:
"Through our marriage, we learned to go with the flow. I also learned to listen more. But the best lesson you've taught me is no matter what happens, we will always be fine."

He then said he wouldn't have anything he had without her and that he knew that if he lost his fame and fortune, his wife would remain by his side. He then thanked her for being the best thing in his life and said she brought peace to him and he's grateful for every single day they have together.
Steve once said that his wife had changed his life so much that he didn't even think of life before his wife came along. He said he didn't think about his exes or have any fond memories of relationships until his wife entered his life.
Why Did Steve's Wife Lie about Him Leaving Her Homeless and Taking Their Son?
Although Steve is now in a healthy and happy marriage, he does not always have the best luck when it comes to relationships. In fact, he had a complicated relationship with his ex-wife after they separated.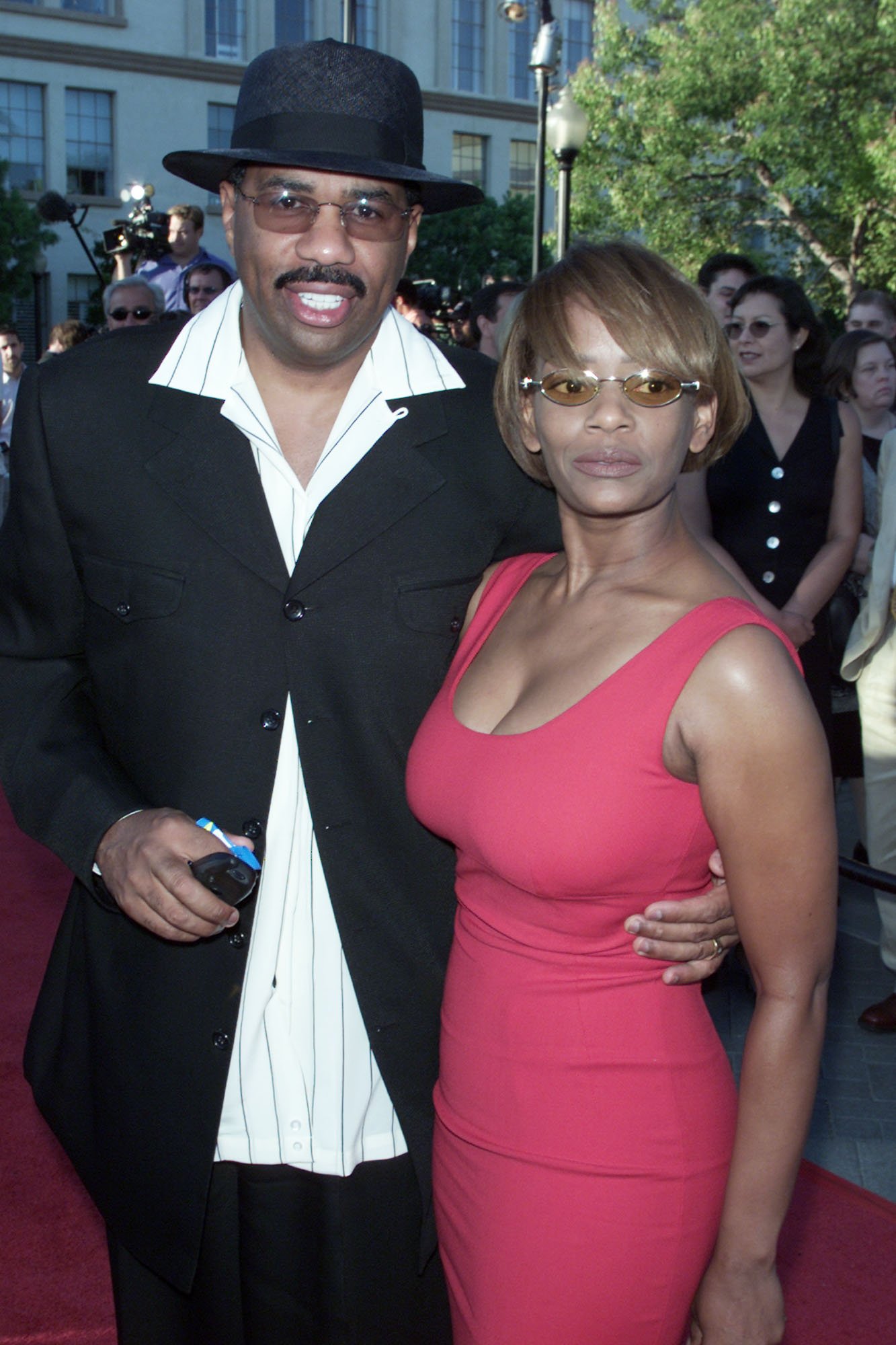 Steve Harvey and his wife Mary at the premiere of 'The Score' at the Paramount Theater in Los Angeles, CA on July 9, 2001 | Source: Getty Images
When Steve and his ex-wife, Mary Lee, got divorced, she claimed that Steve had left her destitute. She said she had been evicted from her home and ultimately left homeless. However, courts ruled that this was false.
Mary Lee was awarded three homes in the couple's divorce settlement and also received a significant amount of money. She then claimed that Steve had taken the couple's son, Wynton, from her.
Yet again, this was proven to be false as Mary Lee had sent the boy to be with his father willingly. Steve was then Wynton's primary caregiver but did not withhold the child from his mother or badmouth her in front of him.
While people felt sorry for Steve when his marriage with Mary Lee ended, and he went through a difficult time during the divorce proceedings, he had a different outlook. He once said:
"Sometimes the breakup is the blessing."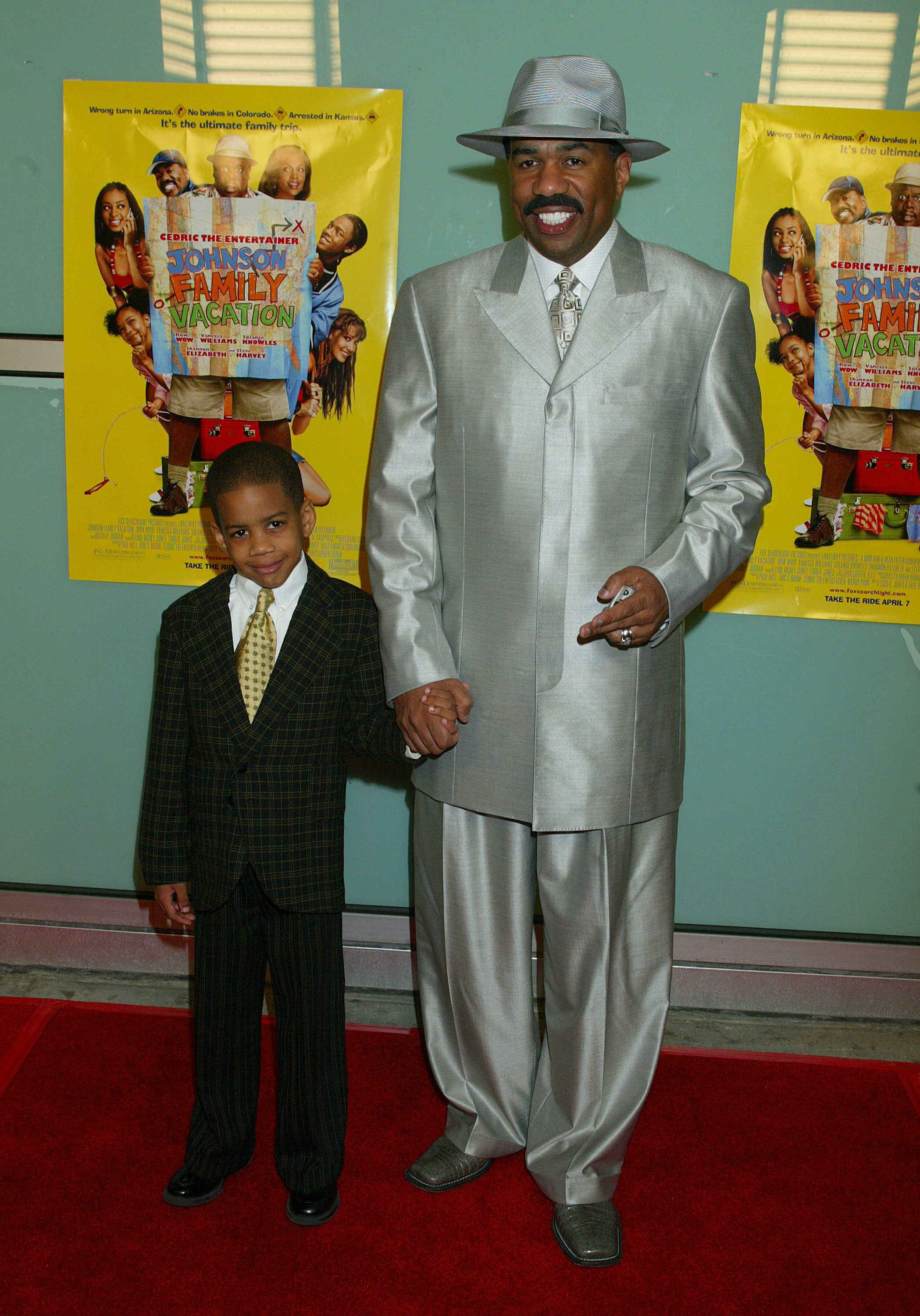 Steve Harvey and son Wynton at the "Johnson Family Vacation" Los Angeles Premiere on March 31, 2004 | Source: Getty Images
The talk show host said that people always tend to think of breakups as a bad thing, but sometimes they need to happen for something better to come along. For Steve, the better thing was his relationship with Marjorie.
How Did Steve Meet Marjorie and Adopt Her Kids?
After ending his tumultuous relationship with Mary Lee, Steve met his current wife at a standup comedy show he was performing at in Memphis in 1987. Their meeting was unconventional, as were Steve's first words to Marjorie.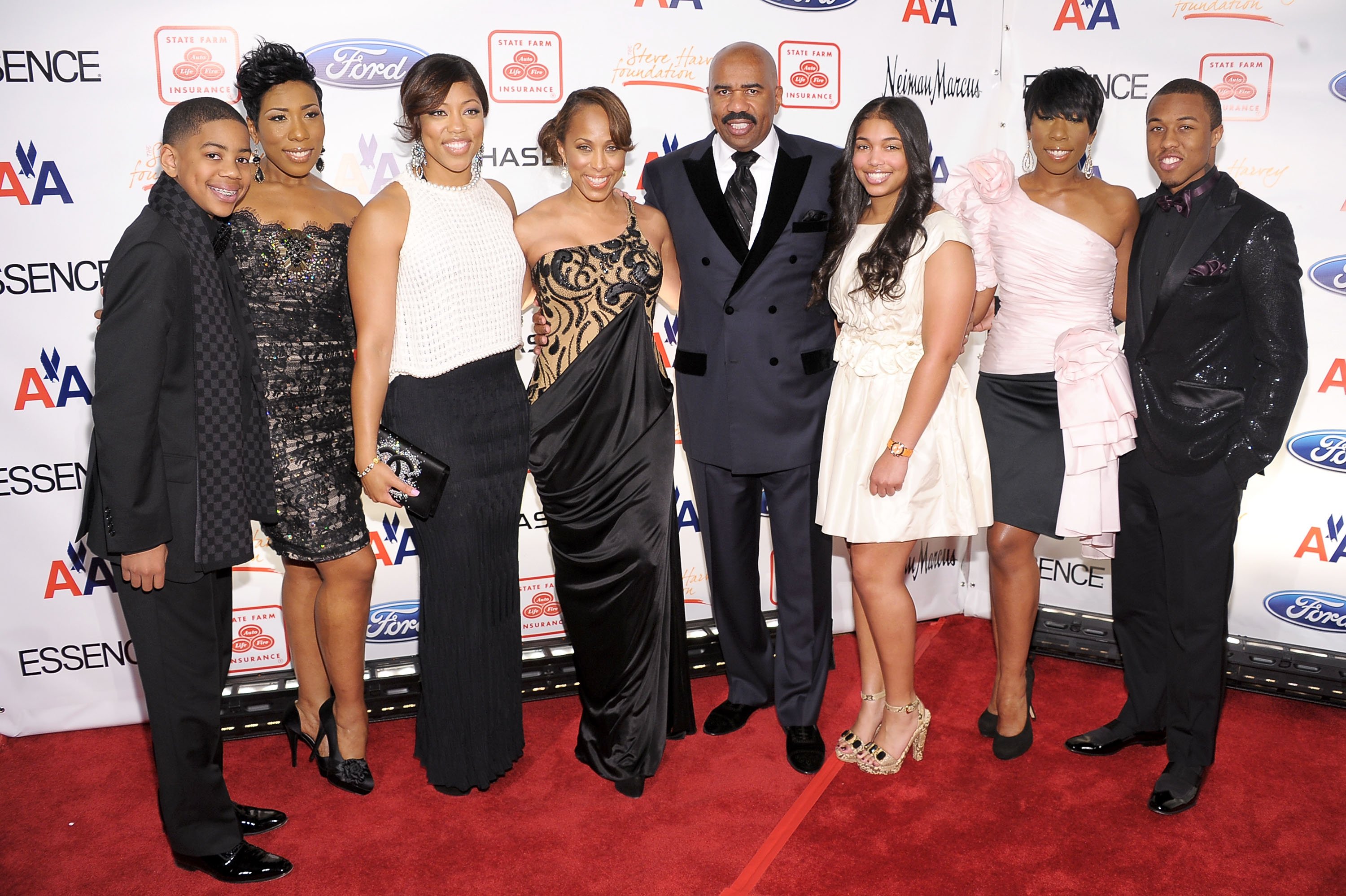 Wynton Harvey, Karli Harvey, Morgan Harvey, Marjorie Harvey, comedian Steve Harvey, Lori Harvey, Brandi Harvey and Jason Harvey attend the 2nd annual Steve Harvey Foundation Gala at Cipriani, Wall Street on April 4, 2011 in New York City | Source: Getty Images
Marjorie walked into the standup show late, and Steve decided to speak directly to her as she was walking in to find her seat. He
said:
"I don't know who you are, but I'm going to marry you one day."
Although the couple's relationship didn't last long the first time, they reconnected again in 2005, and Steve was able to make good on his promise from the night they met. The pair dated from 2005 to 2006, when Steve proposed. They married on June 25, 2007.
After marrying Marjorie, Steve adopted her children from previous relationships. Marjorie entered the marriage with three children, to whom Steve was a father figure. He decided to make it official by adopting them.