Susan Sarandon was the siren of the screens back in the 1970s and '80s. She became well known after her roles in "Thelma and Louise," "The Client," and "Dead Man Walking." She has had an extensive career in Hollywood since.
She became a mother in her late 30s after people told her she was crazy. Now her daughter has given her three grandchildren, Marlowe, Mateo, and Major, on whom she dotes. Her grandchildren love her just as much as she loves them.
Sarandon's daughter, Eva Amurri, has two children who love Sarandon very much. She is so dedicated to her grandchildren that she would go to visit them at any time of the day or night, as her daughter exhibited on Instagram.
Recently, Amurri took to Instagram to share a photo of a sunrise, showing the time was just after seven in the morning. Minutes later, she shared pictures and videos to her story of her mother spending time with her children.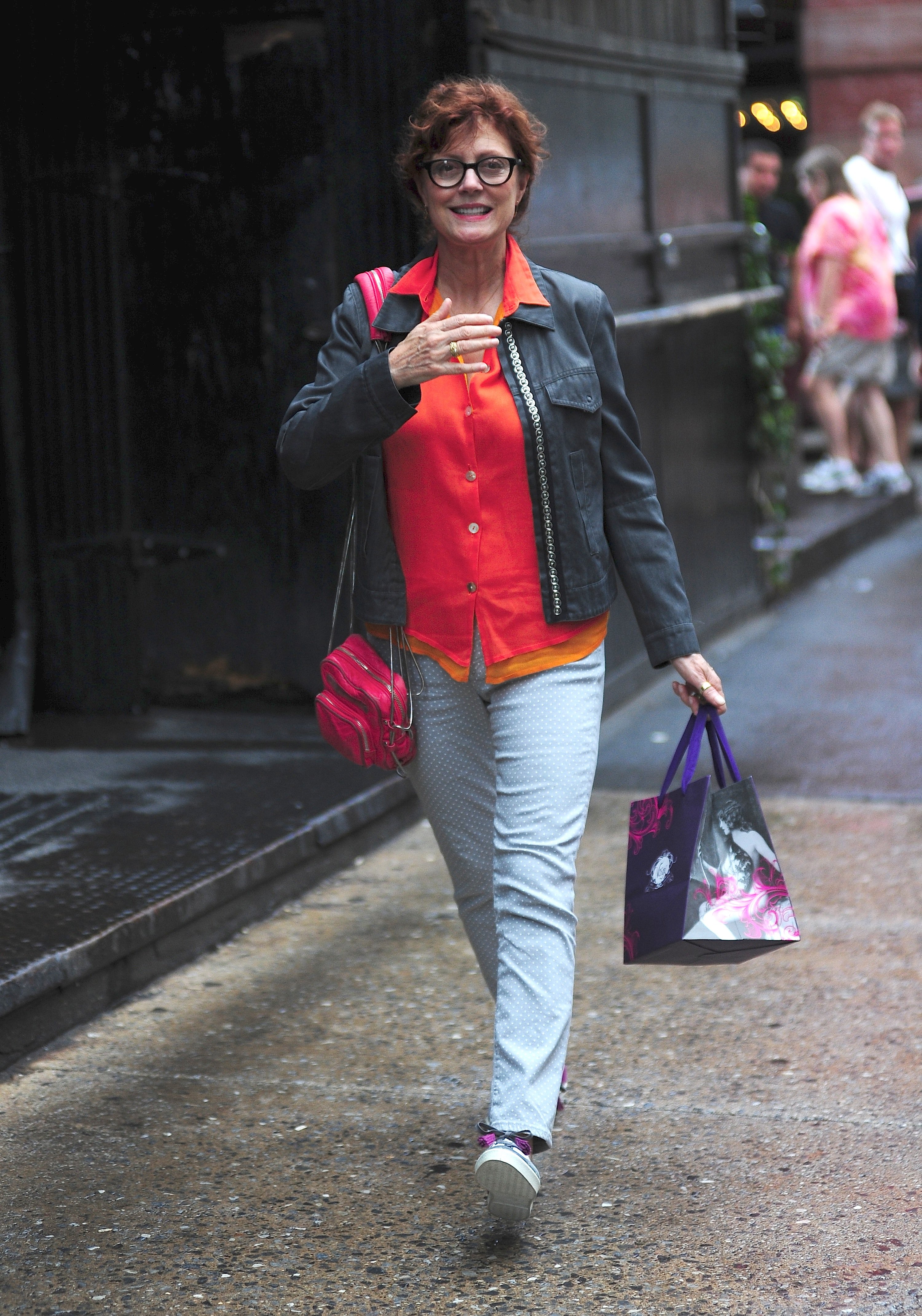 She showed her son at a table, coloring in, and then panned the room until her daughter and mother could be seen sitting on a sofa under a cozy blanket, reading a book together. She later shared only a photo of her mother and daughter reading together.
Later that day, Amurri once again shared an event from the day on her Instagram story; she mentioned her children had tried rolled ice cream for the first time that afternoon and thoroughly enjoyed it.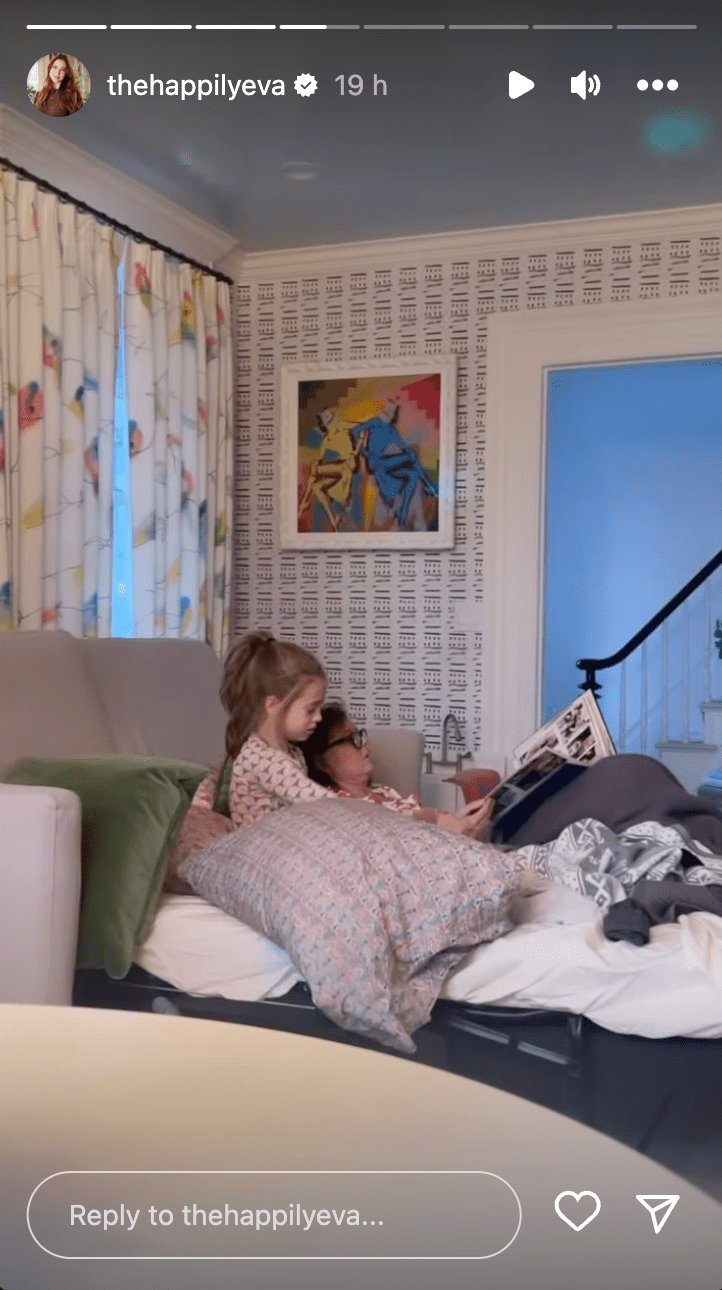 Susan Sarandon visiting her granddaughter, Marlowe in January 2023 | Source: instagram.com/thehappilyeva/
During her visit to her grandkids, Sarandon wore a black beanie and black-rimmed spectacles with a red floral shirt. This outfit was seen in a TikTok video that Amurri shared on the day Sarandon was there.
Little Marlowe Shows Off Her New "Grandma" Look
A few days after Sarandon's visit to her grandchildren, on February 3, 2023, her granddaughter dressed up like her. Martino once again shared the event on her Instagram story, saying her daughter looked "extremely chic" dressed up as Sarandon.
Amurri explained it was Marlowe's 100th day of school, and to celebrate the occasion, she wanted to dress up like a grandmother. The following story showed Marlowe in an all-pink outfit with a blue purse and a stylish updo. She finished the look with clear-rimmed spectacles.
Marlow looked adorable, dressed in a pair of pink pants with a white shirt and finished with a pink cardigan. Her hair was pulled back into a bun with a white scrunchie with two tendrils of hair framing the little girl's face.
Although Marlowe didn't have any shoes on in the photos her mother posted, she was positively cute. Amurri captioned one of the photos, saying: "Your grandma could never," and showed Marlowe frowning.
After Marlowe dressed up like her grandmother once, she did it again. Amurri shared photos of the young girl recreating a photo her grandmother had taken when she was a young woman. The black and white photo showed Marlowe's side profile and her hair filled with flowers.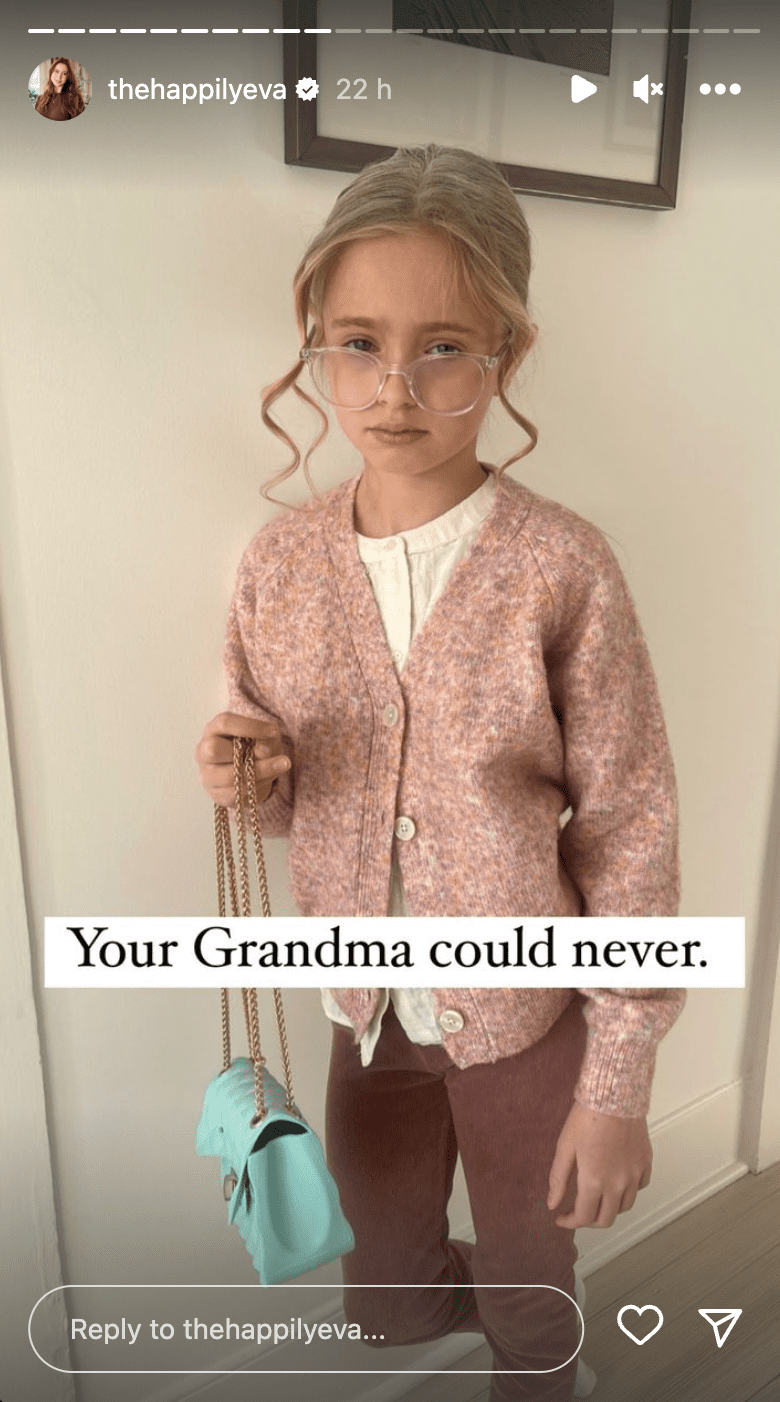 Susan Sarandon's granddaughter dressed up as a grandma for her 100th day of school in February 2023 | Source: instagram.com/thehappilyeva
The next frame showed the original photo of Sarandon many years ago, and the next showed Martino and her daughter sitting in the same position as Sarandon was in the original image. Amurri said:
"I've always thought Marlowe takes after my Mom, especially when she was young! When I saw this photo of my mom, I knew I had to recreate it."
Many of Amurri and Sarandon's followers mentioned they agreed that Marlowe took after her grandmother and that Martino looked very much like her mother too. They said each of the women was beautiful.
Grandma Sarandon About Her Beloved Granddaughter
When Sarandon got the call that her daughter was going into labor, she was on the first flight to LA to be there to support her daughter. Marlow arrived after a 36-hour labor and eleven days before her due date.
It was the first grandchild for Sarandon and the first child for Amurri and her baby's father, Kyle Martino. Although they were married at the time, Amurri and Martino have since divorced and continue to co-parent their children.
Talking about her labor and delivery and what it meant to Amurri to have both her mother and the father of her child there, she gushed:
"It was great to have her here."

Although they waited a long time for Marlowe to be born after Amurri went into labor, Amurri and her mother immediately felt like the little girl had completed their family in the best way possible as the first grandchild.
Amurri later went on to give Marlowe two younger siblings, and the novelty of becoming a grandmother was no less exciting for Saradon each time it happened. She dotes on her grandchildren.
Talking about what it was like for her to be in the room, supporting her daughter as her first grandchild was born, Sarandon enthused:
"I have loved working, playing, and traveling with my daughter — but nothing prepared me for watching her birth, Marlowe. She was a warrior, and I'm so proud to be her mother and to be a part of that beautiful new child."
Amurri gave birth to Marlowe at the home she shared with Martino in California and said it felt like a marathon, but once her daughter was born, she felt like she could do the whole process over again.
Amurri's husband at the time said that he was "mesmerized" by his wife's ability to bring life into the world and was grateful to her for giving birth to their baby daughter and the subsequent two children after Marlowe.
Amurri confessed she expected to cry when her daughter was born because she had a home birth, which felt surreal when she was in the midst of labor, and she thought she might be crazy for doing that. However, when Marlowe was born, everything became clear again.