Tim McGraw had severe problems with alcohol. Luckily, his wife stuck with him and pulled him out of a spiraling lifestyle. Afterward, they stayed together. They have been married for 26 years.
Country musician Tim McGraw met his wife, Faith Hill, briefly for the first time at the New Faces Show in Nashville. It was 1994, and the two only spoke for a few seconds backstage. Tim was dating Kristine Donahue at the time, and Faith had just divorced Daniel Hill. Ironically, the next time they met, their situations were reversed.
Two years later, in the Spring of 1996, they had the chance to talk again on the Spontaneous Combustion tour. Tim had recently broken off his engagement to Kristine, but Faith was engaged to Scott Hendriks this time. Nonetheless, the two shared a kiss after a show, and Faith decided to break off her engagement.

The story of their engagement has just as many twists. Tim admitted that he had asked Faith to marry him on multiple occasions while they dated. She kept refusing, saying she didn't want to get involved with another country singer. She didn't believe it would work out at the time.
But the country star didn't give up. The two were playing at an outdoor country festival a few months after they had started dating. Before the show, they were in Tim's trailer getting ready when he decided to ask Faith to be his wife again. At first, the "There You'll Be" singer was incredulous. Tim remembered:
"And she said, 'You're asking me to marry you at a country music festival in a trailer house? And I said, 'Well, it's pretty apropos if you think about it.' She goes, 'Are you serious?' And I said, 'Well, yeah, I'm serious."
At this point, Tim was called to the stage, and he had to leave without getting a definitive answer. After his set, he went back to his trailer, hoping to find Faith and finish the conversation. Unfortunately, she wasn't there. Instead, she wrote on the mirror in lipstick, "Yes, I'm gonna be your wife."
Faith Was There When Tim Was Low
Tim and Faith's relationship hasn't always been like the love story it seems to be. The two have had their fair share of fights and shouting competitions. But Tim also recognized that it's all part of being in love. He noted that love can't always be smooth sailing. He said it's not a linear thing.
After Faith helped Tim through one of the hardest parts of his life, the two have been living together in bliss.
They've both realized this throughout the years, and they've stuck with each other through seemingly impossible times. The country singer has struggled with alcoholism in the past, and he said that if it weren't for his wife's support, he would have been dead.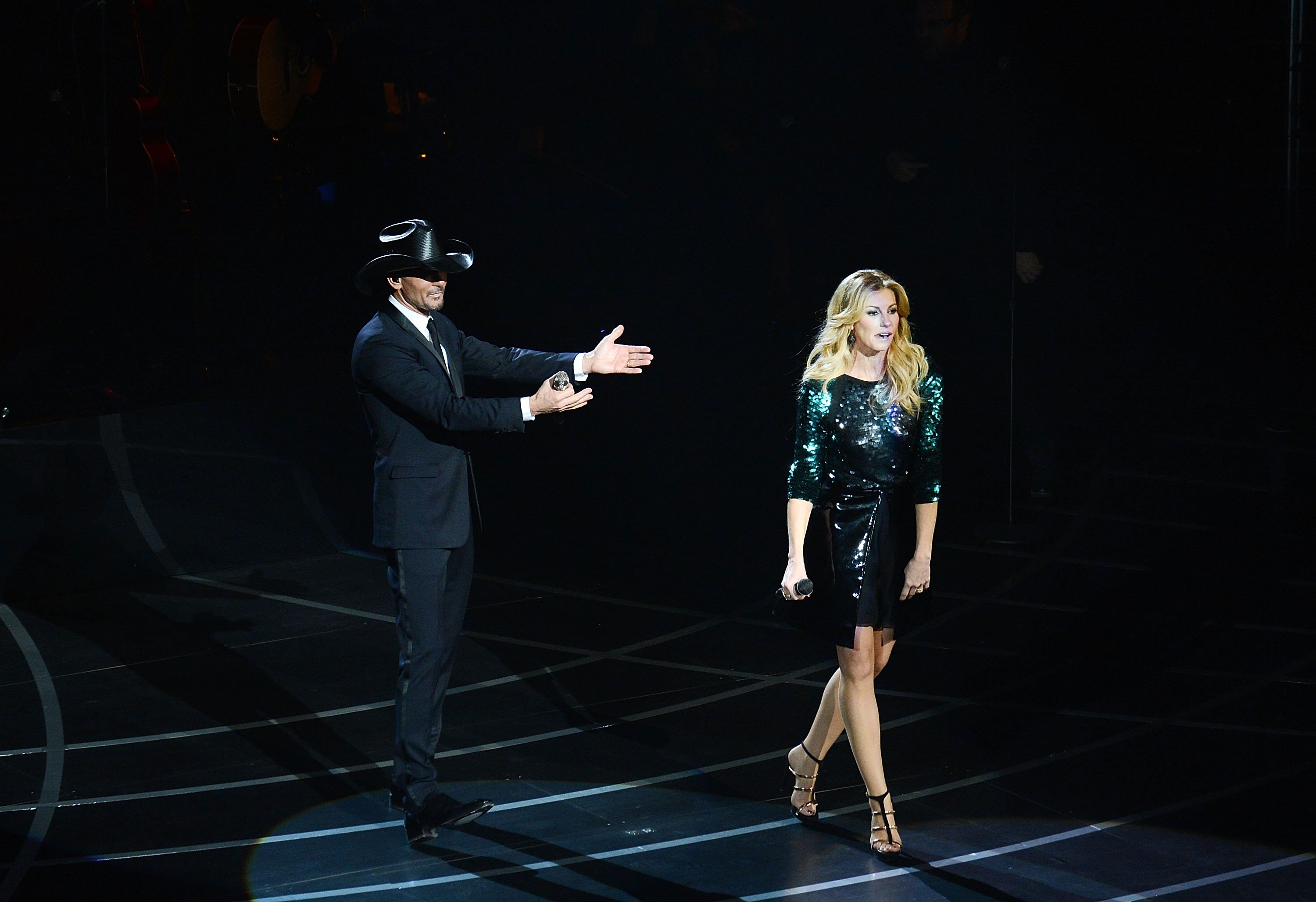 Faith Hill (R) and singer/songwriter Tim McGraw perform during the opening weekend of their limited-engagement "Soul2Soul" show at The Venetian on December 8, 2012 in Las Vegas, Nevada. The country music couple is scheduled to perform on 10 weekends through April 2013 | Source: Getty Images
At first, Tim started drinking to calm his nerves before a show. He has said in the past that he is a naturally shy person, so he needed some Jack Daniels to loosen him up. After a while, though, he became dependent on it. He opened up, saying:
"I remember a moment when I was getting out of bed and going to the liquor cabinet and taking a big shot at 8:00 in the morning and thinking, 'I have to wake the kids up.' I went straight to my wife and said, 'This is where I'm at.'"
He admitted that at that stage, he was afraid. He couldn't function or perform without alcohol. Luckily, when he told her, his wife held him to calm him down, and with her support, he gradually beat the habit. These days, he has taken to exercising. The singer has been clean since 2008.
His lifestyle has also become much healthier. He has replaced his addiction with healthy habits and has lost weight since he stopped drinking. The singer admitted that he is in a better place but that Faith is still his support structure.
Tim and Faith Share Beautiful Family
In 2022, after being sober for about 23 years, Tim is happily married and he and Faith celebrate their 26th anniversary. As a tribute to their long relationship, the two took to social media, where they posted many photos and declared their love for each other.
After Faith helped Tim through one of the hardest parts of his life, the two have been living together in bliss. They also raised three children, Gracie, Audrey Caroline, and Maggie Elizabeth McGraw. The singer also commented:
"Faith saved my life in a lot of ways — from myself more than anything. I can go down a dark road sometimes, when you're not feeling good about yourself, and she pulls me out. My wife makes me a better man."
In an interview on Father's Day, Tim opened up about his daughters, saying he can see a bit of himself and something from his wife in all three kids. Their three daughters are already grown up and have left the house. He commented on what it's like being a father:
"They're all completely different creatures," he said. "But they all have big hearts, and they are all very polite and they really respect people, and they all feel like they wanna make a difference in the world. Hopefully we've instilled that into them."
Faith also commented on motherhood, saying that her children come before anything else. She mentioned that since she became a mom, that has been her primary role, and even singing comes second to her children.

Now that Faith and her husband are older, many people would think the romance has died, but Tim loves to spoil his wife. On Mother's Day especially, Tim would plan a special surprise for her. He said he loved to make the love of his life breakfast in bed.