NFL star Tom Brady, who recently retired for good, posted a snap of his grown-lookalike son, Jack. Jack posed with his father's former football teammate, Julian Edelman, with their backs against each other.
In the photo, it is apparent that the teenager is taller than the former wide receiver of the New England Patriots, something his dad pointed out."Sorry @edelman11, you stopped growing, and now this 15-year-old is towering over you," Brady captioned his post on his Instagram page.
Despite separating from Jack's mother before knowing she was pregnant, the doting dad feels blessed and proud to have his firstborn and raises him as an active parent. Brady shares his son with his ex-girlfriend, Bridget Moynahan.
Brady's Doppelganger, His Son, Appears Grown-up
The picture he shared on his Instagram was reposted by fans on Twitter, who commented on the uncanny resemblance the former couple's son has with his dad.
"Nah he looks so much like Brady," one person retweeted. More Twitter users jumped on the bandwagon by echoing the same sentiments regarding the father and son duo's similarity.
"Jack is really looking like his Dad and more every day!!! Handsome," said one individual. Another person complimented the youngster, writing, "What an amazing tall, handsome young man the world is yours; enjoy the adventure and do great things!!!"
"He looks just like his dad," said a fourth social media user. A fifth stated that although Jack may be a teen now, he would grow up to look identical to his famous parent: "He's still a kid at 15, but I bet when he fills out, he'll twin his Dad."
Brady Split with Jack's Mom before Learning She Was Pregnant: They Co-parent Their Son
Brady and Jack's mom were in a three-year relationship before they parted ways in December 2006. A rep for the actress revealed at the time that the pair "amicably" decided to end their romance.
Moynahan later announced in February 2007 that she was expecting their first child. The then-mom-to-be expressed during an interview with Martha Stewart that she was anxious about becoming a first-time parent because she had not "done it before."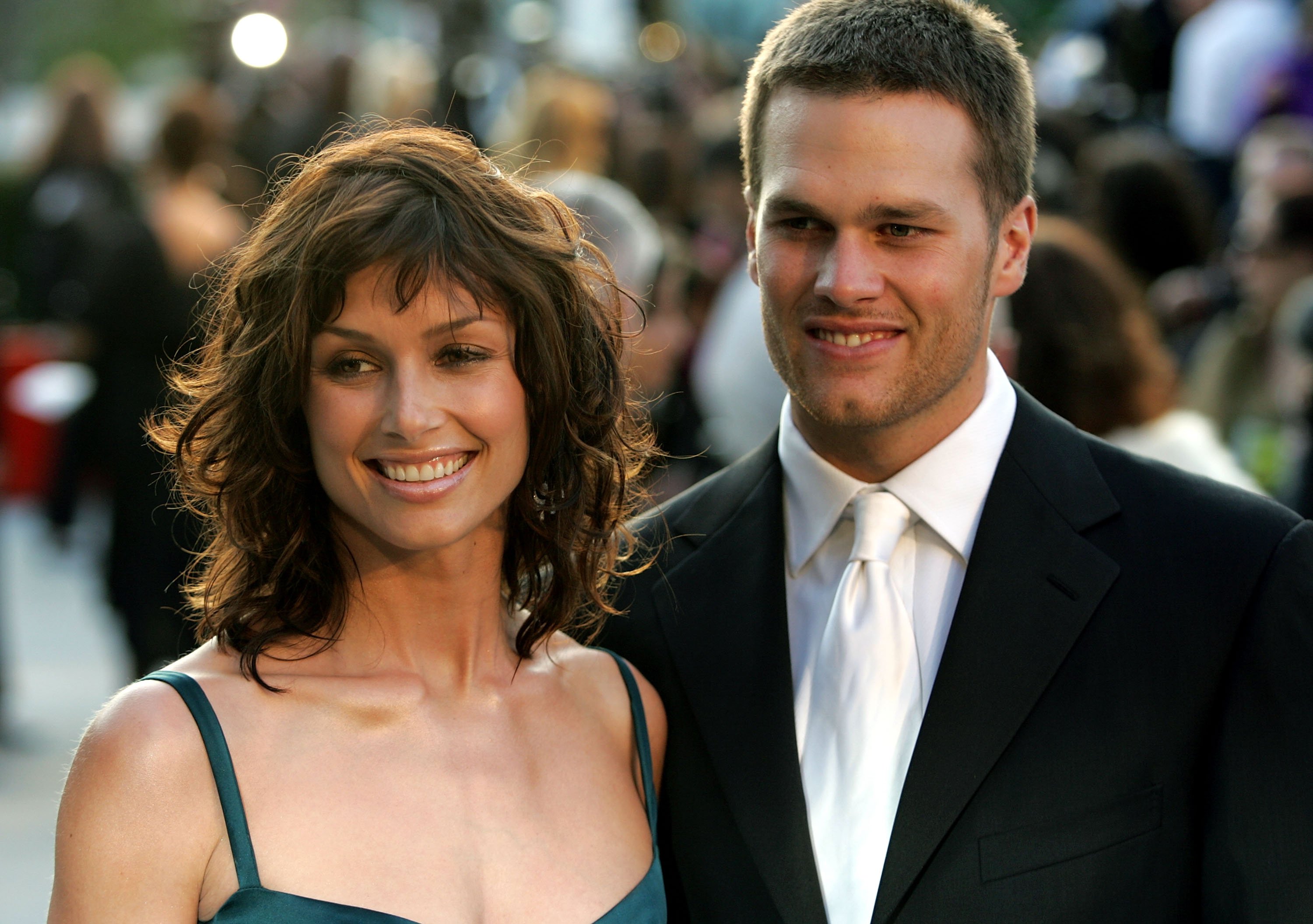 Actress Bridget Moynahan and quarterback Tom Brady arrive at the Vanity Fair Oscar Party at Mortons on February 27, 2005 in West Hollywood, California ┃Source: Getty Images
Nonetheless, she gave birth to a son in Los Angeles on August 22, 2007. Moynahan's then-publicist revealed the exciting news and stated, "Mother and baby are doing well."
Like her, Brady also admitted he felt "nervous" about the experience of becoming a dad before welcoming their son into the world. However, in the following years, he started to embrace the role.
The former quarterback resided in Massachusetts while playing for the New England Patriots but later relocated to Florida after joining his new team, the Tampa Bay Buccaneers.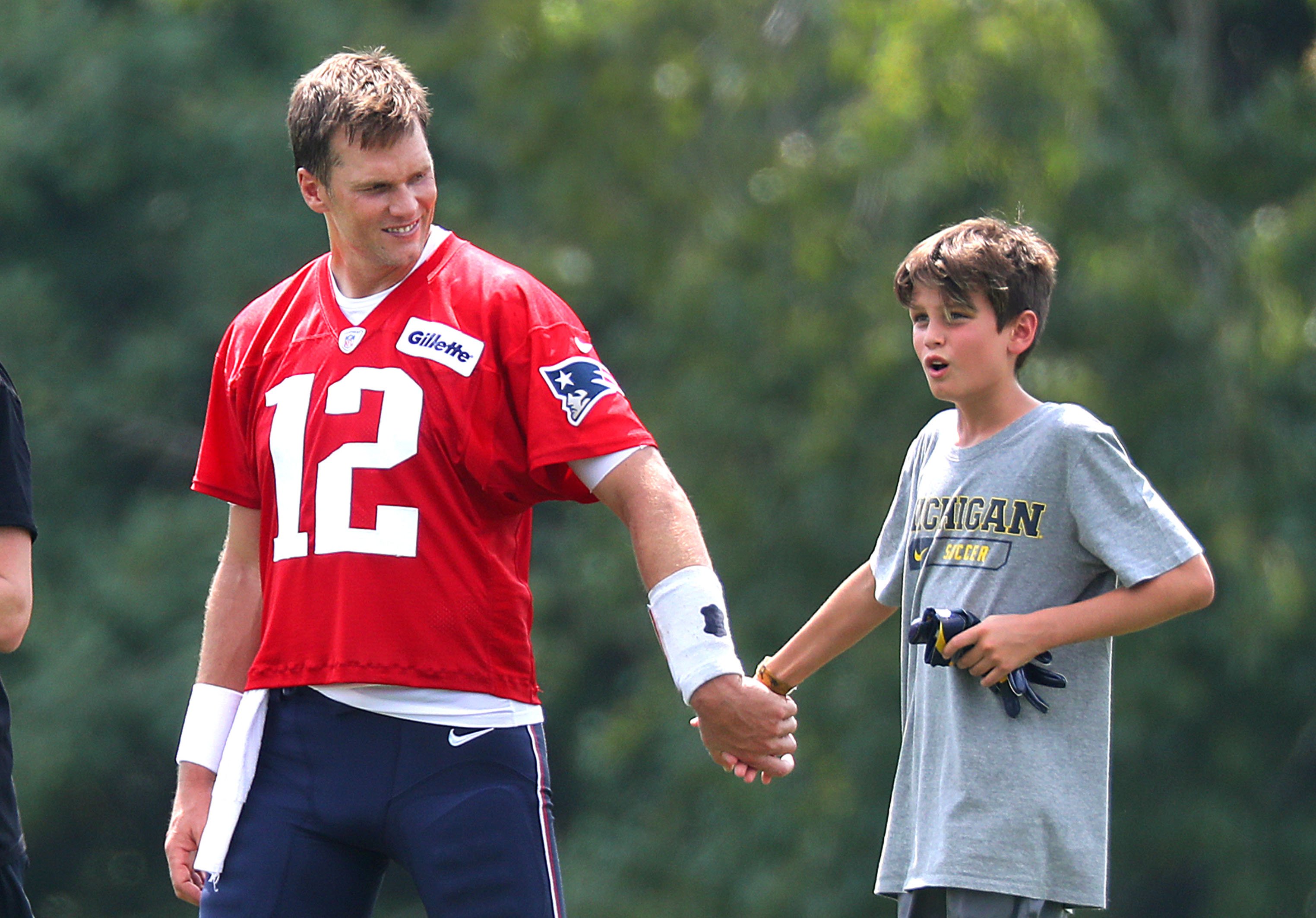 Tom Brady walking off the field with his son, Jack after New England Patriots training camp at the Gillette Stadium practice facility on August 7, 2018 in Foxborough, Massachusetts ┃Source: Getty Images
Brady also had a home in New York City so that he could be closer to his son, who primarily lived with his mom and stepdad, Andrew Frankel, at the time.
The couple wed in 2015, while Brady and his now ex-wife, Gisele Bundchen, tied the knot in 2009 and divorced in 2022. Both Moynahan and Bundchen previously discussed co-parenting and their blended families.
The "Blue Bloods" alum once stated that she and her former boyfriend mutually agreed to bring up their son together. Fortunately, they had partners who were on board with that:
"Tom and I made a decision to raise a child together, and we both found partners that not only supported us in raising that child but also loved our child as if he was their own. I don't think you can ask for more than that. My son is surrounded by love."
Two years after Brady and the model wed, Moynahan said she never once publicly uttered a word about them because she had already established a respectful relationship with them. The mother of one mentioned she was raising Jack in the public eye and that he has parents who adore him "and an extended family."
Brady Is an Active Parent to Jack: He Raises, Supports, and Is Always There for Him
Brady, also a father to son Benjamin and daughter Vivian, whom he shares with Bundchen, discussed his children's possible futures in sports.
The proud dad told Howard Stern on his "SiriusXM" radio show that he would not want them to be known for being his kids in the field. "I don't like that at all," Brady admitted.
The former football player gushed about his eldest child Jack and shared how he felt about him while praising him for being a good child:
"[..]My son Jack, my heart explodes when I think of him. He's the greatest kid you could ever ask for."
Brady also spoke lovingly of his offspring on social media. "[..] My beautiful son. What a blessing you are in our life. We love you so much and are so proud of the amazing young man that you are," he penned.
Young Jack may take after his father by pursuing a football career. Brady revealed in August 2021 that his son had become the Buccaneers' ball boy, a role he took "very seriously."
An insider revealed in 2020 that the teen had shown an interest in football, adding he and his dad practice together. Another source disclosed the proud father flew to NY to see his child's practice game in September 2022.
A month before, Brady talked about his experience watching his son play quarterback on his high school team and said he was born for the sport. "He's way smarter. He's got a great work ethic. He's just a great kid," said the loving dad.