In June 2012, Tom Cruise allegedly received an unexpected call from his then-wife, Katie Holmes, while shooting "Oblivion." Holmes reportedly told the actor that she was filing for divorce.
A source claimed Tom remained in shock from that day. Nine days after the actress revealed she would file, the former couple's lawyers announced they'd reached a divorce settlement.
Insiders said Holmes, then 33, would be getting the one thing she wanted the most – primary custody of their daughter, Suri Cruise, then six. The actress allegedly feared that her former husband's religion, Scientology, would be the "overriding factor" in their separation.
She also reportedly feared for her safety and wanted the divorce to happen as quickly as possible so she could cut ties with Tom. Several sources claimed one of the divorce settlement agreements was that Holmes would raise Suri in New York City.
Suri's father was also awarded visitation time with his daughter. The "Mission Impossible" star allegedly settled fast because he didn't want his family to be "dragged through the mud."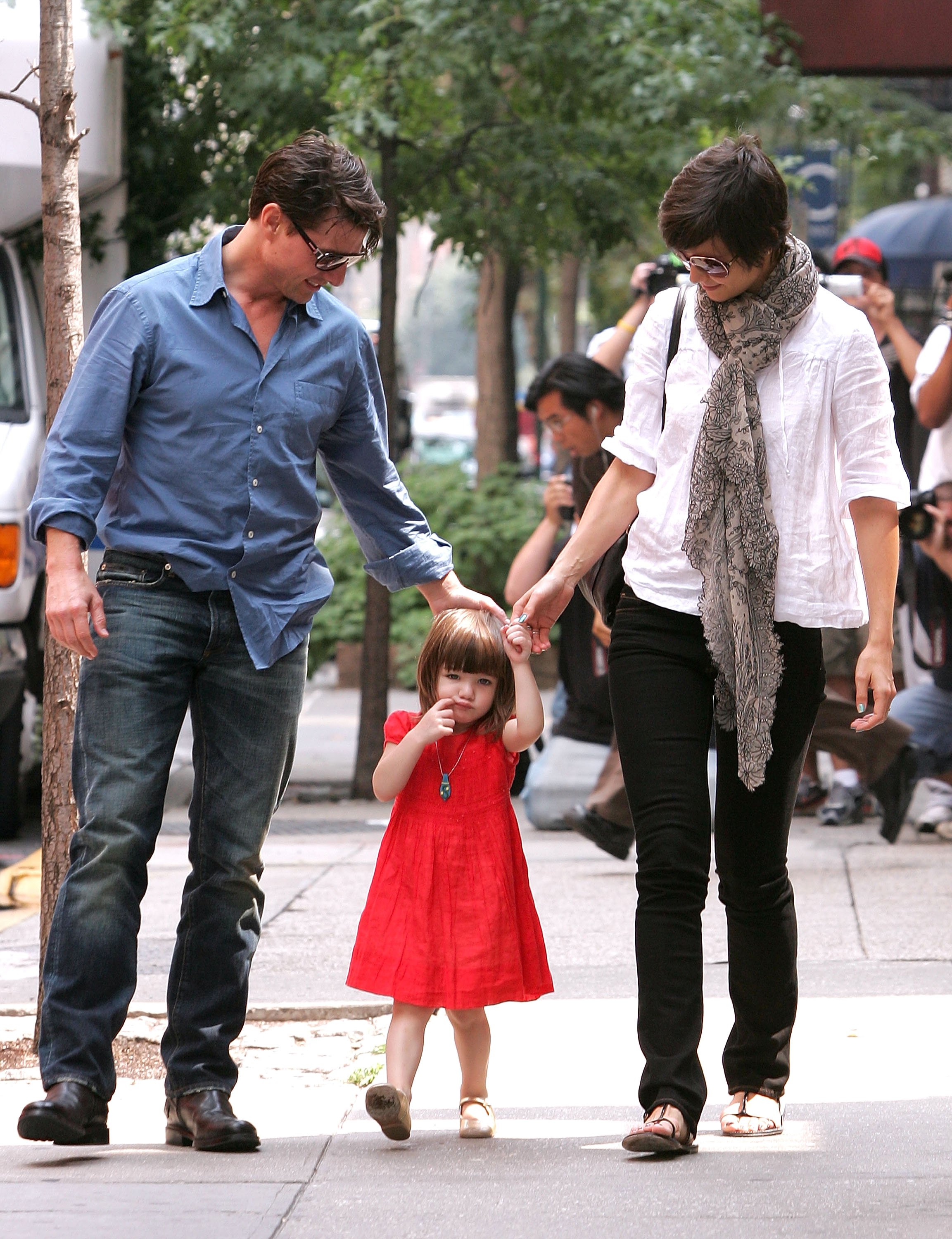 Tom Cruise, Suri Cruise, and Katie Holmes seen in Manhattan, New York on August 15, 2008 | Source: Getty Images
Two weeks after the settlement was agreed upon, Tom was allegedly making time to be a single father to his daughter. After he wrapped up "Oblivion" in California, the actor rushed to Manhattan to spend three days with his daughter.
The father-daughter pair spent time from July 3, 2012, with the star taking Suri on a helicopter ride to the Hamptons. After their reunion, Tom, then 50, flew to London for the pre-production of "All You Need Is Kill."
In 2018, it was revealed that Holmes' ex-husband could see their daughter up to ten days monthly but chose not to. An insider shared how each parent could see their child if they wished as per their custody agreement, noting:
"He chooses not to because she is not a Scientologist."
Tom had allegedly not been photographed with Suri since 2013. The little girl's father, who married her mother in 2006, might've not been seen with his daughter in a while, but the pair reportedly kept in touch.
The Truth about Tom & Suri's Relationship throughout the Decades
In their divorce settlement, Tom was supposed to pay Holmes $33,333.33 monthly or $400,000 yearly via electronic transfer for child support. The payments would last until Suri turned 18 and amount to $4.8 million.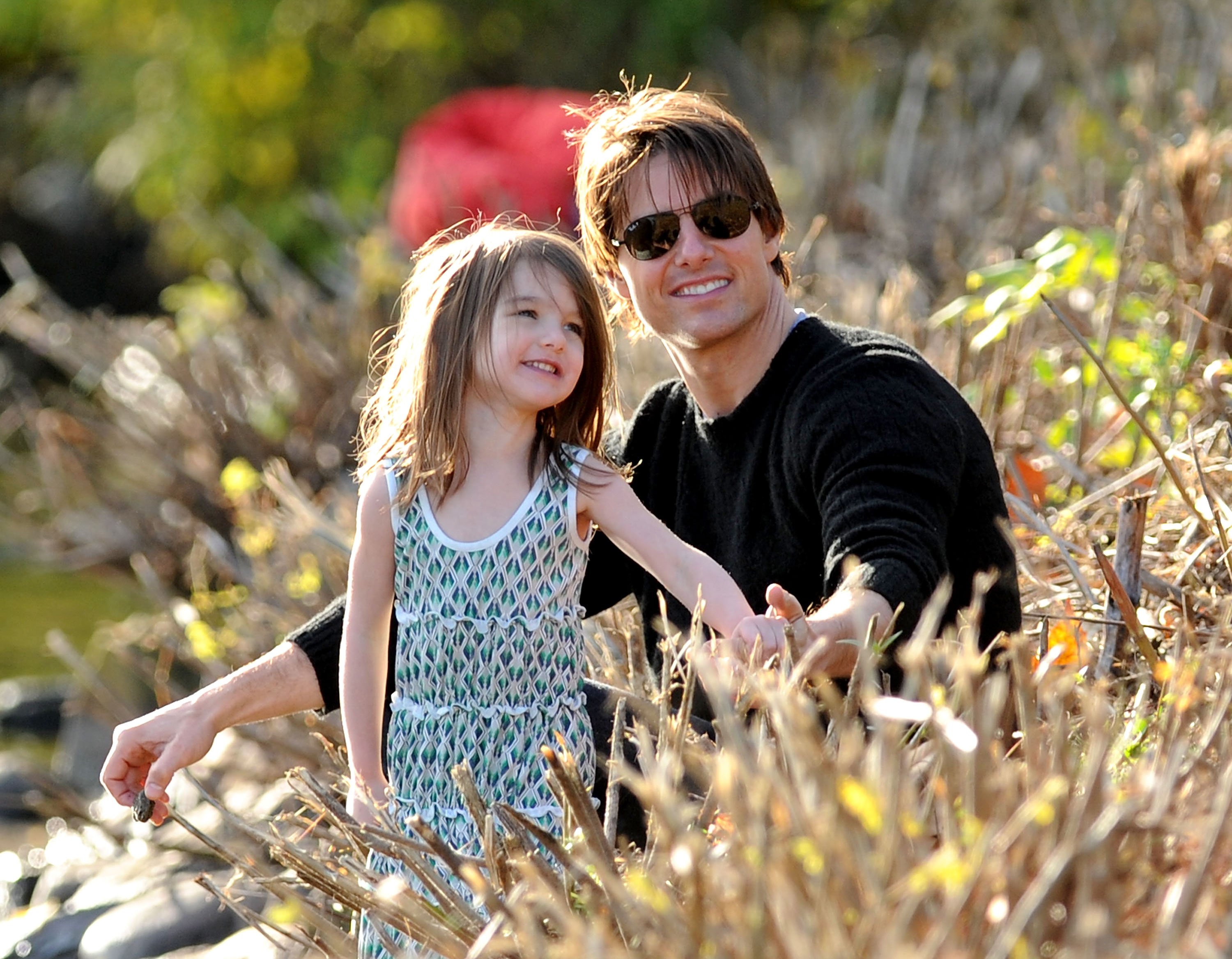 Suri and Tom Cruise visit Charles River Basin on October 10, 2009, in Cambridge, Massachusetts | Source: Getty Images
The star also had to pay for his daughter's dental insurance, medical, education (including college), and any extracurricular costs. In May 2016, it was reported that Suri, then 10, was seen outside her school on a call with a source revealing that her father was on the other line, with an insider stating:
"Suri has been talking to Tom behind Katie's back. He looks forward to her texts."
The source claimed the situation was emotional for the actor. His daughter was allegedly not allowed to talk to him publicly because of his role in the Scientology community, and it was believed Holmes would've been "furious" if she found out.
"The Dawson's Creek" actress's daughter was growing older and reportedly asking more questions, making it hard to shield her from the rumors. The little girl allegedly wanted to speak to her father.
For years it was reported that Tom turned his back on not only his ex-wife but also their daughter. However, a source close to Holmes said the actor was in touch with Suri and secretly sent her gifts.
The insider claimed she sent her presents yearly on her birthday and big holidays like Christmas, but the actress never spoke about it. Tom still got asked about his daughter, and when she was 11, an interviewer wanted to know if he thought she'd catch the acting gene.
The star replied, "you never know," without elaborating further on the matter. In recent pictures, it was evident that Suri had also taken after her father, who wanted to have a closer relationship with her.
At 16, Suri Looks Like Father Who Could Reunite with Her Soon
On February 8, 2023, an Instagram page shared several images of Suri in New York. Fans filled the comment section with their thoughts, with one person noting how the then 16-year-old was "the female version" of her father.
Another follower said most people believed Suri favored her mother in looks but that she looked like Tom in those images. The person also thought Holmes had done a great job raising the teenager and speculated that Suri was now in college.
A third fan thought the teenager was "so pretty" and believed she looked like Tom. Someone else wrote, "definitely Tom," while another follower thought Holme's daughter was a "beauty" like her father, and all another person could see was "100[%] Tom."
Tony Ortega, a critic of Scientology, speculated that Holmes was probably advised to cut ties with her former friend and Scientologist, Leah Remini, after divorcing Tom. The author thought keeping a bond with Remini could be considered as disparaging the church in Tom's eyes.
It was suspected that it could lead to a negative outcome for Holmes if she disobeyed. Remini was one of the people who spoke up against the alleged abuse in the Scientology church after leaving it.
When Suri was 14, Remini shared that she believed Tom was waiting for his daughter to get older so he could indoctrinate her into the church. The "King of Queens" star noted how the church considered Holmes a "suppressive person" or an enemy.
That meant since Tom was a part of it, he believed he couldn't be connected to his daughter because of her mother. However, Remini said she was sure his "master plan" was to wait to lure Suri away from her mother and into the church.
Holmes's former friend also shared her surprise at the star's abruptness in leaving Tom. Remini said she'd thought the actress was indoctrinated into her husband's world, but as time passed, she understood that Holmes played along to protect Suri.